Cricket's Yogi Berra, Navjot Singh Sidhu, once warned, "Wickets are like wives -- you never know which way they will turn."
Perhaps that's why my wife Tejal threatened to take off the Indian cricket jersey she had reluctantly worn when she saw the line in front of the NAZ8 Cineplex. I had woken her up at 5:30 a.m. on a Saturday to venture to Lakewood, near the city of Artesia, which is known as the "Little India" of Southern California. We were set to watch the India versus Bangladesh ICC World Cup match on the big screen with a movie theater full of wicket-crazy cricket nuts. By all accounts there was no better place in America where a cricket fan could go to experience the visceral feel of a real match. Plus, it was free. But now, with the sun still yet to rise, and a cold chill in the air, my wife crossed her arms and nudged me in the chest.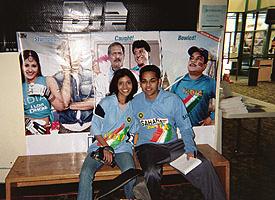 Our correspondent and his wife show off their jerseys.
"We look like posers," she said. "We're the only ones wearing these shirts."
She let me know that my brilliant plan of wearing the sky blue, Sahara-endorsed jerseys that I brought back from India was a stupid idea. Though the crowd was mostly Indian-centric, everyone was clad in coats, jeans and five o'clock shadows. Tejal also pointed out that she was the only girl.
When one of the men in line saw us approaching like a pair of twin Smurfs, he blithely commented that Tendulkar and Dravid had arrived, referring to the last names of legendary star Sachin Tendulkar and captain Rahul Dravid. The rest of the crowd chuckled, but it was all in the spirit of camaraderie. Throughout, conversations stirred about whether India would make it to the finals, whether the selection committee made the right decision by picking an out of shape Virender Sehwag or whether Bangladesh had any real chance to topple India. Doors were to open at 7:00 a.m., but when we peered through the windows plastered with Bollywood movie posters, all we saw was darkness. It was 7:01.
Started in 1992 in Fremont, Calif., by Shiraz Jivani, a Pakistani businessman, the NAZ8 theatrical chain named after his wife became one of the first movie theater chains in America exclusively showcasing Bollywood movies seven days a week. Box office success led to the creation of more multiplexes scattered across California, including the one in Lakewood. At the same time, Jivani bought the rights to show the Cricket World Cup. For the large South Asian population in Silicon Valley, this provided the only avenue for them to quench their sporting passion and show their national pride. Pakistan won the World Cup that year. NAZ8 continued to broadcast subsequent World Cups and other important rivalries like the always contentious India-Pakistan matchup.
ICC Cricket World Cup
The group stage of the ICC Cricket World Cup opened Tuesday and continues until March 25. The Super 8 stage runs from March 27 to April 21. The semifinals will be played April 24-25, and the finals will be Saturday, April 28, in Barbados. Follow all of the action on cricinfo.com . Michael Davies will provide weekly coverage of the tournament here on Page 2.
For another look at the basics of cricket, check out our E-ticket video from August 2005.
So, even while I'd ordered the entire World Cup for $199 on willow.tv, an Internet site which streamed a live broadcast of the event, it was imperative that I view the first Indian match at a venue slated to have the ambience of a live stadium.
We continued to wait and knock. And wait and knock. This was what we jokingly called (IST) Indian Standard Time. The match already had started in Port of Spain, Trinidad. Word spread that India chose to bat. All of us looked to one another to see if someone knew someone who could open the doors. Finally, a red Mustang convertible pulled up abruptly and a tired man with a goatee, black leather coat, and Tony Soprano disposition emerged jangling a set of keys in his hands. It was 7:45. India already had lost two wickets.
While we followed the ravenous crowd into the theater, I noticed a number of movie posters from the latest film featuring Bollywood's version of Brangelina, Aishwarya Rai and Abhishek Bachchan, to a newly released flick titled, "Hat Trick" which is a cricket term for when a bowler (cricket's version of a pitcher) dismisses three batsmen on three consecutive deliveries. This movie was one of a number of Bollywood films with cricket themes slated for release during the two months of the World Cup. In 2002, "Lagaan," a movie about a bunch of ragtag villagers battling a ruthless British commander in cricket during pre-independent India, was nominated for an Oscar for best foreign movie.
AFTERMATH
I knew the South Asian subcontinent would be in an upheaval, but no cricket Nostradamus could predict the madness that would ensue. Less than 24 hours after Pakistan was eliminated from advancement in the World Cup, its coach, Bob Woolmer, was dead. Woolmer was found unconscious in his hotel room and rushed to a Jamaican hospital where he later died. Rumors swirled about the mysterious circumstances of his death. Woolmer was diabetic, and his family said the stress of the job might have contributed to a heart attack. But one Pakistani newspaper reported a rumor that the death might have been a suicide. An autopsy will be conducted to attempt to find out exactly what happened.
On another note, Pakistan's bearish captain, Inzamam-ul-Haq, announced he would resign his post and step away from one-day international cricket. Fans in Pakistan reacted with angry mobs and chants of death to players and officials. One dejected fan said in a report that, "They should be hanged in public for letting down millions of fans."
The feeling was shared by their neighbors in India as well. Bangladesh's pouncing left India vulnerable, and the nation of 1.3 billion expressed its outrage with the same disdain. Even in my wife's hometown of Ahmedabad, irate fans burned effigies of Rahul Dravid, Virender Sehwag and Sachin Tendulkar.
Pakistan's performance was its worst ever, and for a nation in political chaos, cricket was supposed to provide a pleasant distraction. Now, it simply added to the disarray. The exodus also gave the West Indies a clear advantage to advance to the next round. India's hopes still remain, and it responded with vigor, demolishing Bermuda with 413 runs, a World Cup record. But, with the loss to Bangladesh, India now must now face a must-win situation against Sri Lanka.
--Amar Shah
With Bollywood and cricket both taking up endless hours, one couldn't help but think that a nation which would have the largest population in the world would also have the largest attention spans. As an American who shared a love for Bollywood and cricket, I was caught in a cultural purgatory where I was treated with a surprised hesitancy by those from India and treated as a curious eccentric by the first generation born in the United States.
Before I could pontificate further, Tejal grabbed and pulled me into the theater. All around us empty spaces were being occupied. We took seats near the back row. Behind us sat four guys, each of whom worked in the IT industry. Three of them were from the southern Indian state of Tamil Nadu, and the other was from the capital city of Delhi. On our row, to the left, was a Bengali man and further down sat a Bangladeshi father and son. On the aisle, an elderly man with a bald head and a pot belly lounged while berating the screen in my parents' native language of Gujarati. Tejal, who's from Bombay, was fluent in a number of these languages and served as my interpreter. Yet, even she lacked the linguistic skills to help me understand all the running commentary of a nation of 28 states and more than 400 regional languages. Thank goodness the play-by-play announcers spoke in English.
Religiously, Indians consist of Hindus, Muslims, Christians, Sikhs, Buddhists and Zoroastrians, however for us Indian cricket fans, we ardently followed the trimurti of Dravid, Ganguly and Tendulkar. Two members of that holy trinity were batting now.
India suffered the loss of early wickets, but the steady veteran hands of Saurav Ganguly and Tendulkar were sure to get their team back in the match. When Ganguly batted, the four friends sitting behind us began chanting, "Let's go Dada! Come on Dada! Good shot Dada!" I was confused. Dada was the term I used for grandfather in Gujarati. Tejal informed me that Dada was Ganguly's nickname which meant older brother in Bengali. Ganguly was a former Indian captain who lost his position and was dropped from the team in 2005. In the past three months, he was brought back to the national team and made a sterling return to form. Fans welcomed him back like a lost family member.
When Tendulkar took his place in front of the wickets, a roaring applause reverberated throughout the theater. Everyone rose to their feet. Tendulkar's name is a mantra in every household in India as well as for Indians abroad. It was his No. 10 jersey that I wore. Recently, Virgin Comics announced that Tendulkar would be immortalized as a comic super hero in a series called "The Master Blaster." Tendulkar's character would wear armor and wield a flaming cricket bat as a weapon.
Unfortunately, Tendulkar's kryptonite came in the form of a Lex Luthorian left-handed spinner named Abdul Razzaq, who fooled him. Tendulkar tipped the ball back to the wicketkeeper and was called out. He scored just seven runs. The crowd erupted in disappointment. Captain Dravid was next to bat. Known as "The Wall," Dravid was the backbone of the Indian team. He crumbled after only 14 runs.
Bangladesh showed it wasn't a pushover. It was a young team in its red and green uniforms. Some of the players were just 17 and 18. The Bangladeshi bowlers, specifically their left-handed spinners, were giving India all sorts of trouble. Their youthful legs sprung into action on the field, where, like acrobatic ninjas, they would materialize out of nowhere to save a ball from going over the boundary to save a number of runs.
Our hopes rose a little when Ganguly and Yuvraj Singh battled India back to a decent run count. Singh, whose swing resembled that of Ted Williams with a naturally sweet left-handed stroke, lofted the first sixer (cricket's version of a home run) of the match. We all rejoiced with yelps, whistles, hoots, and hollers. Even Tejal high-fived everyone in the vicinity. India was making a rollicking return to respectability. Then, just like that, Ganguly and Singh were gone. Singh popped out first. Then Ganguly lined a drive right into the fielder's cupped hands. "Arre kya baat hai, Dada," shouted one of guys behind me. It translated as "What is wrong, big brother?"
India had a pathetic 159 runs with only four wickets left. In cricket, a team is allowed 10 wickets or outs. In World Cup play, matches are limited to 50 overs, which consisted of six bowls. That's about 300 pitches for each team. At this point, India should have been in the 200-run range, but Bangladesh was stingy and clever. The old man sitting to our right was belligerent hurling popcorn into the air. All our expectations were now placed with the mighty wicket keeper, Mahendra Singh Dhoni, our Mike Piazza. Dhoni went for the jugular right away and was caught out without even scoring a run. That was known as a duck in cricket. Poor Dhoni. The next day, 200 enraged fans would storm his house in India, destroy the newly constructed pillars, and chant "Dhoni Murdabad!" Death to Dhoni.
After that, India bowlers Ajit Agarkar and Harbhajan Singh came to bat and suffered two more ducks. Bowlers, like pitchers in baseball, are usually awful batsmen, which is why if it wasn't for the record efforts of Munaf "Enuff" Patel and Zaheer Khan, who managed to add 32 more runs to finalize India's paltry total of 191 runs, the crowd in the theater gladly would have followed in the deranged footsteps of the fans mentioned above.
After India's disastrous batting concluded, it came as a relief when a 45-minute lunch break was announced. Tejal and I joined the rest of the disgruntled fan base and headed to the concession stand for some warm masala tea and snacks. The crowd had ballooned to about 150, including a few women who accompanied their husbands. Tejal and I joined a number of conversations, all of which concerned the bitterness of the past four hours. We received some good news when we returned to our seats. The Pakistan versus Ireland match was shown while we waited for India vs. Bangladesh to resume. Pakistan was performing worse than India, and it was against the Irish of all teams. It was St. Patrick's Day. By the end of the day both Bangladesh and Ireland would make two of the biggest cricket nations in the world green with envy.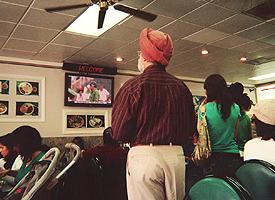 A customer watches the Pakistan-Ireland match
at Rasraj restaurant in Artesia, Calif.
The next few hours were full of tension and discontent. India appeared old and depleted while Bangladesh, with its infusion of sprightly youth displayed precision and power. An upset brewed, bigger than any March-mad bracket-buster could fathom. We all knew it, but the belief still remained that something divine might happen, and we might turn it around. Bangladesh's youthful trio of Tamim Iqbal, Mushfiqur Rahim and Saqibal Hasan dashed those hopes, each one of them cranking more than 50 runs. The only reaction came from the father-son combo who clapped with each run. The next two hours dripped by, with each Bangladeshi run inflicting further damage to our dreams of repeating the triumph of 1983, when India won its only World Cup. I was 3 years old. When the upset concluded, all of us remained in our seats well past the postmatch interviews. Tejal steamed with anger, and I was flush with cynicism. The crowd dispersed, and everyone was shocked by the outcome, save for the father and son. When we saw our new friends in the lobby, we assured them that we'd meet again at the same place. It was an idealistic notion. India was one match away from elimination.
Before we even reached the car, Tejal took the jersey off and tossed it to me. It was only 3 p.m. We were hungry. When we went to Rasraj, an Indian fast food joint, the Pakistan versus Ireland match was concluding on a television screen near the deli. As Tejal and I stood in line to order, my attention turned to the much bigger upset of the day. Tejal interrupted my conversation and told me to order. But before I could pick the paneer makhani and naan, the clerk behind the counter wagged his finger at my jersey and shook his head in shame.
Sound off to Page 2 here.

Also See
ESPN Top Headlines