By Dan Shanoff
Special to Page 2
On one end of the spectrum, we have Tom Cruise and Penelope Cruz, the "Couple of the Year," according to many year-end lists. On the other end, we have John Rocker and Carl Everett, the Texas Rangers' dynamic duo of acquisitions that is so sketchy that it makes the Alex Rodriguez contract look reasonable.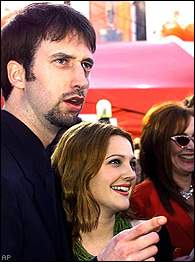 Tom Green and Drew Barrymore are splitsville. Geez, we never saw that one coming.
But where exactly do Rocker and Everett -- one of baseball's all-time great odd couples -- fit on the spectrum of strange pairings, sports or otherwise? We've compiled a list below for your consideration:
Couple No. 1: Tom Green and Drew Barrymore
Odd Factor:
So let's get this straight -- he divorced her? We always wondered what she was doing with that freak, but then again, she makes Lisa "Left Eye" Lopes look stable. Between the "Are-they-or-aren't-they?" wedding rumors and quite possibly the worst movie of the year ("Freddy Got Fingered"), the only question is who they each pair up with next. Come back for Page 2's "Odd Couples 2002" next December to find out!
---
Couple No. 2: Tyson Chandler and Eddy Curry (alternately, Jerry Krause and Tim Floyd)
Odd Factor:
Krause thought he was building "Clippers Midwest," but only really succeeded in bolstering the real Clippers, meanwhile destroying the psyche of his two "cornerstones," who seem to have the range of the teens on "Popstars."
---
Couple No. 3: Kim Basinger and Eminem
Odd Factor:
Does anyone
not
see what will become of the reported casting of Basinger to play Eminem's mother in his movie debut, "The Untitled Detroit Project"? The heirs to the Drew Barrymore-Tom Green Celebrity Odd Couple empire.
---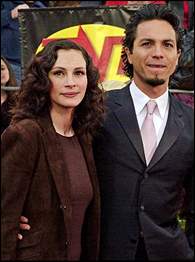 The star power didn't quite match in the Julia Roberts-Benjamin Bratt coupling.
Couple No. 4: Julia Roberts and Benjamin Bratt
Odd Factor: She's the leading female acting superstar; he's in the Why'd-You-Leave-The-Cop-Show tab of the Where Are They Now File, along with Jimmy Smits, David Caruso and that guy who plays Mr. Big on "Sex and the City." A classic imbalance of star wattage within a relationship..
---
Couple No. 5: Charlotte and Professional Basketball
Odd Factor:
The owner is a joke. The fans are only interested in college hoops. The only question remaining is: Vegas or Somewhere in Kentucky?
---
Couple No. 6: William Shatner and Priceline
Odd Factor:
They dared to go where no similar couple has ever gone before -- into bankruptcy.
---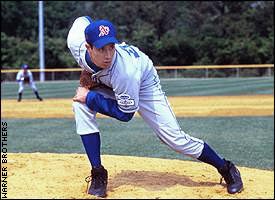 Was there ever a worse idea than turning Freddie Prinze Jr. into a minor-league pitcher?
Couple No. 7: Freddie Prinze Jr. and Cape Cod League baseball
Odd Factor: Not Another Baseball Movie! Teen idol and star of "She's All That" making a go at being Gen Y's Crash Davis? The execution stunk as bad as the idea.
---
Couple No. 8: Allan Houston and Latrell Sprewell
Odd Factor:
The poster kids for redundancy: Play the same position. Both make "I'm the No. 1 guy" money thanks to 2001 contract extensions. Both demand the ball. Keeping 'em both was just one of Knicks GM Scott Layden's gaffes.
---
Couple No. 9: Emeril and Prime-Time Network Television
Odd Factor: Bam! The ratings stank. But Emeril and the Food Network & now
that
was a nice combination.
---

After leaving Tommy Lee, Pam Anderson found stability with Kid Rock.
Couple No. 10: Pamela Anderson Lee and Kid Rock
Odd Factor: This would rank a lot higher ... if only she hadn't already gotten involved in a similar odd coupling with Tommy Lee.
---
Couple No. 11: Derek Jeter and Mariah Carey
Odd Factor:
An "ancient history" match, but anyone who caught wind of one of Mariah's many breakdowns in 2001 (including "Glitter") might understand why their
Page Six
romance was destined for Mariano Rivera-like implosion.
---
Couple No. 12: Andre Agassi and Brooke Shields
Odd Factor:
Another pre-2001 match, but worth noting. In two words: "Suddenly Susan." (We're all about "Suddenly Steffi.")
---
Couple No. 13: Steve Mariucci and Terrell Owens
Odd Factor:
Owens has embarrassed Mariucci every way possible -- the dance on the Cowboys' star, public criticism for "dumping" a game against the Bears so as not to embarrass his friend Dick Jauron -- but the coach has maintained his cool. Couplings between the extremely mature and the extremely immature never last, except for Mel Brooks and Anne Bancroft.
---
Couple No. 14: Hillary and Bill Clinton
Odd Factor:
"Doctor, here we have a holy coupling where the woman wears the pants and the man is unable to keep his pants on. Can this marriage be saved?"
Dan Shanoff is a regular contributor to Page 2.