By Dan Shanoff
Page 2 columnist
Following Terrell Owens' unprecedented touchdown celebration Monday night, Page 2 has learned that several writing-instrument companies have contacted the NFL about a multi-million dollar partnership that would replace the term "end zone" with "pen zone."
"I've heard it called the 'No Fun League,' but I've never heard anything about it being the 'No Pen League,' " Owens said. "What's more fan-friendly than a real-time autograph?"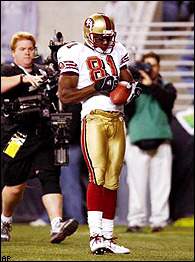 Terrell Owens is encouraging the rest of the league to get into the "pen zone."
Under the terms of the proposal, the NFL's uniform guidelines would require all skill-position players to stick "something to write with" down at least one sock. League officials were unavailable to comment whether the deal would cover pens exclusively, or also include pencils, highlighters or crayons.
Several players expressed frustration with Owens' sense of sportsmanship, to which the 49ers receiver responded: "The Fun Bunch, the Ickey Shuffle, the Dirty Bird, the Bob 'n' Weave -- all celebrations of what? Winning ... damn straight. And my 'Sign o' Trouble' -- that's what I'm calling it -- is the next great tradition of touchdown-celebration excellence." Not to be outdone by the man who burned him for the touchdown, Seahawks defensive back
Shawn Springs
has said that he will stuff a Microsoft PocketPC in his pants, then wirelessly "tap out a quick note" to team owner Paul Allen upon returning his next interception for a touchdown. Other receivers around the league have taken notice:
Vikings WR Randy Moss said that he saw nothing special about Owens' move, noting that he plays with a court summons in his sock all the time.
Never one to be outdone, Buccaneers WR Keyshawn Johnson said that if he ever makes it into the end-zone again, he would sell an autograph to the highest-bidding fan.
Bills receiver Peerless Price, who's having a career year, said through his agent that he would be amenable to immediately signing a contract extension following his next touchdown catch. According to several NFL draft experts, "penmanship" vaults to the top of evaluated criteria at next spring's combine. "Ken Dorsey? I have no idea what his sig(nature) is like," one anonymous NFC scout said. "But I hear that Seneca Wallace has a gorgeous script." In related news, Houston Texans linebacker Jamie Sharper has inked a deal to legally change his name to "Jamie Sharpie." Dan Shanoff is a columnist for Page 2. This story was filed as mere parody and in no way should be accounted as actual news.