By Dan Shanoff
Page 2 columnist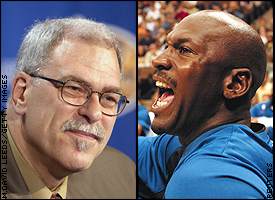 Michael Jordan shows Phil Jackson how to do soul without a soul patch.
When it comes to starting fads, Michael Jordan is as successful off the court as he is on it. The "bald" look? Made popular by the follic-ly challenged MJ. Baggy shorts? The Fab Five were just trying to be like Mike. At the '92 Olympics, Jordan's goatee sparked a summer craze.
Hair Jordan has done it again:
His look for the fall -- a patch of hair at the end of his chin
-- will become
the
facial-hair expression on both the NBA circuit, in college hoops and at your local Y game. Make no mistake: The soul patch has been out for more than a year, so shave under your lip -- for goodness' sake, you look like a fool -- but keep that razor away from your chin. For more on the cutting edge, check out the list below:
What's Hot, What's Not this week
Category
Hot
Not
Expos in Boston
162-game Fenway season-ticket plans
Pedro as best player in town (it'd be Vlad)
Hold-your-breath baseball play

The toe-the-line bunt!

The home-run-robbing wall-catch
"Howe" will he do?
Mets don't need
"players' coach"
Style turns them
into "A's East"
K-Rod

Rookie jitters

Unstoppable phenom
Angels re: Bonds
Finally got it right
What are a couple HRs?
BCS poll
Table complaints until December, please
Whining
MJ's biggest problem
Blackmail
A rusty jump shot
Pride o' Tampa

Lightning

Devil Rays (even with Lou)
Indy on the Colts
Fight for 'em!
L.A. can have 'em!
David Stern
Hilarious ad spots
Why be commish?
Yao Ming's skills
Free-throw shooting
Defense
Spurrier's guy

Back to the Gainesville connection

No rookie's gonna sink me!
Heisman bandwagon

Philip Rivers

Seneca Wallace
Notre Dame
Florida State will crush them
Irish run the table
Chris Childs
Insult -- Robbed at gunpoint
Injury -- Benched for weight
Nolan Richardson
Unemployment
is better than ...
... El Paso
Matt Millen
Oh, sure, it was all a psychological ploy
No, seriously: cowards everywhere!
How to gain MasterCard-like immortality
Just go to
work every day
Some type of
clutch home run
New Balance
Adventure shoes
Running shoes
Weekend flick

"Jackass"
(Oh, admit it, you're curious)

"Ghost Ship"
Friday's discussion
How good Sweetness was
Emmitt can have Sunday
Dan Shanoff is a columnist for Page 2. His "What's Hot, What's Not" trend-spotting list appears Thursdays. Got inside scoop on an up-and-coming trend? Want to declare something passé? Send this glimpse of your hipness to hotnotlist@yahoo.com.