By Dan Shanoff
Page 2
Forget who went where and when. To real fans, the NBA draft is the ultimate parade of style hits and misses. For the fifth year in a row, ESPN.com surveys the fashion scene, where talent was as spread out as it was on the draft board.
The players
Big winner: Marvin Williams. No. 2 on your draft board, No. 1 in fashion. At least the Hawks have finally won something.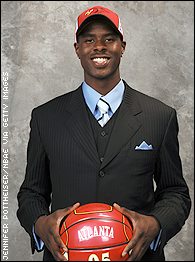 Marvin Williams wins the MVP award for his draft-night suit and Carolina blue shirt.
The NBA went "MBA" Tuesday night, looking more ready to drive a deal in a Wall Street boardroom than drive the lane.
It wasn't just the black herringbone suit, the vest or the blue shirt with a hint of Carolina coloring. As with all the best-dressed players, the secret was in the tie – in Marvin's case, a gorgeous silver look with dark accents.
Turning professional at 19? At least Marvin looked the part.
Other winners: You show me some color, I'll show you a winner. Too many players relied on washed-out gray. Anyone sporting colors earned rave reviews:
What a night of "Tar-torial" splendor! At the No. 5 pick, Raymond Felton bucked the gray trend with a phenomenal-looking brown suit and a gorgeous multi-toned tie with tan and brown piping.
And fellow Tar Heel Rashad McCants can have all the attitude he wants, if it comes with the boldness of the pink shirt-pink tie combo he wore.
He may have slipped to No. 15, but Antoine Wright did his preppy (school) roots proud by also having the confidence to wear pink.
Did the Clippers make a promise to Yaroslav Korolev? Perhaps only a promise to be fashionable! In a draft with few foreign players, Korolev carried the weight of the world on his narrow shoulders, draped in a fabulous purple striped shirt and purple tie.
Alma Mater Awards: Nothing says spirit like flashing a bit of school colors, especially between the dueling point guards, who competed all the way to the podium. Deron Williams wore a tie with a hint of Illini orange and was picked one spot higher, but Chris Paul outdressed him, wearing a black suit with Wake Forest gold pinstripes, along with a Wake-colored tie. The alumni office will take cash or check, CP.
The "He-Made-It-Work" Award goes to the hardest-working guy at the draft, Julius Hodge, who wasn't even invited, but showed up anyway, wearing a monochromatic cream suit that had my wife observing: "He's the first one who looks like he's at the NBA draft, not an investment banker's meeting."
Second Round Award: It was worth sticking around for the second round just to catch Mickael Gelebale, who instantly has the best hair in the NBA (he couldn't even get the draft cap on his head), but also came with a classy Euro-stylin' suit in the mold of fellow Frenchman (and one-time Page 2 Draft Fashion Report Big Winner) Tony Parker.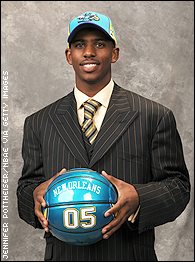 The Hornets hope Chris Paul can distribute as well as he can pick out a suit.
Finally, the highly coveted "Bar Mitzvah Boy" Award goes to: No. 10 overall pick (and Kobe's newest valet) Andrew Bynum, who not only wore the traditional "BMB" blue suit, but at 17 years and change, is the youngest draftee in NBA history, making him the closest to actually having his bar mitzvah. With his baby face, I was reminded of my BMB award comment from 2004: If you were to tell me he was 13 and heading to the podium to read his haftarah, I'd not only believe you, but slip a check in his pocket. L'chaim, Andrew!
Losers: Light gray. Stop the madness. Let's hope your rookie seasons aren't as much of a washout. I'm talking about you, Channing Frye and Sean May. May apparently didn't get the memo from his dapper UNC teammates. (Martell Webster, you get a pass. Were those hidden suit-jacket buttons?) Oh, wait, Charlie Villanueva was wearing light gray too? I was too stunned by his going seventh overall to notice.
And memo to Danny Granger and Gerald Green: I don't care if the two of you, back-to-back, represent the steals of the draft. Repeat after me: "No more light tan suits."
(Final note: It's not that Andrew Bogut was a stud … or a dud. In a dark gray suit, light blue shirt and striped blue tie, he was solid without being inspired – perhaps a foreshadowing for his career?
The TV crew
Taking sartorial first prize from 2004 winner Stephen A. Smith was Greg Anthony, who stood out in a brown suit, cream shirt and orange tie. Stephen A. was no slouch. Jay Bilas has the best ties in the business, hands down. And Stuart Scott is a flat-out clothes horse.
And playing the role of international expert, Fran Fraschilla, for the second straight year, looked Euro-rific. (Hey, ESPN: check that expense report from his last trip to Italy. "Scouting." Yeah, right. Some prospects named "Zegna" and "Prada," no doubt.)
And finally: Dickie V. What more can you say about an outfit (yellow ESPN golf shirt, buttoned all the way up) that truly speaks for itself?
Meanwhile, perhaps representing his own favorite color, ESPN.com business reporter Darren Rovell made a cameo wearing a green jacket and tie combo. Money green, perhaps? Color us green with envy at his courage.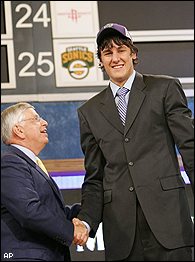 Props to the commish for the yellow tie but Andrew Bogut's outfit may foretell a ho-hum a career.
The families
The draft fashion show has always been – and will remain – about the moms. My mom manages to well up with tears at least once every draft broadcast, seeing how thrilled the draftee moms are for their sons. And we had an interesting twist this year: A great aunt steals the show.
The biggest winner was Beulah Walker, the great aunt of Portland's teen draftee Martell Webster. Not only was she the cutest sight of the draft, but she came to play with a cream dress accentuated by the hat of the night: Haute couture meets haute cuisine. She's chef fabulous! The draftees' "official" caps had nothing on Beulah's unique look.
Runner-up: Deron Williams didn't just rocket into the top three – he stole the draft with his super-cute daughter, Denae, dressed in pink, and super-hot girlfriend Amy, dressed for slink.
More from the moms (and dads and kids!): Who were those ladies in red? Was that Bogut's mom? And how about Wright's mom, in that pinstripe red blazer? For more color, how about Frye's mom, who stylistically eclipsed her son in a teal dress accented with a paisley scarf over her shoulder.
Other moms, mostly matching the evening's "business classy" motif: Deron Williams' mom in a blue suit; Paul's mom in a frilly black and white top; Bynum's mom in a gray suit; McCants' mom in a white suit showing just a bit of gold blouse peeking through; and Hakim Warrick's mom, Queen, in a very classic white suit with a black blouse underneath.
Front-office fabulous … or fatal
Another year, another reminder: Team logo golf shirts are for the concession stands, not the teleconference with a national TV audience. If you know you're going on TV, take the five minutes to put on a jacket and tie.
Bucks general manager Larry Harris, Bobcats honcho Bernie Bickerstaff and Grizzlies president Jerry West all put points on fine draft nights by showing up in suits. Perhaps a lesson for your next NBA fantasy draft? Nate McMillan was the only one to pull off "business casual," wearing a very sharp, open-collar gray button-down shirt. Randy Pfund almost made it – the Miami GM was trying a little too hard with his shimmery indigo South Beach top.
For the second straight year, Doc Rivers and Mitch Kupchak showed up in bland golf shirts. At least Rivers' had a logo; Kupchak's was simply hideous, with horizontal striping. When your teenaged draftee three weeks removed from his prom can outdress top team executives on draft night, there's a problem. Throw R.C. Buford into the mix: Was that a T-shirt or a sweater? Who cares? Bleh. Spurs draftee Ian Mahinmi (fresh from the cheap seats at MSG) looked a lot better.
And as for commissioner David Stern, don't think we forgot! Just one question: How bold was he for the yellow tie?! Hey, you finish as crazy a season as he has, and you can wear what you want.
NBA draft night all-style team
Marvin Williams
Yaroslav Korolev
Martell Webster's great aunt, Beulah Walker
Greg Anthony
Deron Williams' daughter, Denae

Dan Shanoff is a columnist for Page 2. His "Daily Quickie" commentary appears every weekday morning, and you can join him for SportsNation's "Morning Quickie" every weekday from 9-10 a.m. ET. You can e-mail Dan here.