And memo to
Danny Granger
and
Gerald Green
: I don't care if the two of you, back-to-back, represent the steals of the draft. Repeat after me: "No more light tan suits."
(Final note: It's not that Andrew Bogut was a stud … or a dud. In a dark gray suit, light blue shirt and striped blue tie, he was solid without being inspired – perhaps a foreshadowing for his career?
The TV crew
Taking sartorial first prize from 2004 winner Stephen A. Smith was Greg Anthony, who stood out in a brown suit, cream shirt and orange tie. Stephen A. was no slouch. Jay Bilas has the best ties in the business, hands down. And Stuart Scott is a flat-out clothes horse.
And playing the role of international expert, Fran Fraschilla, for the second straight year, looked Euro-rific. (Hey, ESPN: check that expense report from his last trip to Italy. "Scouting." Yeah, right. Some prospects named "Zegna" and "Prada," no doubt.)
And finally: Dickie V. What more can you say about an outfit (yellow ESPN golf shirt, buttoned all the way up) that truly speaks for itself?
Meanwhile, perhaps representing his own favorite color, ESPN.com business reporter Darren Rovell made a cameo wearing a green jacket and tie combo. Money green, perhaps? Color us green with envy at his courage.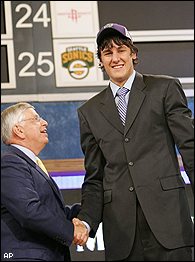 Props to the commish for the yellow tie but Andrew Bogut's outfit may foretell a ho-hum a career.
The families
The draft fashion show has always been – and will remain – about the moms. My mom manages to well up with tears at least once every draft broadcast, seeing how thrilled the draftee moms are for their sons. And we had an interesting twist this year: A great aunt steals the show.
The biggest winner was Beulah Walker, the great aunt of Portland's teen draftee Martell Webster. Not only was she the cutest sight of the draft, but she came to play with a cream dress accentuated by the hat of the night: Haute couture meets haute cuisine. She's chef fabulous! The draftees' "official" caps had nothing on Beulah's unique look.
Runner-up: Deron Williams didn't just rocket into the top three – he stole the draft with his super-cute daughter, Denae, dressed in pink, and super-hot girlfriend Amy, dressed for slink.
More from the moms (and dads and kids!): Who were those ladies in red? Was that Bogut's mom? And how about Wright's mom, in that pinstripe red blazer? For more color, how about Frye's mom, who stylistically eclipsed her son in a teal dress accented with a paisley scarf over her shoulder.
Other moms, mostly matching the evening's "business classy" motif: Deron Williams' mom in a blue suit; Paul's mom in a frilly black and white top; Bynum's mom in a gray suit; McCants' mom in a white suit showing just a bit of gold blouse peeking through; and Hakim Warrick's mom, Queen, in a very classic white suit with a black blouse underneath.
Front-office fabulous … or fatal
Another year, another reminder: Team logo golf shirts are for the concession stands, not the teleconference with a national TV audience. If you know you're going on TV, take the five minutes to put on a jacket and tie.
Bucks general manager Larry Harris, Bobcats honcho Bernie Bickerstaff and Grizzlies president Jerry West all put points on fine draft nights by showing up in suits. Perhaps a lesson for your next NBA fantasy draft? Nate McMillan was the only one to pull off "business casual," wearing a very sharp, open-collar gray button-down shirt. Randy Pfund almost made it – the Miami GM was trying a little too hard with his shimmery indigo South Beach top.
For the second straight year, Doc Rivers and Mitch Kupchak showed up in bland golf shirts. At least Rivers' had a logo; Kupchak's was simply hideous, with horizontal striping. When your teenaged draftee three weeks removed from his prom can outdress top team executives on draft night, there's a problem. Throw R.C. Buford into the mix: Was that a T-shirt or a sweater? Who cares? Bleh. Spurs draftee Ian Mahinmi (fresh from the cheap seats at MSG) looked a lot better.