By Dan Shanoff
Page 2
The NCAA's announcement Friday that all nicknames, mascots and imagery offensive to Native American culture would be banned from NCAA championship events was met with mixed reactions.


The reaction from Florida State, however, was crystal clear: Whaaaaa?!


Between threats of litigation in Tallahassee and a hindsight decision by the NCAA to offer an appeals process, schools that have a problem with the rule won't lack ways to get around it.


But there's an easier way: FSU can simply change its nickname and mascot to comply with the NCAA (not to mention mainstream values).


Oh sure, it might upset the FSU students and alumni, but for the rest of the country, it's nothing more than an excuse to give Florida State a face-lift.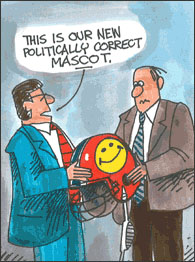 Old Nickname: Seminoles
New Nickname: The Party
Based on: Historically significant legacy of strong finishes in every annual ranking of the nation's top party colleges.
Runner-up choices: Anything that sounds like the colloquial 'Noles: Goals, Trolls, Skoals, Pigeonholes, Camisoles, Tootsie Rolls or, of course, Paroles (or 'Roles, as the football boosters like to say).


Old Mascot: Chief Osceola
New Mascot: Jocko the Frat Guy


Old Pep Chant: "Oh! Oh, oh-oh-oh! Oh, oh-oh!"
New Pep Chant: "Yeeeaaaaahh, Duuuuude!"


But it's not just Florida State. Two other huge Division I programs are in need of a makeover, too.


ILLINOIS

Old Nickname: Fighting Illini
New Nickname: Fighting Identity


Based on: With "Illini" such a heated issue around campus, why not just come right out and use the new nickname to admit directly that there's a problem?


Runner-up choices: Paying homage to all things Fighting: Fighting Robots, Fighting Mad, Fighting Words, Fighting Temptations, Kung Fu Fighting, Five for Fighting, and my favorite, capitalizing on one of the hottest sports around: Ultimate Fighting.


Old Mascot: Chief Illiniwek
New Mascot: Dick Butkus
UTAH

Old Nickname: Utes
New Nickname: Lakers
Based on: Alternative to the ignominy of fans around the country always asking "What's a Ute?" Nothing says "Utah" like Great Salt Lake.


Runner-up choices: Maintaining the strict U alliteration between school name and nickname -- Utopians, Utilities, Ukes and U-Turns.


Old Mascot: Swoop
New Mascot: None needed, thankfully. (Existing mascot is simply modeled on an indigenous bird.)
In all, 18 programs were put on alert by the NCAA. Some, such as Catawba, Carthage, Chowan and Newberry, are so far from mainstream radars that most fans didn't even know they were offenders. Here's a sampling of possible changes for some of the other programs "also receiving votes":


Central Michigan
Old Nickname: Chippewas
New Nickname: Chippendales

Indiana University-Pennsylvania
Old Nickname: Indians
New Nickname: Jones

Arkansas State
Old Nickname: Indians
New Nickname: Wal-Marts

Louisiana-Monroe
Old Nickname: Indians
New Nickname: Gumbos

North Dakota
Old Nickname: Fighting Sioux
New Nickname: Fighting Dakotas

Why: Statewide effort to drop "North" from state name. (So much for love for tradition.)
Southeastern Oklahoma State
Old Nickname: Savages
New Nickname: Rodmans

New Mascot: Do you even have to ask?
Dan Shanoff is a columnist for Page 2. His "Daily Quickie" is published every weekday, and you can chat online with him 9-10 ET every morning on SportsNation.