By Dan Shanoff
Page 2 columnist
Uga VI
Claim to fame: Georgia football mascot; father was Sports Illustrated "Mascot of the Year" in '99
Strengths: Charitable work and fund-raising; doghouse next to cheerleaders' platform
Handicap: His team still can't beat Florida.
Odds: 8-1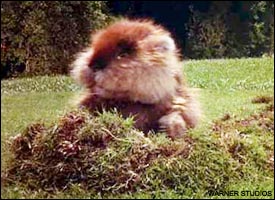 "I'd just like to say that I'm alright. Nobody should worry about me."
Funny Cide
Claim to fame: National sensation in Spring 2003
Strengths: Strong in the back stretch
Handicap: The whole "gelding" thing
Odds: 15-1
"Caddyshack" gopher
Claim to fame: Foiled Carl the Groundskeeper at Bushwood Country Club
Strengths: Elusiveness
Handicap: Licensed to be killed by "Government of the United Nations"; Enjoys Kenny Loggins' "I'm Alright"
Odds: 8-1
Schottzie Schott
Claim to fame: St. Bernard pet of exiled Reds owner Marge Schott
Strengths: Loyal Reds fan
Handicap: Has to live as object of Marge's affection
Odds: 23-1
Billy the Marlin
Claim to fame: In-game in-line skating wipe-out
Strengths: Led team to '97 World Series title
Handicap: Constantly involved in contract squabbles
Odds: 75-1
San Diego Chicken
Claim to fame: Supporting role on "Baseball Bunch"
Strengths: Best-known sports mascot in the world
Handicap: Relic of 1970s/1980s unable to perform high-wire acts of next-generation mascots
Odds: 55-1
Secretariat
Claim to fame: Greatest race-horse ever?
Strengths: ESPN SportsCentury Top 50 placement
Handicap: Um, dead
Odds: Not posted
Seabiscuit
Claim to fame: Best-selling book; huge summer movie
Strengths: In 1939, horse would have been VH-1's top pop-culture icon.
Handicap: No one really cares about horse racing anymore.
Odds: 12-1
Dan Shanoff is a columnist for Page 2. His "Daily Quickie" column appears every weekday morning.