By Bill Simmons
Page 2 columnist
I'm putting the finishing touches on this column from Houston, Texas. That's right, Houston, Texas. ESPN.com sent me out here for some hard-hitting "What the heck goes on at one of these random, meaningless college football bowl games?" coverage ... needless to say, while you're reading this on Friday afternoon, I'll be soaking in the riveting Gallery Furniture.com Bowl (ESPN, 1:30 p.m. ET). Or is it the galleryfurniture.com bowl? Who knows?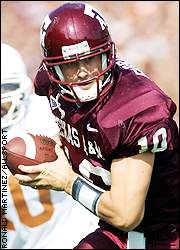 Writing about Texas A&M QB Mark Farris' Galleryfurniture.com Bowl game against TCU will have to wait.
Here's what we do know: Today's column was supposed to cover my first two days (Wednesday and Thursday) in Houston, setting the scene for Friday's game, getting a feel for the city, trying to figure out if anyone in Houston cares about this thing, even heading out on the town Wednesday night with my buddy Stoner (he's here as well, pulling an Eric Dickerson for Friday's ESPN telecast). Sadly, tragically, AirTran Airways had other ideas.
(Warning! Warning! I'm about to vent! Please push your tray tables in and pull your seats to the upright position.)
Here's what happened: I left the Sports Guy Mansion in Boston at 7:15 a.m. ET Wednesday... and arrived at my hotel in Houston at 1:45 a.m. CT Thursday. A 19½-hour travel day, you say? That's impossible! I'm telling you, it's possible. The details are too gory and mundane to recount here without me gagging on my own vomit, so I'll just put it this way: AirTran is the only airline that has connecting flights to hell.
(Quick consumer tip: If you're looking for rude customer service, inexplicably canceled flights with nary an explanation, mandatory delays, bland terminals, missing baggage, cramped planes, horribly disgusting bathrooms, and landings that make your life flash before your eyes, AirTran is the airline for you. I'm surprised they don't go the whole nine yards and just show "Fearless" for all in-flight movies. Oh, wait, they don't have in-flight movies. Quite an experience. I would sit through a 48-hour marathon of old "Arliss" episodes before travelling AirTran again. They gave me a complimentary two-way ticket for my troubles on Wednesday, which I promptly set on fire in my hotel room. It was quite cathartic. Wait a second, where was I?)
Anyway, thanks to AirTran, I missed out on a sightseeing/feeling-out day in Houston, which killed my plans for today's column (we're still on track for Monday's column though). Maybe the only saving grace? Ten straight hours in Terminal C of Atlanta airport -- yes, 10 -- allowed me to sift through your e-mails (I save the best ones) and shape everything into another "Yup, These Are My Readers" column, where you guys carry the load for a column, throw some innings and allow me to save my arm for the postseason.
Before we get to the e-mails, I just wanted to thank everyone who takes time to send in an e-mail, question or comment. Please don't take it personally if you don't receive a response; there's only so much time in the day.
On to your e-mails and questions:
The most common questions, in order:

1. Who the hell are you? How did you get this job? Where can I get a job like this? Can any schmoe become a sports columnist?

I promise to answer all of these questions in a future column. Just be patient -- gimme a few weeks until the sports scene quiets down and I have ample time to tell "The Story of Sports Guy," no relation to "The Story of O."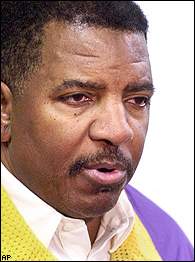 Dennis Green Face has been too common a sight for Vikings fans this season.
2. What happened to your pre-September columns?
Click on my archive page, then click on the "AFC Preview" column. All the links to the pre-September columns can be found on the right side.
3. Do you need an intern?
Not yet. If it ever happens, we'll have to have a contest or something. Maybe it could even be televised on ESPN6.
4. Do you realize how much you suck? You know you suck, right?
Absolutely.
Readers keep sending in candidates for the Sports Guy's "Pantheon of Sports Faces." Here were my three favorites:

1. From Dave Dexter: "I'd like to nominate the Dennis Green Face. The next Vikings game you watch, pay close attention whenever a Viking cornerback gets called for pass interference on a third-down stop, whenever Daunte Culpepper fumbles a snap, or whenever anybody commits a false start. If the cameras pan to Green, he'll look like Mike Tice just stabbed him in the butt with a tranquilizer. The eyebrows arch slightly, the eyelids droop, the jaw hangs open -- it's alternately hilarious and painful to watch."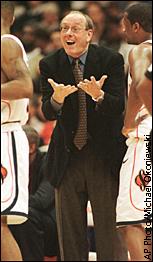 Syracuse's coach displays a variation of the Jim Boeheim face.
2. From Ed Scimia: "Is there any sports face more recognizable then the Jim Boeheim Face? You know you've seen it. Boeheim appears to be sitting quietly on his bench as the Orangemen are up 37 late in the second half against Binghamton, or Cornell, or whatever the early season warmup is. Suddenly, Kueth Duany is called for a traveling violation on a questionable call. Enter the Boeheim Face, the most exaggerated look of surprise and shock on the planet. The fact that it is sometimes delivered while kneeling and with hands in the air only adds to it's power."
3. Chris Manrodt takes it a step further with this burning question: "My brother and I were arguing about whether Shaq makes the Troy Aikman Face when he shoots free throws. The counter-argument is that the Shaq Face is unique, the way that he stares at the rim like it's one of those SAT questions with an analogy: 'Brick is to lightbulb, as cacophony is to ...' The way that he half-closes his eyes, sticks out his lower lip and tilts his head, you'd think the rim confuses him. Is the Shaq-at-the-Line Face worthy of its own designation?"
(My opinion? Absolutely. Shaq always looks like he's being hypnotized by the rim. Never fails to crack me up. By the way, the Shaq-at-the-Line Face is a distant cousin of the Shaq-on-the-Bench-in-Streetclothes Face, when he's injured and watching a game from the bench and looks like he's ready to lapse into a coma.)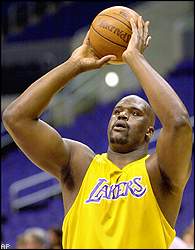 AP
Shaquille O'Neal at the line wonders why you park in a driveway and drive on a parkway.
Jeff in Boston found the perfect solution for the "Pulling a Jackie" phenomenon (described in last month's World Series diary): TIVO. Says Jeff, "You can pause live TV, do your own instant replays with slow motion and record one thing while watching another. And it's simple to use -- not like a VCR. I bought it for the obvious benefits when watching sports, but now when my wife walks into the room, I just hit pause. Simple. It has the added effect of making her conscious that she is interrupting something. Not that it matters to her though."
I enjoyed this submission from reader Brian Bauer: "How is it that Jerry Glanville is able to get through five minutes of every TV broadcast without someone reminding him that he once had Brett Favre ... and not only didn't play him, but relegated him to third string and basically verbally abused the guy to the point where Favre simply assumed he was worthless? You couldn't get away with a fantasy move even half this bad without your buddies abusing you for life, and yet this guy benched one of the best QBs of all-time in favor of Chris Miller ... in real life! I would think that Len Dawson and the HBO gang would bring that up every show:"

So once again, Brett Favre pulls out another one ... say, Jerry, didn't you have Brett and use him only as a backup when you were in Atlanta? Oh, third string. My apologies."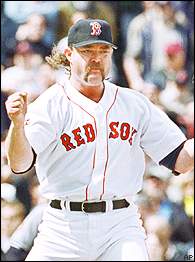 Rod Beck keeps the spirit of the mustachioed reliever, not to mention the mullet, alive.
From reader Jeremy Tancredi: "I though you'd enjoy a little Rolaids Relief Man awards history ... this award reads like a who's who in beards and mustaches: Rollie Fingers (4X), Dan Quisenberry (5X), Jeff Reardon, Bruce Sutter (4X), Steve Bedrosian, John Franco (2X), Rod Beck, Dennis Eckersley (2X), Brian Harvey, Todd Worrell. I did notice a rapid decline in facial hair on closers in the 1990s, save Beck. I think it started when Tom Henke became the first 'dork with glasses' to win the award, possibly rendering the tough-guy facial hair look for a closer obsolete."
Reader Joe Romano believes that I omitted three important statistics in the "Roy Hobbs vs. Barry Bonds in '01" comparison:
           OCD     BCR     SBE
Bonds       0       0       0
Hobbs       1       1       1
OCD = outfield clocks destroyed
BCR = ball covers removed
SBE = scoreboards exploded
Adds Joe, "I think that pretty much settles that argument."
Tim from Foxboro, Mass., sent in this goodie two months ago, which still cracks me up: "As of 11:34 AM EST on Wednesday, Oct. 24, there are officially 873 complete idiots using the ESPN.com site -- the 12 percent of 7,275 voters who have Greg Anthony and Anderson Hunt as the best college backcourt of all-time on a list that includes Gail Goodrich & Walt Hazzard, Kendall Gill & Nick Anderson, Michael Jordan & Jimmy Black, and Tommy Amaker & Johnny Dawkins. Huh?

"I'm guessing either 1) the voters were confused and thought they were voting for 'backcourt with worst-looking teeth' (although Jewel and whoever was her point guard on the homeless Alaskan high school team would have to win that one, hands down); or 2) UNLV fans can't -- it's just not cosmically possible -- resist the urge to fix any contest. It's in their blood. I can see them at the their kids' birthday parties betting the under on how many candles will go out and then sneaking the kid a pack of cigs to 'get a little edge.' "
From Virginia reader Pat Whiting: "Being the pop culture reference machine that you are, you're plenty aware of the Six Degrees of Kevin Bacon game that works for all movie stars. On a related note, I've come up with the 'Six Degrees of Claudell Washington' theory, which ultimately brings every major league baseball player in history (OK, past 1920) back to the the much-traveled outfielder. I've been doing this with my friends for a while now, and no one has been able to get me. Fun for the whole family."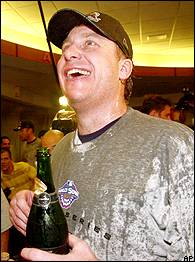 Phoenix has Curt Schilling and more World Series titles in recent memory than the Pink Sox.
Phoenix resident Stephana had this response to my Diamondbacks bashing last month: "We've been the brunt of jokes the whole postseason. We can take it. People forget that Phoenix has been a home for the Cactus League longer than I've been alive and we are baseball fans. Our football team may suck and the Suns are iffy, but we have always loved baseball (we just had to root for other teams because we didn't have one of our own). Arizona might be where good ballplayers go to retire, but we beat the Yankees. Something your beloved Pink Sox haven't been able to do."

Ouch.
From Joe in New York: "In what has become as chronic as the Patrick Ewing guarantee, another 'I'm the next Randy Moss, you shouldn't have passed over me in the draft.' This one comes courtesy of T-Wolves rookie Loren Woods:

"I'm going to try to make it so that any team that passed me up made a stupid decision on draft night. I don't want to be selfish, but as the year goes on, I'm going to get more minutes. Every team that passed me up, they're definitely on the list for me."

"Well, Loren, considering you were picked 46th in the draft, every team is on that list. College graduate, hmmm."
Two readers had their own methods for settling baseball's contraction problems:

From New Hampshire resident Brad Kasnet: "Don't you think that when they announce which two baseball teams are to be contracted, they should do it 'Survivor' style? I see the owners walking into the 'Tribal Council' area (set up in the parking lot of Comiskey Park) carrying a lit tiki torch. Bud Selig stands before them, dressed in Probst-style camp counselor gear, and explains the situation before them.

"The voting begins with each owner walking over to write down their vote on a piece of parchment, then holding it up to the camera and explaining why they voted that way. After Selig tallies the votes, he pulls them out one at a time, dramatically revealing which teams are to be contracted. The losing owners then walk over to Selig with their tiki torch, as he explains, 'I'm sorry, the tribe has spoken,' then extingushes the torch as the losing owners dejectedly walks away. I think that this method would get everyone back on the contraction bandwagon, don't you?"

North Carolina resident Brian Daley wonders, "Can we please schedule a franchise match (or series, whatever) between the Twins and the Expos and the Marlins and the Devil Rays? I am thinking of the WWF matches (inevitably on pay-per-view) where the loser supposedly had to leave the WWF forever. Of course, they usually came back as commissioner or special guest referee."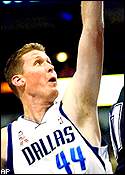 One reader has a "Rendez-View" about Shawn Bradley.
Speaking of wrestling, my favorite question from the past two months comes from reader Todd Joerchel, who asked, "If a battle royal were to erupt in ESPN Studios, who would be the person most likely to be slammed through the SportCenter desk?"

(TREEEEE-mendous question. Unfortunately, there's no way in hell I can answer it without getting fired or at least heavily reprimanded and scolded. Not good times. Bad times.)
Reader RReebs reports: "Not sure if you have had the chance to watch the syndicated show 'Rendez-View.' (It's a blind date filmed and shown to a live studio audience, featuring the annoying Greg Proops, a dating expert and two "semi-celebrities" who all ridicule the date as it plays out.) Last month, the two celebrities were an actress from a WB show and Mavericks owner Mark Cuban. I was shocked to see Cuban sitting there, making fun of the daters. When he called one of the datees a chump, all I could think was the money he just spent on Shawn Bradley."
Reader Jason Jancaitis argues that "Jevon Kearse has officially joined Dexy's Midnight Runners, Mark Fidrych, Vince Vaughn and goalie Jim Carey in the One-Year Wonder Hall of Fame?"

(I wouldn't go that far, but I liked the concept. Some other possible candidates: Mark Rypien, Timmy Smith, Richard Dumas, Stan Humphries, Rumeal Robinson, Brian Bosworth, Rick Ankiel and the Ultimate Warrior. It's an endless list.)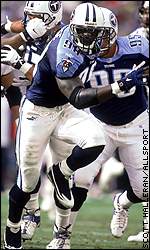 Should Jevon Kearse be fitted with Dexy's Midnight Runners overalls?
Reader Scott Portugal sent in three more "Annoying Casino People," to add to my list from Nov. 19:

1) "The overexcited guy who isn't even playing at the table

"He has no vested interest in the game, but he's high-fiving and talking about your cards, even though he was too broke to put any chips down."

2) "The one-hand guy

"He doesn't even sit down, comes in midshoe, plays one or two hands, takes my cards, loses 10 bucks, then leaves. I hate him."

3) "The 'I have 15 or 16. What do I do?' Guy

"Can we add this face to the list of faces? The 'I have 15 or 16 and I don't know what to do so I'm going to think real hard and make the wrong decision' face"?

Reader Andrew Taylor adds one more: "The guy who knows you are going to Vegas in the office, and right before you are headed to the airport comes over, slips you a $5 bill and says, 'Hey man, have a good time, would you put five bucks on red for me?'"
I enjoyed this rant from reader Ken Leventon: "Don't you wish you had your own cut man, like in boxing? Sometimes in the morning I cut myself shaving and it takes forever to stop the bleeding. I have to keep putting pressure on it, go through about 50 Kleenex. I always end up late for work or looking like Apollo after Drago got through with him. Wouldn't it be a lot better to have that guy who sticks a Q-tip with Vaseline goop on your cuts, plus rub that weird metal thing on it until it stops bleeding? Then you could go get some breakfast and read the paper while the cut man works on you. He could even call you 'Champ' and encourage you to go get 'em at work' and all that stuff."

(Ironically enough, some guys have their own "cut men" ... they call them "wives.")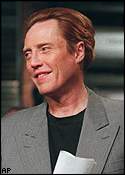 Christopher Walken and the "True Romance" cast have more than a few good men.
Some belated comments on my "Few Good Men/NBA" piece:

Reader Richard Nelson points out: "In response to your comment that 'A Few Good Men' had the liveliest cast of any movie of the '90s: I'd have to disagree and say that honor belongs to 'True Romance.' I mean, you've got a modern day Rat Pack on your hands: Christian Slater, Val Kilmer, Brad Pitt (as one of the best stoners of all time), Gary Oldman transformed as a drug dealer-pimp, Christopher Walken as the human lie detector, Dennis Hopper in one of the best movie scenes of all-time, Patricia Arquette, Tom Sizemore, Chris Penn, Sam Jackson, James Gandolfini, Bronson Pinchot and Michael Rappaport, and "That Guy" Saul Rubinek. Extra points to Quentin Tarantino for writing the screenplay."

Reader CJ Perez notes: " 'A Few Good Men' is in my Pantheon of Movies mostly because, as a former Marine, it's pretty close to the truth. But about that salute by Lt. Dawson at the end ... every Devil Dog out there cringes when we see that because Marines never, ever salute indoors unless we are under arms, which is carrying a weapon, hence wearing an ammo belt and cover (hat, for you civilians). Also, Dawson was still a prisoner at the end of the movie. He wasn't allowed to salute anyone. Saluting is a military courtesy that is denied prisoners. That final courtroom scene elicited much-deserved boos and catcalls in Okinawa. Someone in Hollywood went for the 'chill factor' instead of doing it perfectly."

Laremy Legel wonders why I left out his favorite line in the movie, uttered by Kiefer Sutherland: "Private Santiago is dead, and that is a tragedy. But he is dead because he had no honor, no code ... and God was watching."

According to Legel, that should have gone to Pat Riley, "Who lived on the coattails of Magic and Kareem, brought us wretched Knicks basketball and now is condemned to basketball hell in Miami."

(Good stuff. Wish I had thought of it first. That reminds me, I caught Janeane Garofolo on a talk show recently and she actually cracked me up -- she was calling for a moratorium preventing anyone from taking a picture with Muhammad Ali and doing that "Holding up their fist and biting their lower lip" routine. Very funny. Ever since she said that, every Ali picture I've seen has featured him doing the "clenched fist-lip bite" routine with the other person in the photo. High comedy.)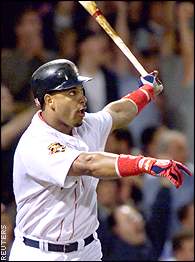 Reuters/Jim Bourg
What will the Red Sox do to pacify Manny Ramirez?
Reader Bernie Porter cracks, "Do you think Manny would be more comfortable in the Red Sox clubhouse if they brought his mother in to breastfeed him?"

(This was a reference to an ESPN Magazine story earlier this year, which mentioned that Manny's family was so poor that he was breastfed until he was 4 years old -- easily the most disturbing revelation of the year. Some things you just wish you didn't know.)
The section in the 12/14 mailbag about those "Oh, my god, she's really going to take her top off" movie moments drew a predictably large amount of e-mails (the number of perverts among my readership never ceases to amaze me).

Reader M. Kelly backed my No. 1 choice of Joyce Hyser in "Just One of the Guys," but still wondered, "How can you neglect to mention Julie Andrews in 'S.O.B.'? Even though the entire scene was a buildup to her unveiling, it was still by the far the most titillating movie moment. The governess from 'Sound of Music' and 'Mary Poppins' baring all? It was spectacular and still reduces me to a stammering fool."

Some of you were stunned that I forgot Uma Thurman in "Dangerous Liaisons" (which was admittedly inexcusable). Reader Aaron McClintic called it an "Unbelievable oversight, akin to leaving Isiah Thomas off the Olympic team." Reader Matt Sullivan claimed, "You always talk about chill scenes -- the young Uma baring all, that was the ultimate chill scene." Reader R. M. Fong was equally apoplectic, arguing, "You could feel the air being sucked out of the theater when (Uma taking off her top) happened."

All good points.
Speaking of the 12/14 mailbag, some of you wrote in suggesting other candidates for my "Chick Movie vs. Sports Movie" debate, leaving me no choice but to expand that section into its own column down the road (stay tuned). Of course, some of those e-mails slammed me for deeming "Jerry Maguire" a sports movie, a position summed up best by reader Viktor3000 in Virginia:

"The featured blurb in the 'Jerry Maguire' poster reads, 'A deliciously smart romantic comedy.' Has there ever, ever, been a deliciously smart romantic comedy that was not a chick flick? Hmmmm? I think not. You wuss."

(You had me at hello, Viktor3000. You had me at hello.)
One other section of that 12/14 mailbag attracted some interest -- the section about how "ensuing" and "ejaculate" can only be used in specific circumstances. Jeff in Minneapolis writes, "I don't mean to pound on a fellow Sports Guy Reader, but many sports junkies know that melees and bench-clearing brawls can ensue, not just kickoffs. In a somewhat similar area, you know how sports anchors will report that two NHL teams 'skated to a 2-2 tie?' Is there an equivalent in another sport, like, 'The Clippers and Grizzlies dribbled to overtime?'"

Nick from Princeton adds: "The guy who wrote about how only kickoffs are able to 'ensue' was on to something. The sports world is littered with these words. One that springs to mind 'Since the advent of interleague play ...' Can we keep a running list of these words?"

(Sounds like a good idea ... I'll have more details in the ensuing mailbag.)

(Hah!)
Seven lively questions that either A) couldn't be answered, or B) had me reining myself in from answering:

1. From Patrick in Detroit: "In 'Rocky IV,' Ivan Drago registers a punch at well over 2,000 pounds per square inch. Considering that the average boxer lands punches at about 700 psi, and that Rocky took about 10,000 punches, why didn't his skull explode?"

2. From Joe in Foxboro: "Who get's paid more to do less, ('SNL' 's) Tracy Morgan or the Rams' punter?"

3. From Greg P. in Cincy: "What's your favorite euphemism for a bowel movement? I was sold on 'dropping the kids off at the pool' until I heard someone say they were 'taking the Browns to the Super Bowl.'"

4. From Mark in Albany: "When do you think we will see illegally obtained videotape of members of the female tennis tour in their locker rooms before and after matches? Imagine the Internet frenzy when a tape of Anna and Martina toweling off after a hard-fought match in the heat! So what do you think?

5. From Andy Lorsber: "Was Gene Hackman ever young? Or was he born 46 years old?"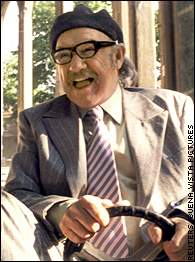 Forever 46-year-old Gene Hackman in "The Royal Tenenbaums."
6. From Josh Plante: "Hey, Sports Guy, your article about all the Rocky movies got me to watch 'Rocky IV' one more time, and it got me thinking. How on Earth is Drago married to Ludmilla?! Was she just a wife awarded by the state? If not, what could that courtship have been like? The emotionless Drago asking Ludmilla out. The comedy potential here is limitless in my opinion."
7. From Mike L. in Boston: "Four Corners Match: Moochie Norris' hair vs. Kurt Rambis' glasses vs. Fennis Dembo's name vs. Paul Mokeski's game ... who comes out alive?"
Jamie in Cincy offers an intriguing Roto alternative for those of you who can't get enough roto in your lives:

"I thought I'd share with you my favorite fantasy game for college basketball. Living in the 'Nati, college hoops reigns supreme (Cincy, Xavier, UK, Louisville, Indiana, Ohio State, Miami (Ohio), Dayton all within 1½ hours drive) so naturally, we've got to have a Roto game to keep us occupied and focused on the college hoops activity. This one's a little different than other leagues -- instead of drafting players, you draft teams. We have eight guys and take eight conferences (Big East, Big 10, SEC, Pac-10, Big 12, ACC, C-USA, and A-10), although you can have any number of either, then set a draft order and do a normal 'snake' draft where each participant needs to draft one team (and only one team) from each conference. The goal is to pick the teams that will have the most cumulative conference wins (only conference games count)."
I liked this addendum about my Super Bowl Axiom (from my 12/18 NFL column) from California reader Sean Kelly:

"You forgot one factor, 'The under-the-radar team spoiling the great stories and creating a story no one wants.' This year's candidate: the Philadelphia Eagles. Other examples: '86 Dolphins (upset by Patriots, killing the Marino vs. Bears story); '98 Falcons (beat the 15-1 Vikes -- instead of best passing vs. best rushing, we had Broncos playing a poor man's Broncos, complete with a poor man's Terrell Davis); basketball, '95 (instead of the returning MJ vs. Olajuwon, we were forced to watch Haq-a-Shaq); and the 2001 Survivor Series (instead of seeing another Rock vs Austin classic, Jericho weaseled his way to becoming the first unified champion at the Vengeance PPV)."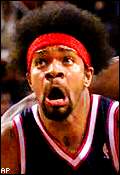 Our money's on Moochie Norris' hair any day.
Some random e-mails that I enjoyed:

From George in Malden, Mass.: "I went over my girlfriend's house last week and as I entered the house she sprung it on me that she had rented 'Bridget Jones's Diary.' After having watched it, I was just wondering if you could swing by my house and either shoot me or light me on fire. It's for my own good."

From reader Steve Kondonijakos: "Due to humanity's car wreck syndrome, I watched the 'Facts of Life' reunion last night for a little bit. Mindy Cohn, and I cannot stress this enough, should never be allowed to make out with a guy on TV ever again. Ever."

From Mike Neagle: "On the subject of 'Tango & Cash,' wasn't that totally Teri Hatcher's coming-out party? It was kind of like Shawn Kemp in the '96 Finals. And who knew both would tank so precipitously like that? Sad."

From Brian S. in Cleveland: "I just read an interview in which Ben Affleck reveals he was turned down for the lead role in 'License To Drive,' the Haim-Feldman classic and guilty pleasure if ever there was one. Do you think there is an alternate universe in which Damon-Affleck are indeed cast in 'License,' become that world's Haim-Feldman, and the alternate universe Haim-Feldman go on to write and star in 'Good Will Hunting,' win Academy Awards, and become A-list leading men? Imagine it ... wow, I want to visit there."
From time to time, I'll have a mammoth "Dreaded Glitch" that somehow makes its way into a posted column. Reader Fred Roselli caught the latest one, from a paragraph in my column about "Point Guards" which unfolded like this:

And yet you can count the number of "old-school" point guards on one hand: John Stockton (and he's 55 years old), Mark Jackson (hampered by a giant pitchfork sticking out of his back), Steve Nash (sometimes), Andre Miller, Kidd, Tinsley, and maybe Tony Parker (the Spurs rookie who shows flashes) and Baron Davis (who could go either way). That's it. That's the list.

Here's what Fred said: "Maybe I'm off my rocker, but that's eight people. Even if you discount Parker and Davis (whom you mention in passing), you're still left with six 'old-skool' point guards. After reading this, I came to the realization that you have an unfair advantage over the rest of us once-struggling columnists -- it isn't your wit or knowledge of the game, it's the fact that you have six fingers and can type your stories approximately 20 percent faster than the rest of us, making us look bad. While I'll continue reading your column with enthusiasm, I'll take everything you say with a grain of salt now. Thanks for killing my dream."
Finally, Marc B. from Dallas wrote in asking, "My friend Bobby just got engaged, and we're trying to talk him into to letting us groomsmen wear Cobra Kai outfits instead of tuxedos. Here's my question, though ... right as he's about to say, 'I do,' which quote should we shout, 'Get 'em a body bag, YEAHHHHH!' or 'Do what you gotta do, Bobby!?' Help!"

(Yup... these are my readers.)

Bill Simmons writes three columns a week for Page 2. Check back on Monday for his full report from Houston on the electric Galleryfurniture.com Bowl.