By Bill Simmons
Page 2 columnist
For my two-part "NFL awards-movie quotes" season preview, I'm paying respects to my favorite comedy of all time, a classic that nearly went ignored during "Page 2 Goes to the Movies" week, one of those "lightning in a bottle" films that could never be duplicated or replicated ... that's right, the one and only "Caddyshack."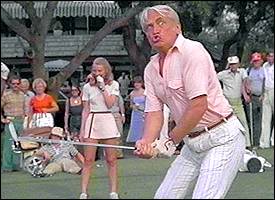 The Late, Great Ted Knight was a driving, underrated force in "Caddyshack."
Much like Barry Bonds and Shannon Tweed, "Caddyshack" only seems to get better with age. You know that dopey "If you were stuck on a desert island and you could only bring one movie, what movie would you bring" question? Well, mine is "Caddyshack." Genuine giggles, cheap laughs, slapstick scenes, memorable performances, gratuitous nudity, the condoning of excessive drinking and drug use, an endless array of one-liners and exchanges ... I mean, what else would you want from a movie?
You want star power? For one thing, you could argue that Bill Murray, Chevy Chase and Rodney Dangerfield peaked as performers here, meaning that they were never better at any point in their careers. Yeah, you could argue that Chase was just as good in "Fletch," or Dangerfield was just as good in "Back to School." But were they better? Probably not. So name another time where three legitimate stars peaked in the same movie. It never happens.
(OK, one exception: Ralph Macchio, Pat Morita and William Zabka in "Karate Kid I." But we covered that already.)
Then you have the late, great Ted Knight, who should officially be referred to as The Late, Great Ted Knight from now on, with no exceptions. Eight months removed from filming a two-hour "Love Boat" movie, he rose to the occasion in "Caddyshack," taking even simple lines like "Ah ... ho-ho ... ha-ha!", "Mmmmm? Mmmmm? Mmmmm?" and "How 'bout a Fresca? Huhhhh?" and making them riotously, pee-in-your-pants funny. No small feat. If the "Caddyshack" cast were the '86 Celts, then Ted Knight was Kevin McHale -- just a driving, underrated force who will never be fully appreciated.
The thing I really love about "Caddyshack" are the nuances: Lou starting off the climactic match by saying, "Your honor, your honor" ... Carl Spackler the assistant greenskeeper spitting in his own living room ... Dangerfield's "Who stepped on a duck?" line (which influenced an entire generation of flatuence jokes) ... Mrs. Smails limping back to her room after the disastrous boat christening ... Spaulding Smails explaining where he got his potent supply of weed ... Carl washing his golf balls ... the inherent comedy of Dr. Beeper, Chuck Schick and Mitch Kumstein ... the guy who looks down the dress of Al's date's dress when Al and the Judge are wrestling ... Ty Webb explaining why he didn't fight in Vietnam ... Wang the photographer, maybe my favorite movie character who doesn't have a single line.
You know what? I could go on all day. Let's just fast-forward to the quotes and the NFL preview -- 33 of my favorite Caddyshack quotes and exchanges, handed out to my favorite plots, subplots and X-factors for this upcoming NFL season (16 today, 17 tomorrow, and just in case you were wondering about the "33," the Basketball Jesus retired 10 years ago this month, so we might as well honor him, too).
Enough of the intro. I'm not talking. I've stopped talking. I'm not talking now. Not talking ...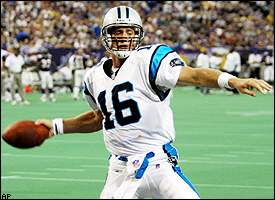 Chris Weinke plays for the second-worst team in the NFL, and he just got beat out for a starting job by an 80-year-old.
1. "Hey, don't get yourself down. You're ... you're not ... you're not good. You stink."
To the Carolina Panthers ... who would have been my hands-down pick for "Worst Team in 2002" if Houston wasn't joining the league. When you have a QB controversy between Rodney Peete and Chris Weinke, shouldn't you just cancel the season at that point? Who else is waiting for Muhsin Muhammad to re-enact the opening scene from "The Last Boy Scout" this year?
2. "Weeeeeeeeeelllll ... we're WAITING!"
One of Judge Smails' finest moments goes to Ricky Williams ... has any other NFL player had so much written and said about him over his entire career and accomplished so little? Three seasons, 38 games, 3,129 yards rushing, 3.8 yards per carry, 132 catches, 19 touchdowns, 65 ESPN The Magazine features (all written by Dan Le Batard), and one team that's already given up on him (the Saints). Now he's suddenly "The Savior" in Miami? What am I missing here?
(More importantly, what was I thinking? I bought into the hype and took Ricky with the seventh pick in my fantasy football draft last month. Dave Wannstedt and I should be sharing that same frustrated, constipated, "I'm going down in flames" look by early-November. And if you want to consider this a Reverse Jinx, well, you know me too well.)
3. "My friend, you have no idea how happy this is gonna make me. I'm going to enjoy this thoroughly."
To the Packers and their fans ... who willingly bought a ticket for the Terry Glenn roller coaster this year ... next stop, hell! My buddy Chip lives in Wisconsin and thinks Glenn could put up Sterling Sharpe-type numbers with Favre ... if he stays healthy. That kills me. Poor Chipper has no idea. I love when one of my favorite teams dumps somebody like Glenn on another team, then you get to watch his new fans make excuses for him and eventually turn against him. Yes, just like Seattle fans will feel with me during Year One of the Vin Baker era in Boston.
(By the way, did anyone have a worse golf swing than D'Annunzio in "Caddyshack"? Couldn't they have hired an actor who moved his hips? And did it bother anyone else that D'Annunzio went on to play one of PeeWee's buddies in "Porky's"? He was one of Those Guys who should have just played D'Annunzio and that's it -- no other roles for the rest of his life. They really need a movie commissioner for moments like this.)
4. "Moose, Rocco, help the Judge find his check book, will ya?"
To the Cincinnati Bengals ... all they needed during the offseason was a competent starting QB, yet they wouldn't spend a little extra cash and deal for Drew Bledsoe. Now they're heading into yet another season with the QB PuPu Platter (Jon Kitna, Akili Smith and Gus Frerotte). Couldn't the NFL merge them with Arizona and move them to Vegas? Would anyone object to this?
5. "People say I'm an idiot or something because all I do is cut lawns for a living."
"Aw, people don't say that about you ... as far as you know."
To this year's group of "Coaches on the hot seat" ... one of the more enjoyable subplots of the first few weeks. My current odds: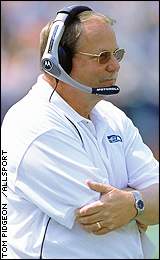 Seahawks coach Mike Holmgren waits for another Favre to fall in his lap.
Mike Holmgren (3-to-1) -- How hard was it to coach those mid- '90s Packers teams, anyway? You had the best player (Brett Favre), you had Reggie White, you had Ron Wolf picking the players ... pretty nice setup (and I always thought Holmgren screwed up the '98 Super Bowl against Denver, but that's another story for another time). Then he moves on to Seattle, ties his professional fate to Jon Kitna and Matt Hasselbeck, gives away Ahman Green for nothing, and coaches a team that underachieves for three straight seasons. Is it safe to say that Holmgren has led a pretty fortunate life, crossing paths with Favre and Reggie at the perfect time? I think so.
Jim Fassel (5-to-2) -- It's gut-check time! I'm pushing all my cards to the middle of the table! You want to ante in, ante in! You want out, get out!
Tom Coughlin (2-to-1) -- Very good run, including two trips to the AFC championship game (you forget this). But that drill sergeant routine only has a shelf life of four or five years, then players start having conversations like "Next time coach is taking a whirlpool, what would happen if we dropped a hair dryer in there?" He's done.
Jim Haslett (even) -- His Saints team rolled over and died last season (the final few weeks were an "E! True Hollywood Story"-caliber collapse), so Haslett spent much of the offseason cleaning house and holding his breath every time someone said, "Hey, you think any of this was the coach's fault?" Now his future rests with Aaron Brooks, one of my favorite "It's too bad this guy's Roto stats don't translate to real life" guys of the past 20 years. Yikes.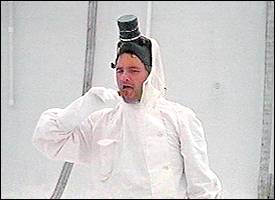 At least nobody's laundry was damaged by the potty humor in "Caddyshack," unlike Najeh Davenport's acquaintances.
6. "Doodieeeee!!!"
To Packers rookie Najeh Davenport ... I never thought I would hear the words "taking the Browns to the Super Bowl" and "laundry hamper" in the same sentence.
7. "If I were you, I'd keep playin.' I don't think the really heavy stuff is comin' down for quite a while."
The most improbable scene of the movie -- Bishop Pickering nearly breaking the course record in a blinding monsoon -- goes to the most improbable NFL star, Jeff Garcia ( 7,800 yards and 63 touchdowns over the past two seasons). Has there ever been a less cool QB, with the possible exception of Mark Rypien? Even the hosts from "American Idol" are more commanding; during the "Quarterback Challenge" this summer, nobody looked like they even wanted to say hello to poor Garcia. I've stopped trying to figure it out.
8. "It's a little harsh ... here, cannonball it. Cannonball it right back. And then one more right on top of it. Cannonball! Cannonball coming!"
To Drew Bledsoe ... nice guy, quality QB, someone who could definitely make the difference between a 7-9 team and a playoff team ... and someone you definitely don't want running the show with a shaky offensive line. Quarterbacks are like boxers and porn stars; after a certain number of games/fights/movies, they just aren't the same anymore. Trust me, I watched Bledsoe for nine years -- he can't buy himself time to throw like Donovan McNabb, he doesn't have Kurt Warner's release and he can't salvage broken plays like Favre. If Buffalo can't protect him, he won't help them this season nearly as much as people seem to think.
(And just for the record, does it get any better then the cannonball scene? Absolutely kills me from start to finish. Pure gold. Here's the weird thing: According to the DVD, they were almost finished filming when they realized that Murray and Chase hadn't appeared on screen together, so they came up with that hokey premise -- Ty Webb night golfing, hours before his big match -- and ended up with arguably the funniest scene in the movie. What's your address over there? You're on Briar, right?)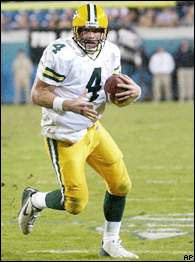 And do you know what the Brett Favre says? Gunga galunga ... gunga -- gunga galunga.
9. "Big hitter, the Lama. Long."
A classic line for a classic QB, Brett Favre ... you can't write an NFL preview without the obligatory "He's so much fun to watch/I'm so glad he's in the league" mention for No. 4. There isn't anyone else quite like him.
(And since we're here, we might as well announce that, for the third straight season since Barry Sanders' retirement, Favre has retained his title as "The One Guy You Never Wager Heavily Against Under Any Circumstances." Light wager? Sure. Heavy wager? No. Consider yourself warned.)
10. "Don't worry, it's good luck."
"Yeah, in Haiti."
To Jerry Jones and the Cowboys ... who eagerly signed up for HBO's "Hard Knocks" series, even though the show's bad karma destroyed the 2001 Ravens on about 20 different levels. Didn't you just know Rocket Ismail's season-ending knee injury was coming? They should have had him wearing a Jamal Lewis jersey during two-a-days.
On the bright side, at least "Knocks" brought us six weeks of Emmitt Smith (who clearly needs his own talk show); Quincy Carter (who clearly needs to be Smith's sidekick on that same talk show); some riveting practice fights; Dave "Captain Cliche" Campo (note to all aspiring NFL coaches: if you're singing karaoke and playing with fart machines during bed checks, then you can't understand why your team commits 14 penalties in a preseason game, it's probably time to hang it up); the 24-7 comedy of Jones (if he fired Campo and named himself coach, it wouldn't even be a surprise at this point); and Chad Hutchinson's guitar (does anyone else keep waiting for John Belushi to crawl out of his grave and smash that guitar to smithereens?).
11. "Honey? Will you come here and loofa my stretch marks?"
One of my favorite lines goes to one of my favorite players ... Terrell Davis, who was headed toward the Hall of Fame before a fluke injury submarined his career. I hate when stuff like that happens.
(And just for the record, he can't make the Hall of Fame because he doesn't pass the "Bouncing my grandkids on my knee" test. In other words, if somebody's getting into the Hall despite an injury-shortened career, you better be telling your grandkids stories about him 40 years from now, the way we will with Gale Sayers or Earl Campbell. Terrell was great, but he wasn't that great. Hey, I'm just the messenger.)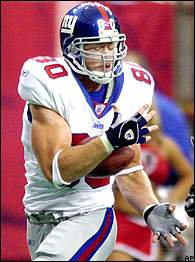 Combining attributes of Mark Bavaro and Larry Bird has boosted Jeremy Shockey's stock in the Sports Guy's estimation.
12. "You're probably so high already you don't even know it."
Another one of my favorite lines goes to my favorite 2002 rookie ... Giants tight end Jeremy Shockey. Any time somebody gets described as "The Evolutionary Mark Bavaro" and as "having a little Larry Bird in him" during the same training camp, that's more than enough for me to make a bandwagon jump. Don't you just get the feeling that he'll put up Tony Gonzalez numbers right away?
That reminds me ...
13. "There's a force in the universe that makes things happen. And all you have to do is get in touch with it, stop thinking, let things happen, andbe the ball."
To this year's vaunted collection of my fantasy sleepers and stayaways (yeah, I know, I'm a little late) ...
Sleepers: Shane Matthews (the Spurrier Factor) ... Rod Gardner (this year's David Boston?) ... Javon Walker (Favre's new go-to-guy) ... Qadry Ismail (Marvin Harrison's leftovers in Indy) ... Clinton Portis (one rookie RB always emerges as a 1,000-yard guy) ... Steve Smith (poor man's Derrick Mason) ... Michael Pittman (about to be unleashed by Jon Gruden) ... Peerless Price (Bledsoe plus contract year) ... the Packers defense (I'm with Peter King on this one) ... Johnnie Morton (good team for him in Kansas City) ... (Eddie George (about four weeks away from officially being REEEEEEEE-juvenated).
Stayaways: Brian Griese (Steve Beurlein's breath on his neck) ... Stephen Davis (the Reverse Spurrier Factor) ... Antowain Smith (year after the Contract Year) ... Deuce McAllister (looks too easy on paper) ... Jerry Rice and Tim Brown (too many variables with that offense -- aging team, different coach, aging QB, etc. -- and they're a year older) ... Kordell Stewart (because he's Kordell Stewart) ... Warner (that thumb worries me just enough) ... Emmitt Smith (the age thing again) ... and last but not least, the immortal Freddie Taylor.
(Note: Yes, the rumors are true ... I picked Taylor in the fourth round of my fantasy draft. I wanted another RB, I didn't like Jerome Bettis or Jamal Lewis, it was too early to take Travis Henry or Pittman, I couldn't get enthused about anyone from the Keyshawn-Mason-Brown-Rice WR group, it was way too early for Shane Matthews, and I found myself saying, "Man, Fred Taylor gained 1,500 yards two years ago, imagine if he could keep that groin healthy?" Next thing you know, I was making The Leap, then wincing as the barrage of laughs came. Definitely the highlight of the draft.)
14. "It's easy to grin ... when your ship comes in ... and you've got the stock market beat ... but the man worthwhile ... is the man who can smile ... when his shorts are too tight in the seat. Mwaaaaa-ha ha ha! Ha-ha-ha! A-ha! A-ha-ha ha!"
To Daniel Snyder ... self-explanatory.
15. "Your uncle molests collies."
To Mike Martz and everyone else on the Rams ... who made it seem all summer like they lost the Super Bowl more than the Patriots won it. Did they remind anyone else of pro tennis players? Martz should have just adopted a Martina Hingis accent and started mumbling, "I made a ton of unforced errors, I just couldn't get anything going, it didn't seem like I could catch any breaks, and my serve just wasn't there today ..."
16. "You better get rid of those gophers ... or I'll be looking for a new greenskeeper!"
My least favorite plot in the movie goes to the most boring storylines from training camp: "Randy Moss could explode in Mike Tice's new offense" ... "Randy Moss could explode, literally" ... Keyshawn Johnson and Warren Sapp don't get along" ... "Steve Mariucci and Terrell Owens didn't get along, and they still don't, but know they respect one another, so everything is OK" ... "Get the Juvenation Machine ready for (Fill in: Ricky Williams, Terry Glenn)" ... "Here comes Steve Spurrier!" ... "The city of Houston is fired up for the Texans!"
(By the way, people who enjoy the "Caddyshack" gopher are the same people who bring their gloves to baseball games, tuck their T-shirt into their shorts during pickup hoops, don't play "Golden Tee" because "it hurts my hand," won't partner with you for bar pool because "they don't feel comfortable playing with all these people watching," and enjoy the Super Bowl commercials more than the actual Super Bowl. They shame us all. There should be a "Did you like the Gopher?" check mark on everyone's driver's license, just so we can weed out the lower phylums of the human species. Just a thought.)
Coming Thursday: Part 2, including AFC and NFC picks and a Super Bowl prediction.
Bill Simmons is a columnist for Page 2 and ESPN The Magazine.