By Bill Simmons
Page 2 columnist
There's an old boxing saying that "styles make fights." Throw Gatti and Ward in the ring together, and it's pure magic. Throw De la Hoya and Trinidad together, and you'll be asleep by Round Six. It's all about the matchup. That's why the Frazier-Ali rivalry stood the test of time, not because of the personalities as much as two simple facts: Ali was a better boxer, but Frazier's sprawling left hook was the one punch he couldn't stop. Styles make fights.
| | |
| --- | --- |
| | DAD'S WEEKEND |
| | The Sports Guy will not only be watching the ugly NBA Finals on Father's Day Weekend, he'll also be missing his dad, who's back home in Boston. Check out Bill Simmons' column from ESPN The Magazine in which he explains how his father turned him into a "Sports Guy." |
Well, the same goes for a basketball series. You can't blame the
Spurs
and
Nets
for ruining basketball and causing fans everywhere to pull a collective Oedipus. That's what happens when two superior defensive teams play one another for the title. Once they figure each other out, scores start dropping, field-goal percentages start dropping, and eyelids start dropping. Throw in the lack of personalities, and this is ABC's biggest prime-time disaster since they combined the words "Push" and "Nevada." Just remember, if
Chris Webber
's knee hadn't gone out, this would have been an entirely different playoffs. The Kings would have easily dispatched Dallas and the Spurs, giving us a fairly compelling Finals. C-Webb,
J-Kidd
and
Vlade
going for their first rings.
Bibby
and
Jackson
taking turns battling Kidd. Mrs. Christie and Mrs. Kidd battling for camera time. The Maloofs rooting for games to hurry along so they could get back to their casino and hit on hot chicks. Rick Adelman burning the candle at both ends, figuring out ways to keep the Nets in the series.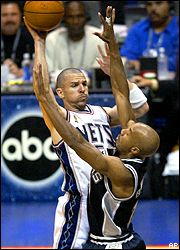 On second thought, Jason Kidd isn't ready for The Pantheon.
And best of all, the right kind of matchup: A superior offensive team against a superior defensive team. Now that's a series I want to watch.
That doesn't mean we're giving the Spurs and Nets a free pass for what they've inflicted on the American public. For one thing, the Pantheon Committee just spent the past week reviewing
Jason Kidd
's application, and here's what they came back with:
Dear Jason, Thank you for your interest in joining Larry, Magic, MJ, Hakeem and the other legends in the NBA Pantheon. Sadly, we are unable to process your application at this time. Not since Karl Malone played the '97 and '98 Finals with both hands wrapped around his own neck has there been a more disappointing meltdown by a player on a big stage. Either you're crapping the bed, or the Eastern Conference is much worse than anyone originally believed. Regardless, we wish you the best of luck. Sincerely, The Committee
I mean ... is Kidd injured? His ankle has to be bothering him, right? There has to be a reason why
Tony Parker
can drive by him at any time, that he made more bad decisions on the break in this series than in the previous 96 games combined, that he can't score at the end of games anymore. Then again, how can we explain Game 2, when Kidd was all over the court and wouldn't allow the Nets to lose? Where was that guy in Games 1, 3 and 4? As Maximus would say, isn't this whole thing a little vexing?
Tim Duncan
acquitted himself a little better, but not by much. His Game 1 performance was sublime. His rebound of Parker's missed free throw in Game 3 -- 75 seconds left, Spurs up by three and fading -- was probably the play of the series. But what about the stinkjob he submitted in Game 2? It wasn't just him struggling at the line. With 70 seconds remaining and the Spurs down by 3, they came out of a timeout and ran a set play for ...
David Robinson
. Really?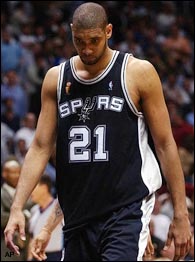 Tim Duncan is the best player in the NBA, but he doesn't always play like it.
You're going to your washed-up center on the biggest play of the game? What's more disturbing, the fact Popovich thought that was his best option, or the fact Duncan didn't pull a Pippen in the huddle and demand the ball? More importantly, Duncan has a 7-foot-2 dinosaur covering him at crunch-time -- why isn't he moving away from the basket, facing up from 15 feet and daring Dikembe Mutombo to come out and defend him? How could the Nets possibly stop this? Isn't this supposed to be the smartest guy in the league?
Anyway, unless something drastically changes over these next three games, this will be the first NBA Finals since 1981 when
nobody
stepped to the forefront and said, "I am the best player on this court, nobody can stop me, and every time you think about this series, you will remember me first." In fact, here's the list. And yes, all of these people are in the Pantheon.
2002:
Shaq (maybe his last great moment unless he gets the Eye of the Tiger back)
2001:
Shaq.
2000:
Shaq (honorable mention to Kobe for Game 4).
1999:
Duncan (although this season never happened).
1998:
MJ.
1997:
MJ.
1996:
MJ (honorable mention to
Shawn Kemp
, who was unstoppable in this series).
1995:
Hakeem (destroyed Shaq, Ewing and Robinson in a 12-month span).
1994:
Hakeem.
1993:
MJ (honorable mention to Barkley, who gave MJ everything he could handle).
1992:
MJ.
1991:
MJ.
1990:
Isiah (two years later, he doesn't make the Dream Team ... unbelievable).
1989:
Isiah.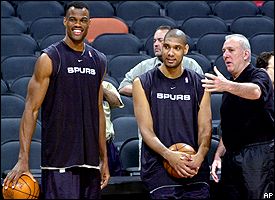 Why would Gregg Popovich, right, design the final shot for David Robinson when he's got Tim Duncan? What is this, 1994?
1988: Isiah (the Pistons would have won this series if he didn't sprain his ankle in Game 6, end of story).
1987:
Magic.
1986:
Larry.
1985:
Kareem.
1984:
Larry.
1983:
Moses (everyone forgets, that '83 Sixers team was Moses's team, and let there be no doubt ... don't get carried away by the sentimental crap with Doctor J).
1982:
Magic. Admit it, you never thought you would miss Shaq and Kobe so much. Duncan might be the Most Valuable Player in the league, certainly the first guy you would build a franchise around ... but after watching him for six seasons, should we still worry about his crunch-time nerves like this? Will he ever peak the way Hakeem did in '94 and '95? Will he ever destroy the league for an entire spring, lay his stamp on everyone and everything, and head into the summer thinking to himself, "You know what? There isn't a guy in the league who can stop me." I'm just not getting that vibe from him. Duncan is great, but he's not
that
great. At least not yet. Before the series, Kidd actually seemed like a better bet for the Pantheon, but that was before he reverted back to the late-'90s version of himself in Phoenix. Don't these 3-for-17 and 5-for-16 performances look a little familiar? I keep waiting for Rex Chapman to throw on a Nets jersey and come out for Game 5. So after four games, this series has been a disappointment in every sense of the word, from the matchups to the stars to the coaches (I loved how it took Byron Scott three full games to realize that he should be posting up Kidd on Parker and running the offense through him down low). The quality of play was so sloppy and ugly on both ends, WNBA fans were saying, "Hey, I didn't realize we were on tonight!" My favorite moment happened during Game 4, when the Nets "ran off" nine straight points to take a 45-34 lead near the end of the half, and ABC ran this graphic: "NETS ON 9-0 RUN." Wait a second ... a 9-0 run? In a half where both teams couldn't crack 80 points combined? Shouldn't we call that a 9-0 "jog"?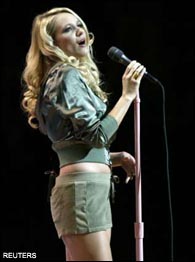 Did we really need to see Jewel croon during halftime?
Then there are the halftime acts ... Thus far, we've been stuck with Jewel, Lisa Marie Presley and KC & the Sunshine Band; apparently the Pips were busy.
And then there's ABC ... (NOTE: THE FOLLOWING WAS CUT OUT BY MY EDITORS, BECAUSE OF A LONG-STANDING POLICY THAT PAGE 2 WRITERS AREN'T ALLOWED TO CRITICIZE ANYONE ELSE FROM THE ESPN FAMILY, AS WELL AS ANY ANNOUNCERS FROM OTHER TV NETWORKS. I THINK THIS RULE IS UNFAIR, AND IT MAKES ME HATE MY JOB SOMETIMES. BUT I ALSO LIKE GETTING PAID EVERY WEEK, SO YOU'LL JUST HAVE TO BEAR WITH ME.) (HOLD ON, I'M STILL BEING EDITED.) (WAIT, I'M STILL VENTING ABOUT ABC. ... THEY'RE CHOPPING THIS OUT, TOO. I DON'T EVEN KNOW WHY I'M STILL TYPING. HONESTLY, IT FEELS GOOD TO GET THIS OFF MY CHEST.) (HOLD ON, ALMOST DONE. THIS PARAGRAPH DIDN'T HAVE A CHANCE IN HELL OF MAKING IT, I WAS REALLY ANGRY. THERE WAS EVEN SOME SWEARING. AND SOME VEILED THREATS.) (AND ... WE'RE DONE.) Man, that felt good. Anyway, we're heading into Game 5 tonight with the title up in the air, Kidd trying to salvage a disastrous series, and Duncan needing two memorable games to validate his temporary Pantheon membership. The Spurs are probably going to win. They
should
win. As always, it's going to come down to the team with the best player. But here's the thing ... The best player isn't here. We never officially decided who was better -- Kobe or Shaq -- but the combination made it nearly impossible for the Lakers
not
to be the best team every year. They could only get toppled if a series of circumstances submarined them:
Like their collective hunger waning after three consecutive titles. (CHECK)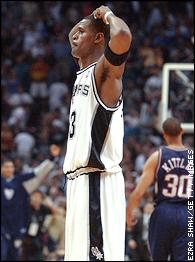 All you need to know about the 2003 NBA Finals is that journeyman Stephen Jackson is playing a prominent role.
Like Shaq waiting too late to get surgery on his big toe. (CHECK)
Like the Lakers front office falling asleep for the past five years. (CHECK)
Like Robert Horry, Brian Shaw and Rick Fox all getting old at once. (CHECK) And those things added up, and Duncan was feeling it, and the Lakers were a little complacent ... and BOOM! The Lakers blew the series. Maybe if Big-Shot Rob's 3-pointer had fallen at the end of Game 5, things would be different. And if they were going to slip up for one season, then the Kings should have been here in their place. Only Webber's knee didn't cooperate. So we're stuck with the Spurs and the Nets: The Not-Ready-For-Prime-Time Players. There's a reason that a journeyman named Stephen Jackson took the biggest shot of Game 2, that an offensive rebound was the biggest play of Game 3, that the Nets were able to win Game 4 because they chewed up the final minute of the game with two missed shots. These aren't the best two teams in the league. They just happen to be in the Finals ... and they happen to be the worst possible matchup for one another. Hey, it happens. We might have three more games to salvage this baby, but I wouldn't get your hopes up. Bill Simmons is a columnist for Page 2 and ESPN The Magazine, and he's a writer for Jimmy Kimmel Live.