By Bill Simmons
Page 2 columnist
The real reason for today's column: I wanted to post a sampling of the 1500-plus Red Sox-related e-mails that poured into my ESPN account this weekend. But before turning it over to the readers, here are some rambling, semi-coherent leftover thoughts from Thursday night:
Over the past three days, I spent an inordinate amount of time wondering why Grady didn't take Pedro out (I know, I know, hard to believe). Well, after six innings, Pedro had thrown 79 pitches. In the seventh inning, which he barely escaped, Pedro was up to 99. And he wasted another 16 with the Johnson and Jeter at-bats, which culminated in Jeter's drive over Nixon's head.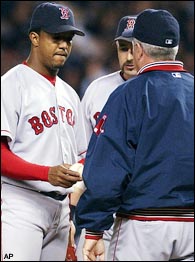 "Nice job, Pedro. I'm going to turn the ballgame over to our bullpen now."
At that point, he was up to 115 pitches. Pedro started 29 games this season ... you know how many times he threw more than 115 pitches? Five. According to Peter Gammons, opponents batted .370 against him after he hit that 100-pitch mark this season. He had also thrown 328 pitches in his past three starts. And he was pitching in the most important non-World Series game of all time, on the road, in a stadium where fans were yelling terrible things at him from the moment he started warming up, a game where 115 pitches probably felt like 140.
Knowing all of this, and knowing that his bullpen had been unbelievable in the postseason, Grady left him in because Pedro professed that he wanted to stay in the game. Well, what else was he going to say? If he says "Yes, take me out of the game," and Embree and Timlin blow the lead, then Pedro gets skewered by the local press. That's why you have managers -- you hire them to make decisions like that one. And that's why Joe Torre is Joe Torre, and that's why Grady Little is Grady Little.
Speaking of Grady, after he was barbecued by the press on Friday, there's been a reversal this weekend, as some media guys are defending him now -- a classic sportswriting ploy, where you argue the opposite point of view no matter how stupid and ignorant it is. (Then again, you could be Peter Gammons, who somehow managed to defend and criticize Grady in the same column -- only the Guru could pull that off.) Anyway, there's no defense. Grady blew the game. End of story. It's not an argument.

I give you this: It's one thing to second-guess a manager. For instance, if Giambi went 0-for-4 in the 7-spot and the Yankees lost, Joe Torre would have been battered for pushing the panic button and rattling his most expensive hitter. But Giambi slammed two home runs -- although a non-concussed Johnny Damon probably would have hauled in the second one (these are the things I will think about all winter) -- and Torre looks like a genius. Which he probably is, even if he's the same guy who managed the Mets to a below-500 record when I was a kid.

With Grady, there were no second-guesses -- especially with the "Leaving Pedro in to pitch to Matsui" move, which I questioned at the time and turned bright-red as soon as Grady ran back towards the dugout (and yes, there are witnesses).

As I wrote many times in this space, Grady was one of those rare managers who made you scream at the TV, "My God, what the (bleep) are you doing???" at the precise time he's making a move (or sometimes, not making a move). Let the record show that he did the same thing with Pedro that he did with Burkett in the Oakland series (Game 4). He was in over his head. The ultimate Grady moment happened in the eighth inning of Game 7, when lefty Embree was pitching to switch-hitting Enrique Wilson (tie game, guy on second, two outs), and Grady brought in Mike Timlin, so Torre countered with Ruben Sierra ... so poor Grady had to walk Sierra, meaning he had a righty pitching against lefty Karim Garcia with two runners on instead of one. Unbelievable!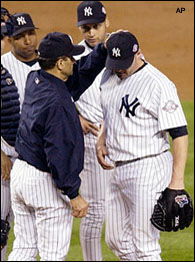 Joe Torre didn't hesitate to yank Roger Clemens early in Game 7.
Sure, it worked out -- like many of Grady's brainfarts -- but have you ever seen a manager turn an Enrique Wilson at-bat into an advantage for the other team? I know he deserves credit for keeping a headstrong clubhouse in check for most of the season, and I know the players liked him, but come on. Even the coach for South Bend High in "Hoosiers" wasn't this clueless. Best of luck and good riddance.
Move of the game: Joe Torre yanking Clemens after nine outs. And you know why he did it? Because his FATHER IS THE DISTRICT ATTORNEY!!!!! No, seriously ... he did it because he wanted to win the game. He wasn't concerned about hurting Clemens' feelings, or worrying that Clemens' final major-league start was going into the boards as a Level One Gag Job ... he just wanted to save the game while it was still winnable. And that's why he's Joe Torre. And that's why Grady Little is Grady Little.
My favorite highlight of the last few days: Wells and Clemens pouring champagne on Babe Ruth's statue. Clemens should have been back in the locker room hugging everyone for saving his fat hick traitor ass. No, I'm not bitter.
One of my friends from home described Friday's scene like this: "I have never seen anything like it. Everyone is in a catatonic trance -- like a massive funeral ceremony that won't end. You can't imagine what its like. NO WORK being done today in the city of Boston. Even the lady at my Dunkin' Donuts seemed upset and her name doesn't contain any vowels."
Lost in the Grady-Pedro fallout was Mariano Rivera's remarkable performance: Three innings and 50 pitches in the most dire conditions. Forget about Rivera being the greatest closer ever ... shouldn't we start considering him among the most clutch players of all time?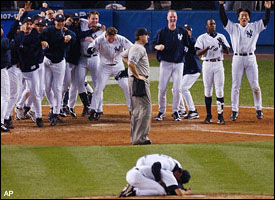 Is there any doubt? Mariano Rivera has been the MVP of the Yankees' postseason success all these years.
Will we ever see another reliever like him? Has any player meant more to his team over the past decade? If the Red Sox weren't involved, seeing Rivera collapsed on the pitcher's mound after Boone's home run -- totally genuine, just a guy who gave everything he had to his team, unable to express himself in any other way -- would have been one of my favorite recent sports moments. I love stuff like that. It reminded me a little of MJ collapsing into Pippen's arms near the end of the Flu Game. But since it happened against the Red Sox, let's forget the moment ever happened. And somebody tell Mariano to give Pete Sampras his hair back. No, I'm not bitter.
Also lost in the Pedro-Grady fallout: Once Rivera was spent, the Yanks had Contreras, Weaver and White left in their bullpen. Not exactly a murderer's row. If Grady had brought in Williamson in the 10th and 11th like he should have -- as much as I love Wakefield, you can't bring in a knuckleballer when the other team has last ups in a tie game, not when he's always one hanger away from doom -- then followed with Lowe in the 12th, then saved Wakefield for extra-extra innings, I think the Red Sox would have had an advantage as the game kept dragging on. Alas, we'll never know. These are the things I think about.
I sent this e-mail to a friend of mine before Game 7:

"Jesus Christ, we pay Pedro $17 million a year and put up with all his bulls*** -- the fact that he gets hurt every June, that he only pitches 190-210 innings a year, that he can't pitch on three days' rest, that's he's a prima donna, etc. -- precisely so we have him on the mound for a game like tonight. This is the defining moment of his career. On paper, we should win the game and he should have one of those Larry Bird nights. I keep telling myself this."
One silver lining from Thursday's game: Apparently Mike and the Mad Dog (the legendary New York drive-time show) praised my column on Friday's show, even reading excerpts and stuff. I can't emphasize this strongly enough -- getting Mike and the Dog's approval about anything is one of the highlights of my career. I'm not kidding. They made many a trip bearable on the Merritt Parkway over the years. Thank you, guys.
No, seriously ... HIS FATHER IS THE DISTRICT ATTORNEY!!!!!
That reminds me, I was on the phone with one of my buddies this weekend talking about "Skin." Has there ever been a show with a shorter shelf life? Wouldn't it have been a much better mini-series? Sure, they're doing the "Romeo and Juliet" thing, and the DA will be battling the porn czar and stuff. But how much mileage can you get out of that? By episode five, the ads will be like, "And on a very special Skin, Julia runs away from home again!" If I were them, I would have switched the families and had the daughter's Dad be the district attorney -- this way, Ron Silver could have lured her into the porn business after she dumped his son. But that's just me.

(Then again, if they did it that way, Ron Silver couldn't scream, "HIS FATHER IS THE DISTRICT ATTORNEY!")
From Chicago reader Roark Frankel: "I know it's nothing in the big scheme of things, but wasn't Bret Boone modeling the classic 'Hey, I'm the oldest son, straight-A student, more accomplished, mows the grass without being asked guy, so why does everyone love the better lookin', screw-up brother more' look right after the Game 7 walk-off? Priceless."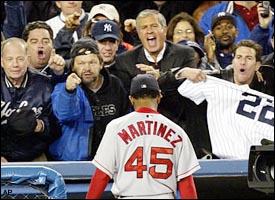 Red Sox lose in seven games -- and lose both of Pedro's starts? Say it ain't so ...
(I couldn't agree more -- there was some serious "Macaulay Culkin in the 'Good Son'" potential as Aaron Boone was rounding the bases. And kudos to Fox for showing Bret Boone 20 times, because a non-player with a half-smile on his face was certainly more riveting than Yankee players jumping on each other, coaches wobbling out of the dugout, fans hugging and losing opponents slumping towards the dugout -- you know, all the stuff that makes baseball fun to watch. We'd much rather see Bret Boone. Not that I even care because I was busy banging my head against the coffee table, but still, it warrants mentioning. No, I'm not bitter.)
The baseball playoffs actually gave me a cold. I was sick all weekend. In fact, I was so sick on Saturday night, when Pudge Rodriguez kissed Oogie Urbina at the end of Game 1, I had to rewind it on TiVo to make sure I didn't hallucinate it. Nope. It happened. How do you say "Magic and Isiah" in Spanish?
You know, only the Yankees would exploit a beautiful, patriotic song like "God Bless America" and drag it out for six minutes so they could ice the opposing team's pitcher before the bottom of the seventh. No, I'm not bitter.
This is stunning news, so I'll just come out and say it: Barring any last-minute holdups, I'm going to be involved in this "Cold Pizza" show on Tuesdays and Thursdays, hopefully starting this week. Get the TiVo ready. It's a very cool idea. You'll see. That's all I'm going to say.
One last note: I TiVO'd Game 7 from 5-to-8, then TiVo'd the Fox shows afterwards in case it went into extra innings. Well, what would have been a "Simpsons" episode in L.A. from 8:00-8:30 p.m. ended up showing the eighth inning -- starting with Jeter on second base, one out, and Williams at the plate against Pedro. And the entire Sox collapse ran in the place of this Simpsons episode.

The synopsis of the episode, according to TiVO? "Thinking he's dying, Homer assesses his life."

You couldn't make this stuff up.

And you know what? Let's save those Red Sox e-mails for tomorrow.

Bill Simmons is a columnist for Page 2 and ESPN The Magazine, as well as one of the writers for "Jimmy Kimmel Live" on ABC