By Bill Simmons
Page 2 columnist
With three weeks remaining in the NFL season, I'm brimming with questions.
For one thing, is there a greater garbage time receiver in fantasy football history than Anquan Boldin? Who else would you rather see running a stop-and-go in a 50-7 game? Also, after what he pulled with the Bucs, shouldn't the "Son of Sam" laws apply to Keyshawn Johnson when he's trying to get paid from Fox? Why are so many football announcers mistakenly using the word "flat" in lieu of the phrase "flat-out," and is it flat bothering anyone else? Could Donte Stallworth catch this current strain of flu that's going around, or would it bounce off his hands like everything else?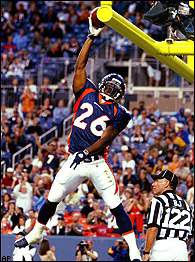 Clinton Portis has risen to new heights this season.
Wait, there's more. Like what's happening between Tim Couch and Kelly Holcomb right now ... should this really be called a QB "battle"? Shouldn't we substitute a word like "crapfest" or "angioplasty provoker"? Do you think the Huard brothers are pissed off about this whole Hasselbeck Brothers thing? When will Maguire and Theismann start a movement to change the date of Christmas to Michael Vick's birthday? And wouldn't you pay to see a Celebrity Poker Showdown between Gregg Williams, Jim Haslett, Jim Fassel, Dave Wannstedt and Dave McGinnis?
You know what? I have a million questions, and only one matters for the purposes of this column: When did the NFL turn into the NBA?
If I'm not mistaken, we already tried the thing where all the good teams end up in one conference ... and it failed miserably. There's a reason you never hear someone start a sentence with the words, "I was watching the Nets-Spurs series on ESPN Classic last night" -- lopsided leagues tend to have lopsided Finals. Sounds crazy, but that's the way it works. And in the case of the NFL, the AFC is loaded. As John Madden would say, when the six best teams are playing in the same conference, that means that one conference has the six best teams. And it isn't a good thing.
Here's one man's look at the playoff picture heading into the homestretch:
THE NFC
ON THE BUBBLE
Don't you love the phrase "on the bubble"? It's one of those rare sports phrases that can apply to any walk of life, much like "dropping the gloves" and "the high hard one." Anyway, four teams are on the bubble here:
New Orleans (6-7) -- Just a disjointed, miserable team to watch. When NFL Films makes their season highlight video, "The Ball is Loose!: The Story of the 2003 Saints," they should just cut 30 straight minutes of frustrated Saints players leaving the field and angrily ripping off their chinstraps. For God's sake, how did they not show up at home against the Bucs last week? And how many times has something like that happened in the Jim Haslett Era?
San Francisco (6-7) -- In Week 13, they lost by 38 points. In Week 14, they won by 36 points. It's been that kind of season.
Tampa Bay (6-7) -- You could blame the whole "Year After" malaise, which applies in football more than any other sport. Or you could look at it this way: in the first month, they suffered two of the three most devastating defeats of the season -- blowing that Carolina game on the missed extra point, then blowing that gigantic Monday night lead against Indy. Talk about your bad omens. If we played this season 100 times, they'd make the playoffs 95 of those times. And yes, I have no proof whatsover.
Green Bay (7-6) -- I see the Packers losing one of the next two (at San Diego, at Oakland), then somehow outlasting the Broncos at home (as Plummer self-destructs in Lambeau and causes Shanahan's head to explode). With that said, it's hard to get excited about them when they lost in Detroit and Arizona. It's even harder to get excited when they refuse to revolve the offense around Ahman Green, who's only one of the five or six best offensive players in the NATIONAL FOOTBALL LEAGUE right now. Yeah, we all loved Brett Favre. But come on. We're on Year Two of me saying "This is Marino in the mid-'90s all over again."
(That reminds me, Mike Sherman is third on my list of "Guys I Think I Could Out-Coach in a Three-Hour Game," right behind Gregg Williams and Dave Wannstedt. I'm not saying I could coach a team for an entire season ... but for three hours, I could take Mike Sherman with the right guys. I'd just delegate everything to my assistants, make five or six tough decisions, throw the red flag a couple of times, and wait for him to screw up. That would be my plan. I'm telling you, I could do it.)
JIMMY KIMMEL RESPONDS TO CRITICISM ABOUT HIS SHIRTS
Before I begin, I would like to apologize for the fact that the Sports Guy's thrice-weekly, 16,000-word columns have shriveled down to a paltry single 10,000-word column per week. I know that his in-depth analysis of Paradise Motel or Malibu Island or Real World Juneau or whatever the hell it is he watches is sorely missed. I take full responsibility for this void that has been created in your lives. You should know, however, that while he uses "long hours at the office" as an excuse -- what really saps his energy is memorizing the names of every cast member from Mannequin Two and creating a puddle of drool outside Carla Gugino's dressing room.

One of Bill's recent NFL columnettes featured not one, but two outrageous attacks on my wardrobe. I believe his quote was "writing comedy segments is the best part of this job, just ahead of finding out which one of Liberace's old shirts Jimmy will wear on live TV each night." I am not so much angry as I am shocked. Shocked that someone I considered my friend could be so cruel; shocked that someone who seems so smart would so foolishly bite the hand that feeds him; shocked at the insensitivity of using a beloved, effeminate entertainer from Vegas as a punchline the same week that magic's Roy Horn was viciously attacked by a cheetah.

It is true that, on occasion, my shirts toe the line between dance instructor and clown. I acknowledge this. But isn't a complete lack of fashion sense the true mark of a man? Do you think Dick Butkus spent his time looking through color swatches? Can you imagine Jack Palance flipping through the J Crew catalogue? I can't. Moreover, what kind of a person even thinks about what shirts his friend is wearing? What kind of a "man" exchanges emails with his MOMMY (true) about another man's wardrobe?! I thought that sort of thing was reserved for the Seacrests, Kmetkos, and Aikens of the world. I guess I was wrong.

So before you, Bill Sports "Guy" Simmons, cast anymore stones -- before you criticize what others look like on the outside -- I say, look within. I think there's a scared little girl in there who just wants to be accepted. And she doesn't have to be cruel to do it. Food for thought.

Sincerely,
Jimmy Kimmel
PLAYOFF TEAMS
6. Dallas (8-5) -- The ultimate "Good Bad Team" -- they beat the teams they should beat, then they lose to the teams that should beat them. Imagine being Bill Parcells right now. They can't run the ball. The Pats showed teams how to take away Terry Glenn. Carter isn't accurate enough for them to sustain drives. Basically, you're only scoring points against a good defense if A) you get a turnover, or B) you hit a home run with Galloway or Bryant downfield. And there's no Plan C.
It's the classic Parcells formula: Bide your time; keep the score low; don't turn the ball over; and take your one or two shots per half with the longball, usually on first down. In other words, it's like playing against the computer at the All-Madden level ... but every week. Not good times. Especially when Richmond Flowers isn't around to sing with Chad Hutchinson after games. Still, just making the playoffs would be remarkable for them.
5. Seattle (8-5) -- But seriously ... did you SEE that collapse in Baltimore? It was one of those games where eight things had to happen down the stretch for them to lose -- if any of those things didn't happen, Seattle would have won. Plus, some of those "things" involved situations like "Baltimore completing a Hail Mary tip pass on 4th and 28" and "Baltimore inexplicably being awarded an extra timeout." And they still lost. Truly unbelievable. On a personal note, it was my gambling highlight of the year -- maybe the greatest "push" of my life.
Here's the point: Wouldn't it be odd if that game ended up costing them a playoff spot? With upcoming road games against the Rams and Niners, the Hawks could blow this. Still, I see them beating Arizona (Week 16) and the Niners (Week 17) and finishing 10-6. That means they're headed for Carolina in Round One -- one of the toughest places to play in the NATIONAL FOOTBALL LEAGUE. Have I mentioned that they're 1-5 on the road so far? None of this is good.
4. Carolina (8-5) -- They were en route to becoming the flimsiest 13-3 team since the 2001 Bears ... and then Jake Delhomme turned into Jake Delhomme. Part of me thinks that the league figured out that he was really Jake Delhomme; part of me thinks that America was so tired of Chris Berman singing that "Daylight come and they want to Delhomme" song during Panthers highlights on PrimeTime, we banded together and willed the Panthers to start losing. Maybe it was a little of both.
Whatever the case, they're dying to blow this. Repeat: DYING to blow this. At the very least, there's money to be made come January. And if I'm wrong, then Steve Smith can inexplicably beat the crap out of me during the next wide receiver meeting when I'm not looking.
3. Minnesota (8-5) -- They have to be the worst No. 3 seed ever, right? Somebody needs to look this up.
2. St. Louis (10-3) -- They have to be the worst No. 2 seed ever, right? I watched four Rams games that were off the charts on the Ugly Win Scale -- San Fran (Week 2), Baltimore (Week 10), Arizona (Week 12), and Cleveland (Week 14). Bulger looks shaky, Faulk looks he has a ton of miles on him, Mike Martz looks as inept as ever, and they've only played three teams with winning records. Needless to say, they're 10-3. Outrageous. Are they even better than the Bengals?
1. Philly (10-3) -- This is the worst Eagles team of the past three seasons ... and probably the one that makes the Super Bowl. Defensively, you can run on them. Offensively, they don't have a single receiver who can make a play. And yet they've won in some tough places, most notably Buffalo, Carolina and Green Bay. And they seem to be gaining confidence. And McNabb has upgraded his play from "dreadful" to "dangerous at times." Without question, they're the most solid team in the NFC ... which is like being the most stable member of the Jackson family.
Just remember the New Jersey Nets Corollary: Somebody always needs to emerge as the Alpha Dog, even in a lousy conference. Stick the Eagles in the AFC and they might not even grab a wild card.
Speaking of the AFC ...
ON THE BUBBLE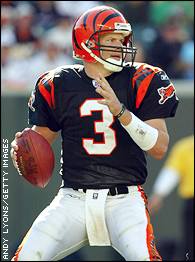 Jon Kitna has gone from virtual unknown to MVP candidate.
Cincy (7-6) -- I'll admit it: I jumped on the bandwagon. Maybe it was having Chad Johnson on my fantasy team. Maybe it was Jon Kitna throwing those TD strikes, then kneeling down and comically pointing at God for about 2.7 seconds too long. Maybe it was Marvin Lewis finally getting his chance. Actually, I know what it was -- unlike the recent rags-to-riches stories in Baltimore and St. Louis, the Bengals have had the same cruddy franchise for a few decades, not just a few years. How can you not root for Cincy fans to get some?
(One thing: Lewis lost me a little with his postgame speech after the Ravens game, when he started screaming "We showed them that we weren't the same old Bengals!" in the locker room. Um, Marvin? You lost 31-13. You actually were the same old Bengals. If you're trying to cheer up your team, next time have Kitna do his exaggerated pointing routine. That will always get a laugh.)
Miami (8-5) -- The annual Hannukah collapse is upon us! For those of you scoring at home, this has officially replaced "My Uncle Ricky drinking too much red wine on Christmas Day, then nodding off on the sofa" as my favorite holiday tradition.
PLAYOFF TEAMS
6. Denver (8-5) -- In the words of Norman Dale, any team with a healthy Clinton Portis should deserve and command your respect -- he's like the Allen Iverson of this playoff picture, the guy who can singlehandedly take down anyone in a single day. I always judge players by how they make me feel when A) I'm betting against them, or B) they're going against the Patriots. Portis scares the hell out of me. When he dismantled the Chiefs, that wasn't a fluke -- he could do that for an entire month.
That's why the Broncos are the X-Factor in the AFC. You think Indy wants to deal with Portis in Round One? Please. You think any Denver fan feels comfortable with Plummer on the road for three straight weeks in January? Please.
And yet there's another variable here, something people never seem to bring up. Let's split these sentences up for dramatic effect:
A. Mike Shanahan won two Super Bowls.
B. Mike Shanahan had the distinct honor and privilege of coaching John Elway and Terrell Davis at the same time during those two Super Bowl.
C. Mike Shanahan was very, very lucky.
THE BLAZERS LINK OF THE MONTH
For those of you who just can't get enough Rasheed Wallace in your life. Just be careful, there are a few bad words in here -- so proceed with caution. Me, I just don't know no better. Read 'Sheed.
And if you've seen him coach since Elway retired, you know what I mean. Some of his free-agent moves were Holmgren-esque -- like the Daryl Gardener signing, or the way he stuck with Griese last season. And it sure seems like his team loses 2-3 games a year that they shouldn't lose -- like the Pats game on Monday night, or that putrid Bears game two weeks ago, or even that Chiefs game when they kicked right to Dante Hall in the final five minutes. Well-coached teams should win these games. Believe me, I root for a well-coached team every week. I know what it feels like.
(But seriously, congratulations on scripting out those first 15 plays every game ... that's quite an accomplishment. Few people could pick 15 plays ahead of time, then run them in order. Well done.)
5. Tennessee (9-4) -- Cris Carter made a great point on "Inside The NFL" this week.
(I'm letting those words sink in.)
(OK.)
Anyway, he mentioned how it never mattered if McNair was banged up in past seasons -- they could always rely on Eddie George to run the ball. But since Eddie is practically decomposing at this point, this year's Titans team relied heavily on those unexpected McNair scampers, especially inside the 20 (where they love to run those little QB draws that come right out of a video game). So with McNair dragging that leg around, Tennessee turns into a one-dimensional team ... and you can always shut down a one-dimensional team in the playoffs.
Excellent point. Seriously. With that said, if the Titans don't fumble three kick returns last week in Indy, they probably win that game. And they easily could have beaten the Jets and Pats -- one play here, one play there, two plays here, and they're 12-1. Just like the Pats, they're well-coached and tough. And McNair is the most valuable offensive player in the league. Er, the NATIONAL FOOTBALL LEAGUE.
But here's the thing: They're playing at Baltimore in Round One. Those two teams are going to pull a Whitney and Bobby on one another. Assuming the Titans survive that one, either they head to Foxboro one week later to take on the rested Pats, or head to Arrowhead for the rested Chiefs. That seems like a lot to ask -- even for McNair, who's like a comic-book character at this point.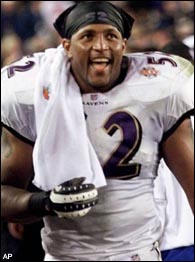 Ray Lewis can crack you up in all kinds of ways.
4. Baltimore (8-5) -- They were responsible for my personal NFL highlight of the year -- the comeback win against Seattle, followed by Anthony Wright's emotional locker room speech in which he interrupted Brian Billick, ranted incoherently for about 45 seconds, then broke down in front of everyone (perfectly captured on the NFL Channel's "Game of the Week," which might be my favorite weekly show right now). You really had to see it. Much better than "Playmakers."
As a Pats fan, the Ravens scare me because they do one thing -- play defense -- better than anyone else does anything else. The Pats are like the old Roy Jones Jr. -- they pick you apart for 12 rounds, keep the left jab in your face, move around the ring ... you never get a good shot against them. But they don't demolish teams like Baltimore does, and they certainly don't have a player on that defense who's better than Ray Lewis, my vote for MVP this season.
Think about it. Who has a bigger impact -- week in and week out, as a player and a leader -- than Ray Lewis? You never forget he's out there, not for a second. Throw in his yeoman's work as an entertainer (when he's miked for games), dancer (his pregame moves get better by the week) and product spokesman (his commercials always crack me up, and not for the right reasons) and he's clearly the MVP. It's no contest. With that offense, this team has no business winning 10 games. But it's about to happen ... and it wouldn't happen without Lewis.
(And with that said, if you think I'm not excited to bet against Wright on the road in January, you're crazy.)
3. Indianapolis (10-3) -- I was never a big Peyton Manning fan, but he's been terrific this season. Thanks to him, the Colts have proven that they can come back against anybody. Manning and Harrison always have an advantage in close games because they have that Montana-Rice telepathy thing going (no other AFC team has a connection like that). Scary team.
Still, I thought the Pats game was telling -- the Edge had three different runs where he could have gotten into the end zone on that final drive, and he just didn't want it badly enough. Seriously, watch the tape. He's treated this entire season like he's doing the Colts a favor just by suiting up. If you're a Colts fan, can you count on this guy to give you 34 carries in 14-degree weather next month? Of course not. You know they're praying for Miami in Round One and KC in Round Two.
2. Kansas City (11-2) -- Yes, you can run down their throats. Against Baltimore or Denver, they're in serious trouble. But what happens if they meet Indy in Round Two, followed by the Pats in the AFC Championship? Is it possible they could sneak through the entire playoffs without facing a marquee running back? In case you haven't noticed, it's all about the matchups.
1. New England (11-2) -- Whatever happens, it's been the most remarkable Patriots regular season of my lifetime. The Milloy Saga nearly submarined things in Week 1. They lost their marquee free agent (Rosie Colvin) in Week 2, followed by a wave of injuries that bordered on being comical. And just when things looked bleak, they rolled off nine straight wins (and counting), six of which were "Save the VCR tape"-type games -- the comeback win against Tennessee that got everything started; the OT thriller in Miami (capped off by a 90-yard pass); the Monday night comeback in Denver (spurred by an intentional safety); a goofy overtime win in Houston; the goal-line stand in Indy; and the surreal Snow Game against the Dolphins.
NFL PICKS, WEEK 15
(Home teams in Caps)

CHICAGO (-3) over Minnesota
CINCY (-2.5) over San Fran
Atlanta (+7.5) over INDY
KANSAS CITY (-14) over Detroit
Jacksonville (+7) over NEW ENGLAND
NY JETS (-3) over Pittsburgh
ST. LOUIS (-6.5) over SEATTLE
TAMPA (-6) over Houston
Buffalo (+6.5) over TENNESSEE
DENVER (-10.5) over Cleveland
OAKLAND (+6.5) over Baltimore
WASHINGTON (PK) over Dallas
ARIZONA (+6.5) over Carolina
SAN DIEGO (+5) over Green Bay
NEW ORLEANS (-7) over NY Giants
Philly (+2) over MIAMI

Last week: 5-11
Season: 72-78-5
Unless they stumble against an underrated Jags team this week (a classic Trap Game) or against the Jets in New York next week, the road to the AFC title goes through Foxboro ... where they haven't given up a touchdown since Game 4 of the Sox-A's series. And you can worry about their running game, or the fact that Troy Brown (their only reliable receiver) hasn't been healthy, but there's something to be said for a team that keeps getting it done, week after week, in just about every possible way. Especially when they've done it before.
And that brings us to Tom Brady, because he's the key to everything here. He isn't dominant like Pedro, gifted like Bird, even commanding like Neely. Most of his strengths are tough to pinpoint, like his passion and leadership, or the way he always manages to hold onto the ball when he's getting nailed from his blindside, or his uncanny ability to improvise in the pocket and buy those extra split-seconds until someone gets open. He always seems to get better when it matters -- witness the 12 game-winning drives in two-and-half seasons -- and the fact that he's 34-12 as a starter and 7-0 in overtime games should tell you something.
Best of all, he's lucky. There's no other way to say it. Maybe the ultimate Brady moment happened in the Miami game last week, when his pooch punt -- the same punt he shanked in practice three days earlier -- magically rolled to the Miami one ... and stopped. These things don't just happen to anyone. With Brady, they've been happening for three seasons now, and they keep happening, and we're reaching a point where it isn't an accident anymore. Some guys just have the magic touch.
Of course, my buddy Sal doesn't buy into the Brady thing -- every time we argue about Brady at work, he ends up rolling his eyes. "He's the luckiest guy in the league!" Sal always says.
Well, maybe that's true. But if we've learned anything about sports over the years, it's that some people are more fortunate than others. As much as we hate to admit it, football comes down to luck sometimes -- like Kevin Dyson getting stopped six inches in front of the goal line, or Bradshaw's pass bouncing off Jack Tatum and landing right in Franco Harris' hands, or even the stupid Tuck Rule play that kept the Pats alive in the Snow Game. In the age of parity, playoff games and even championships can come down to one simple question: "Who's carrying the horseshoe this season?"
After 14 weeks, it sure seems like Tom Brady and the Patriots. Keep rolling your eyes. They like it that way.
Bill Simmons is a columnist for Page 2 and ESPN The Magazine, as well as one of the writers for Jimmy Kimmel Live on ABC.