By Bill Simmons
Page 2
When the Sox and Angels last squared off in the playoffs, I was just another fledgling Sox fan who hadn't been broken yet. In 1975, I was barely old enough to even realize what was happening when they brought in Jim Burton. In 1978, I cried at the end of the Yankee playoff game, but only because I felt so betrayed when Yaz popped up against Gossage. But I hadn't been truly burned.
LIVE! FROM EDISON FIELD
Sure, he could kick back with the big screen at the Sports Guy Mansion West, but that isn't enough for Bill Simmons.

So the Sports Guy will brave the treacherous highways of Southern California and make his way to Angel Stadium for Games 1 & 2 of the ALDS.

Check back with us throughout the week for his take on the Sox, the series and more.
Since I still had my Red Sox chastity, that Angels series in '86 remains my purest moment as a Sox fan. Looking back, I was like Sissy Spacek in "Carrie," headed to the prom with the best-looking kid in class, about to be announced as homecoming queen ... little did I know that, within a few hours, I was going to be covered in pig's blood.
I still remember everything. Being terrified of every Reggie Jackson at-bat, even though he was about 55 at the time. Schiraldi collapsing over the weekend, a sign of things to come. Boone framing those pitches over home plate -- clearly balls! -- and duping the umpires time and time again. Clemens pitching the game of his life in Game Four, then having the bullpen blow it for him in the most gut-wrenching way possible. And then that series-altering fifth game, when the Angels collapsed so dramatically and completely -- capped off by Hendu's homer, one of my five happiest sports moments ever -- that I named an entire level in the "Levels of Losing" column after them (the "Dead Men Walking" Game).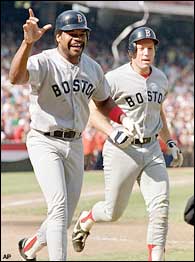 There are plenty of Angels fans who still remember Hendu's homer.
And if the Halos hadn't won the title two years ago, history would definitely come into play this week. You'd be getting your requisite dose of that Hendu clip, the requisite Donnie Moore features, maybe even a Gene Mauch interview where he defends the decision to take out Mike Witt for Gary Lucas for the 900,000 time. Don't forget, this was the most traumatic moment in Angels history, even worse than the Bostock shooting and the fact that they were once managed by a guy named "Marcel." Up three in the ninth? Policeman lined all along the field, getting ready for the celebration? Players standing on the top step, ready to charge the field? Up by one, two strikes and two outs on Hendu?
It was maybe the most underrated collapse in recent baseball history. Even with the two famous Boston collapses ('86 and '03), at least both of them happened on the road. Same with the Cards in '85, the Indians in '97, the Giants in '02 ... when does this stuff ever happen to a team at home? Never, right? For the '86 Angels, it happened.
Again, probably a moot point. That 2002 title wiped everything clean for Angels fans. Or at least it should have. When the Patriots won their first Super Bowl, that was the last time I ever thought about Sugar Bear Hamilton's roughing-the-passer penalty in Oakland, or Fairbanks ditching the team in '78, or even that 46-10 massacre against the '85 Bears. Who cares? We won the Super Bowl. That's all ancient history now. Just like Hendu's homer for Halo fans.
(And if you think this was a thinly-veiled excuse to run Hendu's picture with this column, just to freak out any Angels fans reading the column, you know me too well.)
So what's left? An entertaining series with no baggage. Let's break this baby down, Dr. Jack-style:
Lineups: A dead-heat until about six weeks ago, when all hell broke loose in Anaheim. First Robb Quinlan went down (just as he was making The Leap). Then Adam Kennedy blew out his knee (and that was someone who KILLS the Red Sox). Then Jose Guillen was officially declared a Section Eight.
Even with Vlad pulling a Jimmy Chitwood and carrying everyone on his back, this isn't the same offense. Once Jeff DaVanon went into his predictable freefall (.116 BA in September), that left them with three non-threatening guys in the lineup at all times (the DaVanon-Riggs platoon in left; the Molina Brothers catching and a hodgepodge of guys floating around between 1B, 2B and 3B, all of whom sound like characters in "All My Children" -- Shane Halter, Dallas McPherson, Alfredo Almezega and Casey Kotchman). Not exactly the "nine guys deep" concept.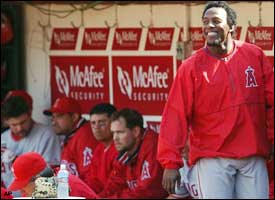 "Don't know if will make a difference, but I figured it's about time I start playing ball."
As for the Sox, they became more dangerous when Trot Nixon returned with a vengeance (.429 in September) and extended the middle of the lineup. Matching them up with the Angels, Manny and Vlad are a wash. Ortiz and Damon get a slight edge over Anderson and Erstad (at least this season). Glaus gets the edge over Bellhorn. Varitek tops Bengie, Jose and Alfred Molina. Eckstein and Cabrera are probably a wash -- maybe Eckstein has the memorable postseason resume, but Cabrera demonstrated a flair for the dramatic down the stretch (he's turning into a guy you don't mind seeing up there in big spots). Chone Figgins and Bill Mueller are pretty close -- Figgins has more speed, Mueller has more power, and both of them spell their names in confusing ways.
But here's the big difference: The Millar-Nixon-Roberts combo (three guys for two spots) is VASTLY superior to Riggs-DaVanon and the All My Children guys. Even the biggest Angels fan on the planet would admit that one. EDGE: RED SOX.
Superstars: Vlad vs. Manny. Two streaky, enigmatic guys who can carry a team for weeks at a time. Their stats are almost identical -- Vlad hit 30 points higher (.337 to .308), but their OBP's were the same, plus Manny had more homers and RBI and a higher slugging percentage. Then again, Vlad gives you better defense, a cannon arm and the occasional SB. Then again, Manny has a huge edge in playoff experience: something like 60 playoff games to zero. Then again, we're not even sure Manny realizes that there's a difference between the regular season and the playoffs, or that they're keeping score during games. EDGE: EVEN.
Benches The Angels would have taken this category until the Kennedy-Quinlan-Guillen triple whammy. Boston doesn't just have a deeper bench, it's the first Sox bench in my lifetime that actually has an impact on games. We just didn't have guys like Mientkiciwz, Pokey and Roberts when I was growing up -- guys who could shut the door defensively in the late innings, maybe even steal a base when you need it. Billy likey. EDGE: RED SOX.
Defense: We keep hearing how the Sox turned it around defensively with the Nomar trade, thanks to Cabrera, Mientkiciwz and Roberts. And they ARE a different defensive team. But it's mainly because of the whopping Nomar-Cabrera upgrade; the other guys probably won't even start one playoff game this round. Throw in the energy difference -- Nomar going through the motions like Ron Livingston in Office Space, Cabrera happily skipping around like a little kid -- and it's been a jarring, discernable difference from game to game. I always knew he had become below-average in the field, but it was one of those things you couldn't quite grasp until someone else moved in there. It was like being trapped in a bad relationship, but you can't fully examine it until you're dating someone else.
Other than that, there isn't too much difference between the defenses, with one exception: Anaheim's outfield is a little dicier than people realize. When Guillen was there, they basically had three rightfielders out there -- almost like an All-Star Team -- and always looked slow getting to balls in the gap. Heading into the playoffs, not only has Vlad been limping around the past few weeks, but Peter Gammons swears that Anderson has been playing hurt all season. Warrants mentioning. SLIGHT EDGE: RED SOX.
Baserunning: A nagging problem for the Sox all season, thanks to shoddy baserunners and a third base coach who might or might not have vertigo. Meanwhile, this has been Anaheim's strength all season -- they have a knack for swiping bags, moving guys over and creating runs (although that's partly because they need to take chances, since their OBP numbers are so low -- a whatifsports.com addict would hate this team). MAJOR EDGE: ANGELS.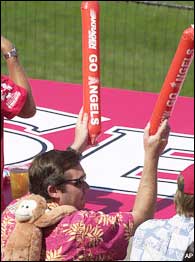 If you close your eyes, you can almost hear them. Sorry, we had to do that.
Annoying Fan Gimmicks: Angels fans have those annoying Thunder Stix, which have to be the last sound you hear as you're making that final freefall into Hell. The Red Sox had an inordinate amount of fans sitting behind home plate and waving to people on their cell phones this season -- to the point that I was ready to organize an intervention -- but I'd rather deal with that than Thunder Stix. EDGE: RED SOX.
Inane Rally Gimmick: I'm ashamed to admit this, but I think the Rally Monkey is brilliant. If you've ever been to an Angels game, you know what I mean -- they'll take some famous movie clip, reel you in, and then the monkey comes flying out at the last second as the crowd goes bonkers. Never fails. Last season, the Rally Monkey came down with monkey pox. Now he's back in full force. I'm terrified of him.
As for the Red Sox, they never really replaced Millar's "Born in the USA" retro-video gimmick -- which was hokey to begin with -- and the Fenway people don't do much to help out. Heck, they're still playing songs like "Hit Me With Your Best Shot" and having fans guess the attendance between innings, which would be great if it was still 1982. They don't even have the creativity to prompt the fans for things like a "Let's Go Pah-pee!" chant for David "Papi" Ortiz, so the fans have to start waves in the bleachers to keep themselves involved in the game. This drives me crazy, by the way. EDGE: ANGELS.
Homefield Advantage I don't mind Angels fans -- they're friendly enough and they definitely care about their team. They're a little like the Orphans in "The Warriors" in that you can pass through the stadium wearing opposing colors without fearing for your life. You don't even have to worry about the leader with the fish eye warning you to take your Sox gear off. Again, nice group of fans. And they do make noise throughout the game, although I still say those annoying Thunder Stix have to be the last sound you hear as you're making that final freefall into Hell.
But here's the X-factor: Because of all the New England transplants out West, there will be about 4,000-to-5,000 Boston fans at Games 1 and 2, with another 1,000 walking around outside trying to scalp tickets. And given that 100 percent of the people will be rooting for the Sox at Games 3 and 4 at Fenway, you know what that means. EDGE: RED SOX.
Starting pitching: Schilling, Pedro, Arroyo and Wakefield against Washburn, Colon, Escobar and Lackey.
Not as big of a mismatch as you would think. Yes, Washburn stinks. Anaheim fans have to be horrified that he's pitching Game 1 (only because of the way the rotation broke). But Escobar has been fantastic for two months; Lackey had a 2.82 ERA in September; he's one of those guys who can randomly look good at any time. And Colon pitched his best game of the season on Friday night, throwing absolute BBs against the A's in a must-win game. He's almost a force of nature at this point -- the fatter he gets, the better he pitches. By mid-October, he could be 400 pounds and throwing 120 mph. It's inexplicable. If he was a wrestler, he'd be wearing the one-piece trunks with the strap over one shoulder.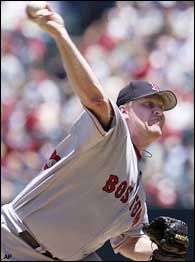 Curt better rest when he can; the Sox might need him for all seven games in the ALCS.
For the Sox, Wakefield was up-and-down all season, then closed with an 8.20 ERA in September (although he can turn it on at any time, much like Teri Hatcher). Pedro gave up 18 runs in his last three starts; I can't even discuss this rationally. Arroyo has been okay, but it was only five weeks ago that he looked petrified in a home start against the Angels.
Unfortunately, Schilling can't pitch all five games . . . but he can pitch two of them. And he's better than anyone on the Angels. To me, the most interesting decision of the series comes on Saturday, assuming the Red Sox have a 2-1 lead. Do you pitch Schilling on three days rest when he's unbeatable at home? Or do you save him for Game Five, roll the dice with Wakefield, and hope the Sox win and you can't start Schilling in Game 1 of the next series? I think it's a no-brainer: You save Schilling and hope you don't need him for Game 5. We'll see if Terry Francona agrees. Knowing him, I'm sure he won't. EDGE: BOSTON.
Bullpen: K-Rod, Shields, Donnelly and Gregg against Embree, Timlin, Foulke, Leskanic and notorious mass-murderer Michael Myers.
(Hold on, I just threw up in my mouth.)
MAJOR, MAJOR EDGE: ANGELS.
Closer: I don't see any difference between Foulke and Percival -- both of them make their fans nervous as hell. I'm convinced that the Sox could sign Bruce Sutter in his prime and somehow turn him into a rollercoaster rose.
Here's the bigger question: Why wouldn't K-Rod just close? I can understand why it didn't happen during the championship run two years ago, or even last season. But why would you still want the somewhat-shaky guy closing over the completely-and-utterly-unhittable guy? How does this make sense? What other team would do this? The numbers between Percival and K-Rod aren't even close, whether you're comparing ERA (2.90 to 1.82), Opponent BA (.230 to .172) K's per 9 (5.9 to 13.2), WHIP 1.25 to 1.00) ... I can't even believe I'm writing about this. Actually, keep Percival as the closer. Forget I mentioned this. EDGE: EVEN.
Managers: Mike Scioscia against Terry Francona. I mean ... which guy would YOU rather have? MAJOR EDGE: ANGELS.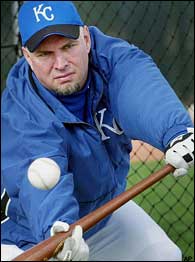 Not to start any rumors, but has anyone seen Garth Brooks and Mike Scioscia together?
Chemistry: This has been Boston's biggest asset all season -- it's the kind of team that would show up 24-strong for a teammate's bachelor party. I was never a big believer in the chemistry thing until the 2001 season, when the team was more dysfunctional than the Diggler family (and that was a pretty good team). These guys clown around, grow goofy hairdos and genuinely enjoy playing together. You can almost imagine them farting on each other and quietly signing up guys for porn websites behind closed doors.
Not the Angels. There's been something missing with them all season -- personified by the Guillen Saga -- and a buddy of mine who knows these things swears that it's one of those clubhouses where all the Latino guys hang out together and all the non-Latino guys hang out together, and that's that. The Red Sox don't have this problem because David Ortiz is apparently like Mo Vaughn crossed with Esther Rolle crossed with Gandhi. You can't have an unhappy clubhouse with him around. You just can't. MAJOR EDGE: RED SOX.
Emotional baggage: The Angels have the '86 ALCS; the Red Sox have everything else. EDGE: RED SOX.
National Opinion: Seems pretty split, although the whole "You don't want to be tied with the Angels in the 7th inning, because their bullpen will take care of things from there" opinion seems to be gaining steam. On the flip side, Vegas has the Sox as a minus-170 favorite, which means you would have to wager $170 on them to win $100. Pretty steep odds for a team without homefield advantage. EDGE: EVEN.
Streaks: I'm still trying to figure out how the Angels are "red-hot" heading into the playoffs, as I read elsewhere on ESPN.com this week. They took four of six from the fading A's and three of four from a Rangers team that started Cameron Loe, Chan Ho Park and Kenny Rogers. Wow, congratulations. Just in case you were wondering, the Sox ended the season 7-2. EDGE: EVEN.
X-Factors: Other than Guillen swinging an ax into Scioscia's chest like he's Scatman Crothers? I can't think of any. EDGE: EVEN.
So here's my big prediction: Schilling cruises over Washburn in Game 1. Game 2 (Colon vs. Pedro) has all the makings of one of those epic Red Sox defeats where the wheels come off in some excruciating way, sending everyone back home into an absolute panic (I'm getting a weird vibe about Jeff DaVanon in this game -- can't explain it). In Game 3, Arroyo pitches the game of his life. Up 2-1 in Game 4, Francona nearly panics and pitches Schilling on three days rest, then thinks better of it and hands the ball to Wakefield, who gets shelled in an ugly 11-9 slugfest. Poor Francona just can't win either way.
So everyone flies back to Anaheim for Game Five ... and Schilling lays the smack down on Colon. Series over. Bring on Santana and the Twins.
Prediction: Red Sox in Five.
Bill Simmons is a columnist for Page 2 and ESPN The Magazine. His Sports Guy's World site is updated every day Monday through Friday.