C. You need a small forward who can post up the smaller Spurs guys (Ginobili, Bowen, etc.) and take advantage of them ... and the Nuggets probably have the closest thing to a young Bernard King right now in Carmelo Anthony. On paper, anyway.
D. You need a great coach. Not a good coach -- a GREAT coach. And George Karl is one of the best. He'll know exactly what to do here -- push the pace, knock bodies to the ground, bang the bejeezus out of Duncan (who's been banged up all season).
So why aren't I picking the Nuggets? I don't trust Melo yet -- the right team can get him into another one of those Athens-type funks, and I don't like the way he reacts when his shot isn't falling. If you're The Guy for a good team, you need to figure out ways to help them when you're not scoring. When Melo isn't scoring, he also stops rebounding and playing defense. Not a good quality. Still, any time you get two of the best five teams playing each other in round one, that's pretty cool.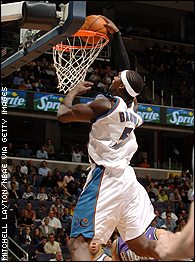 Hope you got all your dunks in, Kwame. Because you'll never get this close against Miami.
ROUND TWO
8. Washington (voted off by Miami, 4-1)
Enjoyable season from the Wiz. Sadly, here's where Shaq rounds into "I'm ready to destroy any and all comers" playoff shape. Shaq, how would you like your filet of Kwame Brown served? Medium-rare? Would you like a side of Etan Thomas with that? And for dessert, we have a Brendan Haywood souffle, but it takes 45 minutes to cook ... would you like to go ahead and order that right now?
7. Seattle (voted off by San Antonio, 4-2)
Basically, the Sonics would have to play four lights-out games to have a chance. Probably not happening. This could be one of those series where Seattle wins Game 1, then takes a 12-point lead at halftime of Game 2 before a ticked-off Duncan lays the smack down from that point on. In fact, I think I'll predict that.
6. Boston (voted off by Detroit, 4-2)
It's the Little Things that catch up with you in a series like this. You know, like the fact that you still can't defend a high screen against a good team even after 82 games. That you can't play the one genuine low-post threat on your team (rookie Al Jefferson) for extended minutes because we're six months into the season and he still can't avoid getting ticky-tack fouls or losing his guy on defense. That you're so predictable at crunch-time (slow everything down, feed the ball to Pierce), even Isiah Thomas knows what you're doing. That you forget to box out on big defensive possessions or screw up a two-for-one sequence in the last 40 seconds and only end up getting one shot. That kind of stuff.
And even though they match up with Detroit better than any team in the East, and even though Pierce has shown signs of becoming the 2002 Pierce over these last two months ... well, you can't beat a team like the Pistons without doing the Little Things. Too bad. I could see the C's leading every one of these games in the fourth quarter and still managing to lose four of them.
(And yes, Doc Rivers has officially entered the "please prove to me that you can coach" phase of his career in Boston.)