5. Dallas (voted off by Phoenix, 4-3)
I was going to pick Phoenix in six before remembering that every round of the NBA playoffs needs to have one seven-game series. It's in the rulebook, actually -- per orders of Der Kommissar. Some lingering questions:
A. Has there ever been a one-on-one matchup quite like "Dirk Nowitzki vs. Amare Stoudemire"? Neither guy has any chance of stopping the other, nor will they care. It's going to be like watching the best Rucker Park showdown ever.
B. If Steve Nash was really the 2005 MVP, then why did his old team win six more games this year than they did last year? Seems a little curious, no? At the same time, if Nash ends up being the difference in this series -- which seems like a possibility, given the Mavs' point guards -- wouldn't that be the most ironic twist of the 2004-05 NBA season that didn't involve Kobe pushing Shaq out of Los Angeles and inadvertently destroying the Lakers in the process?
C. When Keith Van Horn feels like catching a movie on the road, who does he call to join him, Shawn Bradley or Shawn Bradley?
D. If Darko Milicic, Pavel Podkolzine, Nikoloz Tskitishvili and Carlos Delfino are all out of the NBA within three years, should they be forced to move into Chad Ford's house?
E. When the Mavs lose Game 7 in heartbreaking fashion, will Mark Cuban leave the team alone and give them another year to gell, or will he change 75 percent of the roster like he always does? And is it too early to invite him into my West Coast roto league next season?
SEMIFINALS
4. Miami (voted off by Detroit, 4-2)
I don't see any difference between the 2005 Heat and the 2004 Lakers, with three exceptions: A.) Shaq is a little more motivated; B.) everyone on the team likes each other; and C.) none of the Miami stars are flying back and forth to Colorado to defend themselves in a hearing for a potential rape trial. So why would they be more prone to beat the Pistons than the 2004 Lakers? Sure, this Pistons team doesn't have the same bench, and Rip Hamilton has been hit in the face so many times at this point, he's turning into Chuck Wepner. But other than Shaq, Wade, Damon Jones and Udonis Haslem, is there anyone on this Miami team who you would even call "mediocre"? Eddie Jones, Shandon Anderson, Keyon Dooling, Mike Doleac, Rasual Butler ... these guys wouldn't play for half the teams in the playoffs.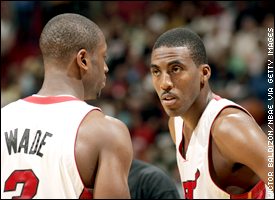 Wade might as well look in Section 205 for help. He's not getting it from Eddie.
In fact, I think they have the worst starter in the playoffs (Jones) and the two worst bench players (Dooling and Anderson). That's unprecedented. Why do you think they kept bringing in washed-up veterans like Mourning, Laettner and Steve Smith? Watching them piece that bench together was like watching the scene in "Project Greenlight" where the producers tell John Gulager, "Yeah, Mark Wahlberg is out as Hero ... it looks like we're going with Eric Dane." In other words, we're screwed.
So here's where you say, "Well, Shaq and Wade can beat anyone by themselves, it will be just like Shaq and Kobe." Actually, that's not true. First, there's a difference between 2000 Shaq and 2005 Shaq -- he's not a guaranteed 35-15 in May and June anymore. Second, those Lakers teams wouldn't have beaten the 2000 Blazers, 2002 Kings and even the 2004 Spurs without significant contributions from Horry, Shaw, Fox, Fisher, Rice and Harper; we don't know anything about Jones and Haslem on that end. And third, Stan Van Gundy is no Phil Jackson -- Wade saved his butt in close games at least ten times during the course of the season. I just don't think they have the horses. Some time in the next 10 weeks, their season is going to come down to someone other than Shaq or Wade making a play ... and I don't see that play being made.