No. 44
1997: Near the end of the first round, TNT's Peter Vecsey confidently reports the Timberwolves and Clippers just swung a trade. Dad and I move to the edge of our seats … only to be told that Minnesota traded Stojko Vrankovic to the Clips straight up for Stanley Roberts. Unbelievable. We get our revenge four years later, after Vecsey reports that the Knicks don't have enough to trade for C-Webb and the New York fans in the building respond with an impromptu, "Vecsey sucks! Vecsey sucks!" chant on live TV.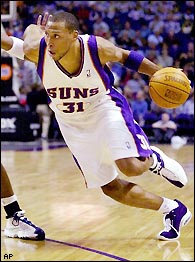 Unfortunately, Shawn and Rick Majerus broke up shortly after the draft.
No. 43
1999: Shawn Marion (No. 9) puts on a black Suns hat with a gray suit and bright blue shirt. Very nice. An excited Majerus calls Marion "the sleeper of the draft … I just like him very much … as you can tell, I'm very high on him." He then gets electroshocked by TNT's producer.
No. 42
1998: Unhappy with the American white stiff center they selected last June (Paul Grant), Minnesota takes a Slovenian white stiff center (Radislav Nesterovic).
No. 41
1997: The Mavs take center Kelvin Cato, a former dishwasher who ended up at Iowa State after a growth spurt. TNT's two "draft facts" about him are "Never played high school basketball" and "Owns a 9-foot Burmese python snake." Apparently rattled by these facts, Dallas immediately deals Cato to Portland for the No. 18 pick (Chris Anstey) and monetary considerations.
No. 40
2001: Hubie talks for 36 uninterrupted seconds, even using the rare "second person" for part of the time.
Now, you're Hubie Brown. You're going to be speaking, uninterrupted, without taking a breath, for the next 36 seconds
. Of course, when the draft moves to ESPN in 2003, Dick Vitale easily shatters Hubie's record (going 70 seconds).
No. 39
2000: Barkley attacks the Clippers by ranting, "I don't think the Clippers are a good environment for [new No. 1 pick Darius] Miles. They're a terrible organization. … I hope he gets out of there. … The Clippers are one of the problems in sports. People think you have to win to make money – the Clippers are a perfect example of a team that lets all their good players go every year … they're giving their fans a bad product … that's one of the problems in sports today. There's just no excuse for what the Clippers have been doing for the past 10-15 years, letting all their good players go." (You gotta love Chuck! The best part was seeing Ernie Johnson's face tighten on the split screen as his producer screamed in his earpiece, "Cut him off … cut him off … CUT HIM THE *$%# OFF!!!!!")
No. 38
1999: The Knicks take 7-foot-3 French star Frederic Weis with the No. 15 pick, the funniest pick of the last five years.
Bonjour, Latrell! Bonjour, Marcus!
Flustered by the pick, Johnson swings it to a startled Vecsey, who's completely out of info. Vecsey makes up a "Steve Smith for Isaiah Rider" trade rumor on the spot.
No. 37
2001: The Clips trade the rights to No. 2 pick Tyson Chandler to Chicago for Elton Brand. That's right, after 47 years, Elgin Baylor finally made a good trade! Watching the draft live, Dad and I immediately start stockpiling water and canned goods and preparing for the apocalypse.