By Bill Simmons
Page 2
POSTED Aug. 9, 3 p.m., ET

OK, we're trying something a little different starting this week: A Mini-Cowbell column that will have a permanent spot in the lower-left box under the main column on the Sports Guy's World Page. I needed a spot where I could post some quick hits, smaller stuff that doesn't quite belong in an actual column . . . but stuff that needs to be mentioned somewhere on the SGW Page. So let's see if this works.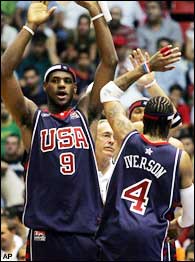 Why wallow in the present NBA when you can live in the past?
Anyway, I'm nearly done figuring out my schedule for the NBA TV Weekend at the end of August. If you missed the details about this, click here. As it turned out, some of the games that . . .
A.)
I was thinking about showing, or
B.)
Were suggested by numerous readers (3,000 emails in 10 days, by the way) . . . are coincidentally showing this week on NBA TV. So here's their sked for this week, with some additional comments from me when appropriate. I'm not giving the times since they're competing with the Worldwide Leader and all, so you have to hunt them down yourself.
Saturday, Aug. 14
They're running a "Heroic Performances Marathon" all day . . . all of them have been shown multiple times, but they're always worth another look. All of these games are on twice during the day.
Lakers/Knicks, Game 7, 1970, Finals:
The Willis Reed Game. Of course, Frazier was the key guy in this game, but whatever. You'll also be astounded to see how overrated Wilt Chamberlain was.
Knicks/Pistons, Game 5, 1984, First Round:
The great Bernard-Isiah Shootout at the Silverdome, with Marv announcing. One of my five favorite non-Boston games ever. This game could be its own column. Bernard's follow-up dunk in OT is like Apollonia's nude scene in "Purple Rain" -- it just never gets old.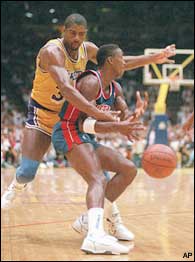 The 80's belonged to Magic, Larry and Michael -- but Isiah wasn't far behind.
Pistons/Lakers, Game 6, 1988, Finals: The Isiah Game. I wrote an entire column about this game back in June.
Pacers/Celtics, Game 5, 1991, First Round:
One of the definitive Larry Legend Games. If you haven't seen this one yet, just remember, he's playing with a minor concussion and a 15-pound back brace when he returns in the second half. I will never forgive Professor Botman for refusing to re-schedule my poly sci exam and making me miss this game in person. I should have just taken the "F." This still haunts me.
Bulls/Jazz, Game 5, 1997, Finals:
The Flu Game. 'Nuff said. Sunday, Aug. 15
They're running a Reggie-Knicks mini-marathon . . . none of these games had a chance of cracking my weekend, but still.
Game 5, 1994, Eastern Finals:
Reggie drops 25 in the fourth, then trash-talks Spike Lee. This game exemplifies everything I've ever loved and hated about the NBA . . . all at the same time.
Game 7, 1994, Eastern Finals:
Whatever. This was awful basketball. I remember trying to make myself throw up after this game.
Game 1, 1995, Eastern Semifinals:
Reggie bangs home consecutive threes in the final 12 seconds. This one's a little tainted since he pushed off so blatantly before the second three. Seriously, the guy pushed off on just about every big play of his career. It's uncanny.
Game 5, 1995, Eastern Semifinals:
Whatever.
Game 7, 1995, Eastern Semifinals:
Ewing misses an easy five-footer that would have won the series. Did anyone lose in more agonizing ways than those Riley-era Knicks teams? Why doesn't anyone ever talk about this? Monday Aug. 16
Buffalo at Philly, Game 3, 1976, First Round:
McAdoo leads Braves to an OT win. A good one if you've never seen McAdoo in his prime. Year before the ABA merger, so the talent level isn't quite there yet.
Jazz at Knicks, 1978:
Maravich's 68-point game at MSG. Apparently, the quality of the video isn't great, but the game is otherworldly. I would have picked this one for my weekend if they weren't showing it. Was there anyone more enjoyable than Pistol Pete? Tuesday Aug. 17
Lakers at Blazers, Game 4, 1977, Western Finals:
The Blazers complete the improbable sweep. Two fun things about this one -- you will never see a worse backcourt from a Conference Finalist than the one L.A. throws out for this series. Nobody can get the ball over halfcourt. Also, when Walton was healthy, he OWNED Kareem. If you watch this one, look out for the dunk on Kareem's head in the second half. One of my favorite dunks of all-time.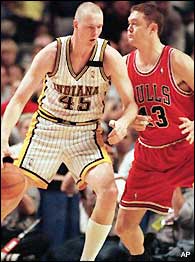 Also overlooked in the '98 series, the epic duel between Smits and Longley.
Bulls at Pacers, Game 4, 1998, Eastern Finals: This was one of the five or six best games of the past 10 years. Reggie pushes off to make the game-winning three, followed by Bird's classic poker face. My favorite series of the past 10 years, by the way.
Wednesday Aug. 18
Warriors at Suns, Game 4, 1976, Western Finals:
G-State would have made the Finals if not for this 2-OT game and Keith Erickson turning into Jimmy Chitwood. Very entertaining, great Suns crowd. You could make the argument that the Warriors franchise was never the same after this one. Thursday, Aug. 19
Blazers at Sixers, Game 5, 1977, Finals:
The defining game of this series, with Philly unable to take care of business at home. Disturbing parallels between the '77 Sixers and the '04 USA Team, by the way.
Knicks at Celtics, Game 5, 1990, First Round:
No comment. Friday Aug. 20
Bucks at Sonics, Game 7, 1980, Western Semis:
Really, really good game. On the bubble for me before I found out they were showing it. Some classic guys in this one: Marques Johnson, Bridgeman, Lanier, Moncrief, Sikma, a young DJ, Silas, Downtown Freddie Brown and the great Gus Williams (the Jackie Bisset of NBA players).
Kings at Suns, Game 7, 1981, Western Semis:
Four white guys in key roles -- Scott Wedman, Ernie Grunfeld, Alvin Adams and Kyle Macy! Wow! Plus, it's always fun to figure out which Suns players were coked up. So there you go.
Bill Simmons is a columnist for Page 2 and ESPN The Magazine. His Sports Guy's World site is updated every day Monday through Friday.