By Bill Simmons
Page 2
UPDATED Sept. 10, 4:35 p.m., ET

Well, it's Day One of my 50-500 drive.
In case you missed it, I'm picking every NFL game this season on ESPN.com, even guaranteeing a finish of "50 games over .500" or your money back. Whoops, you don't pay anything to read these columns.
According to the Intern's calculations, there are 256 games in an NFL season, which means I need to finish something like 150-100-6 against the spread. But it isn't as impossible as you would think. You just need to keep plugging away week after week (9-6, 10-5, 8-7, 9-5) and avoid any clunkers, kind of like what the Red Sox are doing right now. Just don't make any major mistakes and you're fine.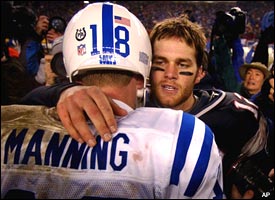 Simmons believes Tom Brady will top Peyton Manning ... again.
I started with a push by taking the Pats and giving three against Indy on Thursday night. If only Charlie Weis had kept the throttle down, New England could've scored 35.
And we're off! While we're here, some additions to my "Gut Feelings Du'Jour" list, which worked out splendidly last week (including Jacksoviille's 31-0 shutout of the Pats on Thursday night, as well as Carmelo venting about Larry Brown to the Denver Post.) Eight gut feelings this week:
1. The Red Sox catch the Yankees next Tuesday (Sept. 14), with Pedro throwing a beauty in front of a crazed Fenway crowd.
2. We don't see Kevin Brown again this season.
3. During a heated pickup game in Boston within the next five weeks, Celtics rookie Tony Allen will get into a fistfight with Ricky Davis.
4. Britney Spears announces that she's pregnant (courtesy of her unemployed, freeloading, white-trash boyfriend).
5. "Friday Night Lights" ends up cracking my Top 50 Sports Movie List.
6. I will regret not taking Kellen Winslow Jr. in my East Coast roto draft.
7. Shaq will start openly ripping Kobe soon, and much harsher than you can ever imagine, to the point that Kobe starts firing back and David Stern has to step in and cool everything down.
8. You haven't seen the last of the words "Olsen Twins" and "rehab" in the same sentence.
POSTED Sept. 2, 2:30 p.m., ET

After yesterday's Red Sox column, here's a totally justified e-mail from reader Chad Lawton:
"Why do we hear so many of your 'I saw it coming' predictions AFTER THE FACT. Red Sox rally, Oakland and Anaheim rally, Anquan Boldin. C'mon dude -- tell us BEFORE, not after! Geesh."
Very good point. In fact, this happened twice in the past few weeks -- once with the Nightmare Team column (the House conversation), once with yesterday's Sox column (the conversation with my editor). Unfortunately, due to time constraints, unforeseen developments and my writing schedule, sometimes it's difficult to get those thoughts up in a timely enough fashion. For instance, I was planning on writing that Nightmare Team column for Tuesday -- the same day they lost to Puerto Rico -- but the Nomar trade pushed everything back one day.
With the Red Sox column, I had actually written something on Aug. 10 about how I was having Those Ideas -- which were quickly dashed by Dale Sveum -- so I had pretty much given up hope. The following night, I watched a Yankees game against Texas when the immortal Tanyon Sturtze pitched five innings for the win, followed by Quantrill, Gordon and Rivera pitching the last four innings, which made me think about their crazy workload this season. So I ended up going on the Web and looking up their career stats, eventually finding out that ...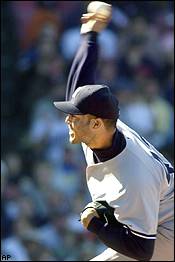 AP
Rivera and the other Yankee relievers may be wearing down.
A.) All of them were in their mid-30's
B.) Rivera was on pace to throw the most innings in his career as a closer
C.) Gordon was on pace to throw his most innings in six years
D.) Quantrill was on pace to throw his most innings in eight years
And these were all guys that had battled health problems. Then I examined their starting pitches and realized that nobody was on pace for 200 innings, not even Vazquez, and that everyone seemed to have trouble pitching past the sixth inning. It just looked like a team ready to blow their bullpen out. Anyway, that's when I decided, "Hmmmmmm." Leading to the conversation with my editor two days later.
Here's the point: Since this didn't deserve an entire column, and there was no real way to mention this, I need to figure out a way to capture epiphanies like this one on my SGW Page somewhere.
That's why I'm creating a new running feature: "The Gut Feeling Du'Jour." Then we can track them and I can eventually be exposed for the idiot that I am. I don't want to confine this to a weekly feature -- when I have them, I'll post them.
I have six Gut Feelings this week ...
(Drumroll please ...)
1. Brandon Lloyd will be this year's Anquan Boldin. You knew this one already.
2. The Lakers will NOT make the playoffs.
3. The Patriots will lose to the Jaguars Thursday night by more than 14 points.
4. Within the next two weeks, either LeBron or Carmelo will come out and slam Larry Brown for the way he coached the team in Athens, followed by at least 3-4 other players joining suit, leading to a national story, capped off by LeBron saying something along the lines of "Let's just say I'm looking forward to our first game against the Pistons."
5. The Angels will be the proverbial "odd team out" in the American League.
6. "Lost" will become a hit show for ABC ... and "The Benefactor" will be a full-fledged disaster.
Until next time.
POSTED Aug. 30, 4 p.m., ET

Following up on two events from last weekend:
1. The Men's Hoop Team
Argentina 89, USA 81.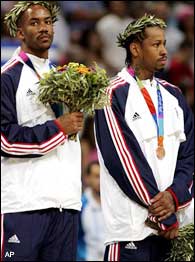 So they came in third ... it was bound to happen.
In seven-plus years of writing columns, I've never been more dead-on with anything. This was a foregone conclusion from the moment they picked the team. Just in case you forgot ...
August 4: The Nightmare Team
August 10: More Cowbell
I'm not tooting my horn. Seriously, I'm not. It's just interesting that someone like me knew these things, and yet the people who actually run the NBA and USA Basketball -- remember, for someone like Stu Jackson, this is a full-time job -- had no idea whatsoever. What really scares me? Maybe they did have an idea, only they plowed ahead for marketing purposes. And if that's true, they should be ashamed of themselves.
With that said, I will never, ever, EVER figure out why LeBron wasn't playing 30-to-35 minutes a game. There is no answer. There will never be an answer. With the way Larry Brown inexplicably buried LeBron and Carmelo -- his best athlete/passer and his best shooter -- it seems curious why he didn't want the No. 1 and No. 3 picks in the 2003 Draft to succeed in Athens. Until you remember that he's coaching the No. 2 pick from that same draft.
Then it seems a little less curious. Just a little.
One other note: The USA shouldn't have won the Gold Medal. We know this. But the officiating in the Argentina game was borderline comical. These guys made the refs from "Victory" seem unbiased -- I think Argentinian native Ricardo Bavetta was one of the referees. Warrants mentioning.
2. My Fantasy Football Draft
As advertised, my East Coast draft took place yesterday afternoon on ESPN.com (you can see everyone's picks right here). Our rules are slightly different. For one thing, everyone starts each week, so deeper teams are rewarded. Also, at the end of Week 17, four teams make the playoffs. Those four teams can protect up to six players on their roster, then we have a draft of all the remaining players on playoff teams (in order with first place picking first, second place picking second, and so on) to fill out everyone's roster. Then the NFL playoffs become our actual playoffs, with stats becoming cumulative through the Super Bowl. So if Brady plays four games and gets 80 total points, he's an 80 for the playoffs. It's a cool way to do it -- anything that stretches out a fantasy season for four extra weeks works for me.
Here's why I'm telling you this: For drafting purposes, PPG's (potential playoff guys like Edge James and Corey Dillon) are more valuable than guys like Dominick Davis or Kevan Barlow, who might put up huge stats but have no playoff value at all. So picking ninth and operating under the "Get three quality RBs at all costs" philosophy, I went with Edge and Dillon, who I liked, anyway.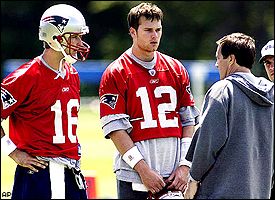 My one major dilemma was my fourth-round pick -- choosing between Quentin Griffin (Denver's token 1,300-yard rusher this season) and Tom Brady (not only poised for a monster year, but a PPG). It seemed too early for Brady, so I rolled the dice with Griffin . . . and Brady dropped into the fifth round, and he was getting closer and closer . . . and then he got snatched up four picks in front of me. That one hurt. So I audibled with two receivers who shouldn't have been there (Ward and Moss) and hoped I could get Jake Delhomme (not just a PPG, but someone who seems ready to explode this season) when it came back to me. And that's what happened.
My one minor dilemma was my last WR pick -- choosing between Deion Branch and Brandon Lloyd. Branch is a PPG, the best WR on a team that will probably throw for 4,000 yards, and a third-year guy to boot. Lloyd is the No. 1 guy (by default) on a crappy team, and he only had 11 catches last year. Of course, I went with Lloyd. I just have a feeling about him. Last year, I had the same feeling about Anquan Boldin, didn't take him, and he haunted me for the next four months. I wasn't letting that happen again. Besides, the Pats have five quality WR's this season -- I'm not sure anyone will put up superior stats.
Looking at my team, I'm happy with everything but the Charlie Garner pick -- which happened accidentally when I forgot to turn off the "If you wait 120 seconds to make a pick, we'll do it for you," and we couldn't figure out how to erase the pick. I actually wanted DeShaun Foster there. Whatever. I even like Josh McCown as my second QB -- Denny Green, quality WRs and he'll be playing from behind every game.
The favorite looks to be the Stuttering J's, who picked first and grabbed Priest Holmes, then took Hasselbeck and Owens on the way back. (I liked the late Foster and Andre Davis picks as well.) The worst team looks to be my friend Wyman (the Raging Asians), who made Steve McNair the 22nd pick in the draft, took Rudi Johnson over Terrell Owens and Dominick Davis, then grabbed the Artist Formerly Known As Eddie George in the seventh round, followed by Joey Harrington in Round Eight. At that point, we scheduled a CAT scan and a series of sobriety tests for him, all of which he passed with flying colors. So who knows?
I have no idea why you would possibly be interested in any of this.
Bill Simmons is a columnist for Page 2 and ESPN The Magazine. His Sports Guy's World site is updated every day Monday through Friday.