By Bill Simmons
Page 2
Posted 4:07 p.m., ET, 7/07
I'm Bill, but I prefer to be called "Nakomas."
Now that we have that settled, I sifted through about 1,200 e-mails over the past few days. Supposedly, The Intern went through another 1,500, although he's probably lying and spent the weekend watching a "Saved By The Bell" marathon or something. Regardless, the readers are riled up. Here were the most common themes:
1. My stance on Nomar
People were torn on this one: Some thought I nailed it in Thursday's column; some thought I didn't go far enough; some thought I went too far and should have just thrown on a curly red wig. I'm more concerned about the "thought I went too far" group because of the sobering red wig implications, so let's deal with them.
Here's what they argued: How could I excoriate Yankees fans for booing Jeter, then slam Nomar and push for the Red Sox to trade him in the exact same column? Wasn't I doing the exact same thing as those Yankees fans?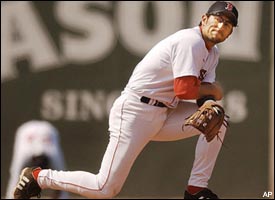 Nomar isn't the most popular guy in Boston right now.
Here's my answer: No.
As Mike Francesa would say, there are some humongous, HUMONGOUS differences between Jeter's situation in New York and Nomar's situation in Boston. Jeter IS the Yankees. They won four championships in five years with him. He isn't just the best player on the team; he's their undisputed leader and one of the most respected winners in any sport. He came through time and time again for them, in the biggest spots imaginable. Nobody cares more than he does. Nobody. Hearing Jeter booed at Yankee Stadium -- under any scenario -- is right up there with hearing Larry Bird booed in Boston Garden.
And that never would have happened. Ever. So that was my point.
Nomar isn't on that level. For one thing, the Red Sox haven't even made one World Series with him. He peaked as a player about four years ago. There have always been rumblings from the clubhouse that he's somewhat of a prima donna, that his teammates are tired of covering up for him with the press and making excuses for him. He received a sizable free pass from Sox fans when he struggled down the stretch last season, then completely fell apart in the playoffs, Karl Malone-style. Last winter, his agent demanded a crazy contract extension -- $64 million over four years, an insane number from someone who missed the entire 2001 season and hasn't seemed totally healthy since -- and then asked for a trade when the Sox rightfully lowballed them.
When the Sox justifiably explored other possibilities at shortstop, leading to the A-Rod fiasco and the conditional trade to the White Sox, Nomar and his agent pulled a 180 and pretended like they wanted to remain in Boston all along, even working that "We're the victims here" angle with the local media. When he ended up staying, Nomar suffered another major injury and took his sweet time coming back. And he's struggled for the past few weeks, although his bat has been coming around lately. As a friend of mine e-mailed me this week, "He's playing the most joyless baseball I've ever seen from a superstar. Take a look at his face the next time he doubles -- he's literally sneering/grimacing as he pulls into second. Unreal."
And sure, most of that comes from bitterness about last winter's chain of events. If it were me, and I asked for a contract extension from ESPN.com, and they lowballed me and tried to trade me to CBS SportsLine, I'd probably have that same sneer on my face every time I handed in a column. But the fact remains, after everything that happened over the past four years, Nomar made a huge mistake by sulking in the dugout during that incredible 13-inning game in Yankee Stadium. For many Sox fans, including myself, it was the last straw.
Unlike some other columnists -- believe me -- I hate writing this stuff. I want to root for these guys. I always believed that Nomar would be in Boston for life. (Just re-read my "Nomar Redemption" column from three springs ago.) But as a sports fan, I also have the right to change my opinion on someone -- even Nomar -- if they aren't living up to their end of the bargain. And for four years, Nomar hasn't been carrying his weight.
Hey Nomar? If you don't want to be here, stop moping and demand a trade. If you think you deserve $16 million a year, start playing like an All-Star shortstop again. Just don't keep insulting our collective intelligence. We cheered for you, we defended you, we made excuses for you, we gave you everything we had. Unlike Jeter, you never earned a lifetime pass, and you certainly haven't earned the proverbial "benefit of the doubt" from us for planting your butt on the bench during the greatest regular-season Red Sox game since Trot took Clemens deep at the Stadium in 2000. You lost more than a few fans that day. Including me.
(Of course, if he hits .380 over the next six weeks, I'll be sucked right back on the bandwagon. Sports is a bitch, isn't it?)
2. "Dodgeball": Good movie or bad movie?
From the e-mails we received yesterday and this morning, it was about a 40/60 split. Even the people who liked it didn't feel that strongly about it; they just wanted to make the point that they went to the theater to laugh and they ended up laughing. So maye it's worth seeing. I've stopped trying to figure it out. Two interesting observations that kept coming up:
A. Apparently, Ben Stiller played the EXACT same character in a movie called "Heavyweights" -- an over-the-top, mustachioed (is that a word?) gym counselor who tormented little kids.
B. At the end of the movie, after the closing credits, apparently there's an additional two-minute scene with Stiller that's the funniest part of the entire movie. So if you end up seeing it, stick around for the credits. Gus and I were long gone.
3. Mehmet Okur, Adonal Foyle and Rafer Alston sign for a combined $120 million.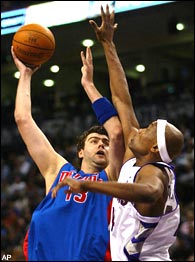 Mehmet Okur, $50 million? Wow.
I'm incapable of writing about this rationally. Give me two weeks.
4. The World Series of Poker launches on ESPN
With a TON of hype. Wow. They even gave us the little countdown ticker on the bottom of the ESPN screen yesterday, like they were counting down to the beginning of the NFL season. As always, it delivered the goods. I will watch every show, possibly two or three times. Then again, I have a gambling problem. So that's not really a surprise.
My biggest pet peeve about the shows? The way they try to label these guys - one of them is the "wacky" guy, one of them is the "hothead," and so on. Please. Just about all of them are duds. Who are we kidding? Someone who plays poker 14-to-16 hours a day for six-or-seven days a week can't possibly be expected to have any semblance of a discernible personality left, especially when he is constantly training himself NOT to show any emotion. They end up having the same creepy demeanor of professional tennis players, chess players or scrabble players, only with goofy sunglasses, crazy facial hair or nutty hats thrown in. That's why everyone responded to Moneymaker last year -- he could have been any of us. He seemed like a normal guy. As opposed to just about everyone else.
My second big pet peeve? That you can glance at the clock, see you're at the 54-minute mark of the telecast, see who has more chips and pretty much know how it's playing out. It's like watching an ESPN Classic Game that you've never seen and saying, "All right, they're up five, there's 28 seconds left, and this show ends in four minutes ... I don't think the Knicks are coming back."
My third pet peeve? The fact that people think the announcers are broadcasting the show live. Sorry to break it to you, but it's all on tape. The announcers know what's coming. They even have the capability to prepare an endless, inexplicable array of cheesy one-liners ahead of time. You know, if one of them chooses to go in that direction.
(Whoops, that electroshock chip that ESPN implanted in my hip is vibrating again ... I need to shut up before the pain causes me to pass out. The next time you watch "The Island of Dr. Moreau" with Brando, take a look at Lothar's life and think of me.)
5. What should we call this blog-like column?
It's already changed names once, from "Short Takes" to "Flipping Channels." And the suggestions have been pouring in. My favorite one? "More Cowbell." Would enough people get the joke? I don't know. Right now, I'm leaning towards that one. "Exploring the Studio Space" also received some votes. So did "A Dose of BS." You know, because those are my initials: "BS." Aw, forget it. Right now I'm leaning towards "More Cowbell."
6. Thoughts and comments on "The Real World Reunion."
I was totally satisfied. Frankie was claiming that she's much better now, even though her hair was dyed charcoal and gray and she cried three different times during the show. Jacquese shattered his own personal record for "You know what I'm sayin'?" Jamie didn't speak for the first 30 minutes of the show, adding to her legend as the "Hottest chick in the history of reality-TV who somehow brought nothing to the table." Robin's breasts actually levitated at one point. The lesion on Charlie's face finally disappeared. And they revealed that Jamie had a thing for Brad during the show, which gave birth to one of the great faces in recent TV history: The Brad "Good God, I could have made a run at Jamie instead of getting the Mr. Miyagi 'Paint The Fence' treatment from Cameran all season?" Face.
Now it's a race between the cast members to see who can get the coveted "The Mizz Annual Scholarship" from MTV -- the chance to move to LA, turn your back on any semblance of employment, and somehow survive on your salary from the "Real World/Road Rules Challenge" for the next five years. The Mizz is like 35 and he hasn't even had to fill out a 1040-form yet. He's an inspiration to all.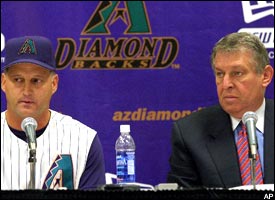 Al Pedrique (at left), former RBI Baseball all-star.
7. Did you see who's managing the Diamondbacks?
I'll let Minneapolis reader Jeff Branstad explain: "Are you aware that Al Pedrique, the new manager for the Diamondbacks, was the starting shortstop on the NL All-Star team in the original RBI Baseball? He played in a total of 93 games for the Pirates and the Mets in 1987 and hit .294 with one homer and 27 RBI, yet somehow the powers-that-be at Nintendo decided he should get the All-Star nod. Remember this?"
Of course! Who doesn't remember Al Pedrique??? When we played RBI Baseball in college, I always played the AL All-Stars against my buddy Kurt Sanger, who was always the NL All-Stars. We never played the Red Sox against the Mets because Kurt was a Mets fan and I was still harboring a huge grudge from the '86 World Series, so that was a potential deal-breaker for us. So we played the All-Stars to be safe; especially when we were drunk. Poor Kurt was stuck with Pedrique as his shortstop ... and neither of us had ever heard of him. I mean, EVER. Check out his lifetime stats -- they're beyond terrible. Somehow, Al Pedrique got the nod over Ozzie Smith (second in the MVP voting that year), Hubie Brooks, Shawon Dunston and everyone else.
Anyway, we decided that "Pedrique" was his full name, like Madonna or Gallagher. It made him sound like a French magician or something. It became a running joke for two semesters ... and I haven't thought about it since. Now he's the new manager of the Arizona Diamondbacks. You have to love sports sometimes.
Bill Simmons is a columnist for ESPN The Magazine and Page 2. You can reach his Sports Guy's World site every day on ESPN.com.