Page 2 staff
Sure, we love to watch running backs. But then again, it's hard to respect a position where a guy can score three touchdowns and gain just one measly yard.
Wide receivers? A little too much mustard on those hot dogs for our taste. We respect offensive linemen (after all, we're carrying a few extra pounds, too), but who can pick 'em out of a lineup? That's why Page 2 is devoting its Monday coverage of the NFL to the dissection of quarterbacks with a new feature called Snap Judgment. After all, these guys start with the ball in their hands on every play from scrimmage. Each week, our signal-callers will praise, interpret and skewer the actions of NFL passers from that Sunday's games. Our lineup includes the following collection of familiar Page 2 faces, along with some new hired guns: Eric Neel, Patrick Hruby, Jeff Merron, David Fleming, Alan Grant, Michael Smith and Skip Bayless. This crew will grade the play of every QB, sound off on the week's four biggest issues and call a few audibles along the way.
First down: After watching Peyton Manning fail to beat the Patriots yet again, we ask, "Is winning the ultimate measure of how good a quarterback is? Why or why not?"
Eric Neel:
I don't think so. Winning is the ultimate measure of winning. Over the course of a whole season, it's the measure of how good a team is, not how good a quarterback is. The Dolphins made the Super Bowl with David Woodley. The Ravens won it with Trent Dilfer. There are too many variables that go into a win, too much skill, execution, and luck, at every position, and on both sides of the ball to put it all on QBs. Manning didn't get leveled by McGinest last Thursday night because he doesn't know how to win. He got leveled because Dallas Clark went out and nobody picked up the blitz. Even if Manning called that play, it doesn't mean he doesn't know how to win, it means he guessed wrong. I think there's a mental toughness/cool-head component to quarterbacking for sure, but I don't think you can boil all that goes into a win or a loss down to that one thing, and I don't think you can measure a quarterback simply by looking at whether or not his team won or lost. Steve Young lost a lot of games in Tampa, so did Testaverde, you know what I'm saying? We talk that way because it's a short-cut, because it simplifies a complex game. We talk that way because we like to think in terms of heroes and goats.

Merron
Jeff Merron: Football is a complex game? Come on. Football's great because it is, when you get right down to it, a simple game that any 12-year-old can talk about intelligently. Analyzing football might be complicated, but the game is not. But maybe we should save that discussion for another day.
Here's the follow-up question: what do we mean by "winning"? Is it having a winning percentage? Is it getting to the playoffs? Is it getting to the Super Bowl? Is it winning the Super Bowl? Is it winning the Super Bowl more than once? I'm not trying to be philosophical. We all understand that being the QB of a Super Bowl winner doesn't all of the sudden turn Trent Dilfer into a Hall of Famer, but what about the flip side? Can a QB have a great career without leading a team to the Super Bowl at least a few times, and winning at least once?

Grant
Alan Grant: No, it's not. It sounds clichéd, but the QB only plays QB. He doesn't coach or play defense.
Patrick Hruby: As much as it pains me -- and by pain, I mean Warren Sapp belly-flopping on my knee -- I have to agree with Eric. Winning is hardly the ultimate measure of a QB's value. After all, losing tells you so much more.
Kingsley Amis once noted that inside every fat man is an even fatter one dying to get out. And to think: he wasn't even talking about Ted Washington. Still, had Amis followed football, he would have noted a corollary -- inside every crummy team's huddle, there's a lousy QB dying to throw another drive-killing interception. A tough, talented, do-it-all quarterback can't single-handedly lift a club to a Super Bowl title, no matter how many game-changing plays he engineers. Think John Elway, or perhaps Steve McNair. On the other hand, a shaky signal caller can certainly cost your team a ring, a No. 1 draft pick, precious salary cap room. Two out of three, if you're Tim Couch. Bad quarterbacking is like a salmonella-tainted pregame buffet. It brings the whole squad down, and leaves everyone feeling sick in the process.
Second down: After seeing Carson Palmer throw his first real NFL passes Sunday, what can we say about Cincinnati's decision to sit the No. 1 pick for all 2003? What does this all mean for Eli Manning?
David Fleming:
You can ask all the great young QBs in the league -- hey, wait, I actually have -- and they all say the same thing: Taking that first year, an NFL redshirt year if you will, is the best possible way to prepare for a long, productive career. Throwing a guy in there who isn't ready for the speed of the pro game can crush his confidence as well as his noodle.

Hruby
Patrick Hruby: Jon Kitna enjoyed a career season with the rejuvenated Bengals last year, which makes it pretty hard to argue with Cincy's decision to sit Palmer in 2003. (Better question: Why does Kitna have to sit now?)
As for Eli Manning, he's in a similar position to Ben Affleck trying to decide between "Daredevil II" and a sequel to "Bounce." He's out of luck either way. If the why-have-you-forsaken-me look on Kurt Warner's face Sunday is any indication, the Giants are in for another lost season, no matter who lines up under center.
Jeff Merron:
It means Jon Kitna should be starting. Kitna's 31. He's getting better. He led the Bengals to an 8-8 season in 2003. I'm not sure I understand why he lost the job. Or what Palmer did to earn it. Cincy fans are hungry for one playoff appearance. Are the Bengals planning for 2006?

Neel
Eric Neel: Here's my guess: Carson just had his best day of the season. And the Bengals lost.
I'm with Jeff, Kitna should have been the call last year and again this year (until he shows he can't do it). The starting of Carson is a ticket-seller, of course -- until it isn't, of course ... until he's dragging his sorry butt up off the field and pulling clumps of grass out of his mask. Then it becomes a flashback, to the days of Akili, except without all the entertaining mobility and stuff. Meanwhile, Eli's in trouble, because Warner was brutal, and you can bet Little Manning's going to be pressed into full-time duty but quick ... too quick.
Alan Grant:
Two schools of thought on this one. The Titans brought McNair along slowly while Indy threw Peyton into the fire. The belief is some quarterbacks might be permanently ruined from too much too soon, while others might only benefit from the abuse. Of course, opinions vary, but I think Manning benefited from it.. Since the Bengals weren't a bonafide contender last season, I thought they should have thrown Palmer into the fire then. I think now, since they have some momentum, its a worse time.
Before we get to third and fourth downs, we present Snap Judgment's exclusive QB rankings for Week 1. (Don't worry, Favre fans -- Monday night's QBs will make the rankings next week.) This week's rankings were compiled by Eric Neel:
SNAP JUDGMENT'S QB RANKINGS FOR WEEK 1
Quarterback
Skinny
Grade
1. Daunte Culpepper
17/23, 245 yards
5 TDs, 0 INT
We know it wasn't his fault, and we hate to count off for anything on a day like this, but that lame duck from Randy to Marcus Robinson reflects poorly on everyone.
99.39
2. Donovan McNabb
26/36, 330 yards
4 TDs, 0 INT
We'd give him a perfect 100, but we're afraid of hurting TO's feelings.
99.03

3. Tom Brady
26/38, 335 yards
3 TDs, 1 INT
He plays big games the way they ought to be played: he wins 'em,
98.34
4. Chad Pennington
20/28, 233 yards
2 TDs, 0 INT
Like the Lakers backcourt did for Tony Parker, the Bengals secondary made Pennington look like a Hall of Famer.
95.00

5. Drew Brees
17/24, 209 yards
2 TDs, 0 INT
Like Gannon, like Twain, he stood back there and said, "Reports of my demise have been greatly exaggerated." We like that
94.99
6. Vinny Testaverde
29/50, 355 yards
1 TD, 0 INT
Keyshawn had nine catches, but did you think the sweetest was that one Vinny floated just high enough for GMTDB to get laid out like Carly Patterson on a tumbling pass.
90.44

7. Rich Gannon
20/27, 305 yards
2 TDs, 2 INTs
Bonus points for connecting with a receiver named Alvis, big bonus points for a fourth-quarter comeback (even if it failed), and super-deluxe bonus points for dragging yourself back from bolivian.
90.43
8. Matt Hasselbeck
19/29, 246 yards
1 TD, 1 INT
The following score is based almost exclusively on that little flick pass to Shaun Alexander, which was reminiscent of Jeter to Posada to nail Junior Giambi. (with, of course, the standard Seahawk deduction for poorly designed and executed road uniforms).
88.00

9. Marc Bulger
23/34, 271 yards
1 TD, 1 INT
Isaac Bruce makes everybody look good.
87.71
10. Peyton Manning
16/29, 256 yards
2 TDs, 1 INT
One audible too many.
85.67
11. Jake Plummer
18/29, 230 yards
2 TDs, 2 INTs
We loved the QB sweep.
84.0
12. Carson Palmer
18/27, 250 yards
2 TDs, 1 INT
If the kid could play defense they'd really have something.
82.23
13. Jeff Garcia
15/24, 180 yards
1 TD, 0 INT
Yeah, he's got the bug eyes of Pippy Longstocking with her braids done too tight, but he was the only quarterback on Sunday who was man enough to carry the ball into the end zone himself.
81.93
14. Mark Brunell
13/24, 125 yards
0 TD, 0 INT
He didn't look all that good throwing the ball, really, but he looked great handing it off to Clinton Portis, didn't he? You gotta stay within yourself, that's Football 101.
80.17
15. Tim Rattay
18/31, 175 yards
2 TDs, 1 INT
We love the guts, but if you're seeing double on the two-point conversion, you've got to ask out, Timmy.
79.84
16. Aaron Brooks
18/37, 222 yards
1 TD, 1 INT
He only rates this high because "The River City Relay," won an ESPY in July, and we're contractually obligated to pump him up for exactly six months before and after awards night. Seriously, we got a memo.
77.78
17. Michael Vick
13/22, 163 yards
1 TD, 1 INT
We waited all summer for this? We waited all summer for Michael Vick to look normal, to look average?
75.00
18. Joey Harrington
14/26, 188 yards
1 TD, 1 INT
In addition to leading his team to its first road victory in 25 games, Joey is an accomplished pianist.
74.47
19. Drew Bledsoe
13/22, 163 yards
1 TD, 1 INT
We waited all summer for this? We waited all summer for Michael Vick to look normal, to look average?
75.00
20. Tommy Maddox
13/22, 144 yards
0 TD, 0 INT
He got the win, but he'd trade it in a heartbeat to know, just for a split-second, what it feels like to throw a strike the way Rich Gannon throws 'em.
73.50

21. Steve McNair
9/14, 73 yards
1 TD, 0 INT
Apparently, out of respect for Titans fans unable to see the game once it had been moved to Saturday afternoon, he decided not to do anything even remotely interesting.
73.00
22. Josh McCown
18/29, 181 yards
0 TD, 0 INT
We want more flea-flickers.
72.00
23. Brad Johnson
24/37, 169 yards
0 TD, 1 INT
It's not that he bores us, it's just ... I'm sorry, what were we talking about?
70.03
24. Trent Green
16/32, 174 yards
0 TD, 1 INT
Don't worry, he'll get a hug from Vermeil.
70.02

25. Kurt Warner
16/28; 230 yards
0 TD, 0 INT
It wasn't the performance, it was that hangdog look on the sidelines in the fourth ... that was pathetic.
66.00
26. David Carr
19/25; 230 yards
0 TDs, 2 INTs
The penalty for losing to the Chargers is finishing below Kurt Warner in the weekly Snap Judgment rankings. That's right, David, we're making an example out of you.
65.59
27. Kyle Boller
22/38, 191 yards
0 TD, 2 INTs
Last night, he said a little prayer of thanks to Deion. Thanks to Prime Time, Kyle was just the second least effective player on the field Sunday.
65.87
28. Byron Leftwich
18/36, 147 yards
1 TD, 2 INTs
Maybe the ugliest game-winning throw in the modern era.
64.08

29. A.Jay Fiedlerey
26/44, 210 yards
1 TD, 3 INTs
The Dolphins announced Sunday that Dan Marino has been hired as senior vice president in charge of actually throwing the damn ball and moving the freakin' offense.
62.54
30. Rex Grossman
16/35, 224 yards
0 TD, 2 INTs
If Bracy Walker's the hero, Rex must be the goat.
61.30
Third down: Michael Vick played only 29 snaps in the preseason, despite the fact Atlanta is implementing a new offensive system. After watching Vick at San Francisco on Sunday, what can we say about where everybody's 2002 wunderkind resides in 2004?
Eric Neel: We can say this: Everybody's 2002 wunderkind is under wraps. His crazylegs light is hidden under a whole bushelful of West Coast scheming. Ten yards rushing on the day? Ten yards on the day?! I'm not saying that's pathetic, I'm just saying Tommy Maddox had 13. That's all I'm saying.

David Fleming: Vick is right where he's always been: a transcendent talent whose development and potential cannot be compared to any players who have come before him. (Wait, do I sound like John Madden?) When it comes to being humbled by the game, studying the game and developing into a better pocket passer Mike has always said the right things to me- -- and I tend to believe him. If he's bluffing than he's in danger of becoming the next Kordell Stewart: a guy who relied so heavily on his legs when he was young that he never developed his eye or his arm as a passer; only to become predictable under pressure
Patrick Hruby: Hey, I don't care if the Falcons break out the wishbone, then move Vick to free safety. So long as he remains a beast in ESPN NFL 2K5, it's all good with me.
Alan Grant:
Michael Vick is the most talented muther in all of sports. All other variables are irrelevant.
Fourth down: This year's rule changes are supposed to help everyone's air attack. After one week, what can we say about the new rules? And, by the way, what's the biggest thing the NFL has done to help quarterbacks in the last two decades?
David Fleming:
What hasn't the NFL done in the last two decades to help the game's pretty boys? If the new "no-hands" rule doesn't work this season, I'm told that a Popemobile-like device is being developed for 2005 quarterbacks to use in the pocket and on scrambles.
Patrick Hruby:
Honestly, it's too early to tell. The much-ballyhooed emphasis on enforcing the existing downfield contact rules -- remember, there's nothing actually new in the books -- could open up the passing game, but only if officials consistently make the calls. And that's hardly guaranteed, at least if past efforts to "clean up" hockey and unify baseball's scattershot strike zone are any indication. Let's revisit this topic in eight weeks, OK? As for the second question, that's easy. The biggest quarterback helper has to be the pro-rated signing bonus.
Eric Neel:
I didn't see much difference, frankly, and I agree with Patrick, it'll be weeks before we know whether the impact will be real. But I
did
see John Lynch go Anita Ward (Remember "Ring My Bell"?) on Dante Hall on a crossing pattern Sunday night, and while there was a flag, there were also little birdies flying in formation around Hall's head. It it looked like a "Rule changes? We don't need no stinkin' rule changes!" kind of hit to me, like maybe Lynch thought he was striking a blow for safeties everywhere.
Alan Grant:
The new rules were predictably in effect in the very first game of the season, as there were two extremely B.S. calls involving a guy just freaking playing defense. (
Editor's Note: Mr. Grant is a former NFL defensive back.
)
---
QUICK HITS FROM WEEK 1
Best Throw of The Week:
Rolling to his right and with Michael Strahan in hot pursuit, Eagles QB Donovan McNabb stopped at the sideline and managed to throw a dart back across his body to Terrell Owens and past two Giants defenders for the second of his four TD passes in Philly's 31-17 victory.
Runner-up:
Rich Gannon's bullet to Alvis Whitted for a 38-yard TD midway through the fourth quarter, followed by another toss to Whitted for a two-point conversion to tie the score at 21-21. Oakland lost at Pittsburgh by a field goal, but it was still a great sequence.
---
Worst Throw of The Week:
Jake Plummer is a right-handed quarterback. So, attempting a left-handed pass from your own end zone with two Chiefs defenders hanging all over you is probably a bad idea. In this case, it was an awful idea, as K.C.'s Shawn Barber picked it off at the Denver 17 and returned it to the 7, leading to a touchdown that tied the score at 17-17 early in the third quarter.
Runner-up:
OK, so Randy Moss isn't a quarterback, but his wobbler to Marcus Robinson proved that No. 84 cannot do everything with amazing athletic grace.
---
Welcome to the NFL:
Top pick Eli Manning played only 12 snaps in his NFL debut for the Giants on Sunday. The kid surely wishes it had only been 11. On his final play of the game, Manning was flushed from the pocket and rolling to his right when he was caught square with a vicious decleater of a hit by an Eagles defender and the ball came flying loose. The fumble was recovered by Ron Dayne, but Manning is definitely still feeling that one. If Tom Coughlin had a sense of humor, or even the nascent, embryonic inklings of a sense of humor, he would have let Jesse Palmer take the late-game beating instead as payback for "The Bachelor."
---
Destined to be carrying a clipboard
In Miami, Dave Wannstedt pulled Jay Fiedler after 30 minutes and went to A.J. Feeley, who has now been named the starter for Week 2. Considering that Fiedler has started for Miami for the past four seasons, what does it say that the Dolphins gave him only two quarter before benching him?
Patrick Hruby:
It says the Dolphins wanted to start Feeley all along -- why else would you import they guy in the first place? -- but didn't gave the guts to go with the unfamiliar.
Jeff Merron:
The Fins are doing nothing more than rearranging deck chairs, and I don't think there's a rational answer to the question. The fact is Miami is taking a big chance on Feeley, on the basis of a half-dozen good games he played for the Eagles a few years ago. A certain logic says Fiedler's not a good starter, but he'd be a "great" backup. Obviously, Miami's hoping Feeley will be a slight upgrade at QB, but that's not saying much, is it?
AUDIBLES FROM OUR QBS

Neel

Hruby

Fleming

Merron
Man or Myth:
Jake Plummer
Myth
Man
Manth
Myth
Under- or overrated: Tom Brady
Neither
Neither
Underrated
Neither
One QB who shouldn't be starting
Warner
Chris Rix
Testaverde
Carson Palmer
One QB who shouldn't be on the bench
Kerry Collins
Jay Fiedler
Roethlisberger
Jon Kitna
This QB will emerge as a stud in '04
Hasselbeck
Josh McCown
Leftwich
Pennington
Will be exposed in '04
Bulger
Rex Grossman
Bulger
Palmer
As a QB, the one coach I'd want is ...
Mike Shanahan
Joe Gibbs
Andy Reid
Boise State's Dan Hawkins
QB I dreamed of being
Dan Marino
Brett Favre
Rick Leach
Jim Plunkett
Final Word: Are you ready for tonight?
Brett Favre starts his 190 consecutive game tonight on "Monday Night Football." Where do you rank Favre on the all-time list of great QBs? Would that change if he'd won that second Super Bowl? Would that change if he hadn't started 190 in a row? And would that change if John Madden didn't talk about how special Favre is every week?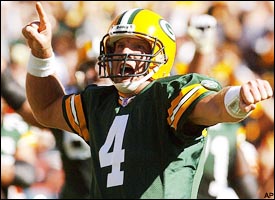 Brett Favre's brilliance will be on display again Monday night.
Eric Neel: The James Brown of football. The hardest-working man in show business, and a hit machine to boot. Every bit as good as Elway and Montana. Maybe one notch below Marino for pure talent, but nobody matches his heart, few have been as strong, and none have been as purely fun to watch. Where does he rank? Who cares. Here's what matters: He's the peoples' quarterback and he's my all-time favorite.
Patrick Hruby:
I consider Favre the best quarterback of his era, which puts him in the top 10 of all-time. After that ... well, what difference does it make? Just because this is ESPN doesn't mean we have to reduce everything to a list. Favre's toughness and durability absolutely burnish his rep, and there's no doubt that a second Super Bowl title would bolster his legacy even more. Can't say Madden's man-crush has influenced my opinion -- heck, I'm still trying to wrap my head around Turducken -- but I'd be lying if I didn't note my fondness for Favre's cameo in "There's Something About Mary." Self-aware bad acting goes a long way.
David Fleming:
John Madden's man-crush notwithstanding, I think Favre's streak is every bit as impressive as what Cal Ripken Jr. did in baseball. I mean, forget somehow staying healthy enough all that time, how amazing is it for Favre to have been that good for that long? And Cal never got chased around by 300-pound skull crushers looking to go "yard sale" on his melon. (I just channeled some sweet X Games lingo right there ... cool) I'd put Favre in my Top 5, but no way is he bumping Otto Graham out of my No. 1 spot.
Alan Grant:
I'd rank Favre No. 1. Not because of the streak. For the most part, that's luck. I think he just has a solid all-around game. I don't need Madden or anyone else to tell me anything about him.