Page 2 staff
If you wanna talk about Edgerrin James skipping down the sideline in those black cleats or Deion Sanders ripping off his helmet because his 'do rag had fallen into his eyes, you're in the wrong place.
This is Snap Judgment, and here we talk about one thing and one thing only: Quarterbacks. Each week, our team of field generals gathers to dissect the play of NFL passers. We'll talk about the best and worst throws of the week ... and plenty of passes that fall somewhere in between. Our quarterbacks include Page 2's Eric Neel, Jeff Merron and Patrick Hruby, ESPN.com's Michael Smith, Cold Pizza's Skip Bayless and ESPN The Magazine's Alan Grant. We start this week with some quick reads from our QBs:
AUDIBLES FROM OUR QBS

Eric
Neel

Patrick
Hruby

Michael
Smith

Alan
Grant
Man or Myth:
Trent Green
Kind of half and half, like a Hobbit
A man without a WR to throw to
Myth
As a rookie, he appeared in the league's "How to Properly Wear Equipment" video.This makes him a man.
Best QB age 28 or younger
Michael Vick, Please (MVP)
Michael Vick. Best RB, too
Duh ... Tom Brady
Michael Vick
Best QB age 35 or older
Rich Gannon
Joe Montana
Rich Gannon
Michael Vick in 2015
Is Matt Hasselbeck the best bald QB ever?
No, Terry Bradshaw
No, Y.A. Tittle
No, Y.A. Tittle
No, Terry Bradshaw
Is Marc Bulger a fraud?
98 Degrees is to Milli Vanilli as Mark Bulger is to Ryan Leaf
Fraud-ish
Partial fraud; he's no Cade McNown
Decent skills, fraudulent expectations
Which young guy you want: David Carr or Joey Harrington?
Harrington, if he comes in a package deal with Roy Williams
Byron Leftwich and the leftover cap room
Carr
Carr. Marriage makes a man at least appear more mature
One word to describe Drew Bledsoe
Ripe
Post-traumatic stress disorder
Slow
notRyanLeaf
Which lasts longer: Rex Grossman or Mark Cuban's "The Benefactor"?
Mike Brown outlasts them both
"Benefactor." What else does ABC have in the pipe?
Grossman
Grossman. He knows he isn't Jim McMahon, while Cuban pines after The Donald
First down: Who resurrected themselves the most this week after a bad Week 1? And conversely, who tanked in Week 2 after starting strong?
Patrick Hruby:
Consider Kyle Boller exhumed, if not exactly resurrected. Baltimore's weakest link managed to keep his shoes tied while throwing exclusively to the guys in the white jerseys. Bravo for not losing the game single-handedly! On the other hand, a slew of Jeff Garcia redemption stories just got canned, as Terrell Owens' 31st-favorite starting quarterback evoked memories of the Tim Couch era in Cleveland's road loss to Dallas. Still, Garcia reportedly has Playmates fighting over him in bars -- so really, how bad can life be?
Skip Bayless: Kurt Warner saved his starting job, and helped save Tom Coughlin's job, by remotely resembling his old alien-has-inhabited-his-body, MVP-self. You had to admire Warner's mental toughness after the beating he has taken on the field and in the media. But you also had to remind yourself that he did look like a former grocery-bagger early in the game when he coughed up the ball as if saying, "Please, leave me alone," the moment he found himself in a pass rusher's grasp.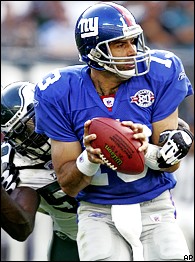 AP
After a rough start in Philly, Kurt Warner bounced back big-time against Washington.
While he did make a couple of throws that featured much of the old zip and accuracy, you had to fall back on the perspective that Warner can no longer be trusted because he took too many head-on licks in St. Louis and lost too much nerve and confidence. And he was playing against Mark Brunell (one interception) and Patrick Ramsey (three interceptions), and his Giants did benefit from seven total Redskins turnovers. Enjoy it while it lasts, Kurt.
The biggest tank job was Brett Favre, at home against the rival Bears, who would rather beat the Packers in Green Bay than the Patriots in Foxboro. Last Monday night, two adjectives preceeded Favre's name that had never been used to describe him: careful and efficient. We saw the John Elway Memorial Late Career Blueprint for winning a Super Bowl: Hand the ball to a very good back running behind a very smart, skilled line and execute the necessary low-risk throw here or there. But Sunday, Favre too often turned back into his old gunslinger caricature, trying too many dangerous throws geared to make analysts say, "Only Brett Favre could have threaded that needle." This time he twice shot himself in the foot with interceptions while throwing way too many passes (42) and incompletions (18). This was a bad loss for a team that started the season with such a big win in Carolina.
Eric Neel: You've got to give me two resurrections ...
1.
Was that the real Kurt Warner I saw running around at Giants Stadium? OK, he wasn't actually running (Curt Warner, now he could run ... Kurt Warner, eh, not so much), it was backpedaling. But it was the good kind of backpedaling, backpedaling with his head up and his thumb wrapped confidently around the ball, backpedaling with purpose and vision, backpedaling with something that looked very much like an actual clue, you know what' I'm saying? That's the kind of thing that lets you throw the deep ball. That's the kind of thing that's a big upgrade over the sour-faced sidestepping and shuffling he did to get out of Eli's way last week. I figured Warner for a flameout weekend, complete with anguished looks Brenda's direction and delusional excuse-making in the locker room ("The forces of evil do not want me to run successful audibles, they are garbling my play calls"). But he looked good Sunday, he even looked like he might still be around come December. And ...
2.
Now that's the Michael Vick I'm talking about! In Week 1, they had him locked down. He looked like a poor man's Jim Druckenmiller, sleepwalking through the West Coast scheme, dinking and dumping. In Week 2, he was a mad, mad, Madden Man, unstoppable in the air and on the ground. I know what LL said -- "Don't call it a comeback" -- but after a long offseason and a mummified start to '04, I'm definitely calling it a resurrection. And as for who's in the tank? Don't ask me, ask Brad Johnson.
Jeff Merron:
Welcome back, Aaron Brooks. See ya, Tommy Maddox. But when Maddox got knocked out, we got a chance to see Ben Roethlisberger, who looked pretty good against the Ravens D.
Second down: Steve McNair and Peyton Manning, last year's co-MVPs, met each other for the first time Sunday in Nashville as the Colts rallied for a 31-17 victory. Quarterbacks, like starting pitchers, always say they don't play against the other quarterback -- only against the other team's defense. How much did, or should, this early-season matchup put the lie to that old saw? What can we say about these guys after watching the matchup?
Alan Grant:
Ah, but it's true -- on both a philosophical as well as a practical level, that quarterbacks don't play against one another. Let's say, you're Drew Bledsoe and your team is playing the Falcons and Michael Vick. These are two radically different players with radically different styles. For it to be an actual competition, Bledsoe would have to try to match Vick's mercurial skill and Vick would have to ... well, pack on 40 pounds and take sacks. On McNair and Manning, I didn't see the game. But then I didn't have to. Manning, while admittedly goofy and lacking appeal to the hard-core athlete fan base, gets props for being just that. And McNair, in my humble opinion, is mentally and physically, among the toughest guys in the league.
Eric Neel: Yeah, this game belonged as much to Edgerrin James and Chris Brown as it did to Manning and McNair. Yeah, it's a team game, and yeah, at the end of the day, it was the Indy O-Line that held the winning ticket. I know all that.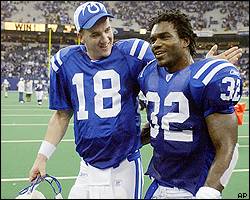 If Edgerrin James' resurgence continues, Peyton Manning might be impossible to stop.
But I'll tell you what else I know: For three consecutive drives (from the start of the third Quarter to the start of the fourth, from 10-3 to 17-17, this thing was Peyton and Air dueling banjos, it was Ali and Frazier throwing blows. And like a great fight, it was a style clash, Manning's jitterbugging feet and quick, laser strikes against McNair's broad-shouldered man-in-full throws to the outside. One ball is pretty, the other's heroic. One guy is looking to find the gaps, the other's ready to mow your sorry butt down. One hits Reggie Wayne on a quick-drop, the other busts it over his own self from the 1-yard line, and then the other comes back to connect on a precisely-timed play-action to tie the score. It didn't last, but it was a sweet, stylistic tilt for a quarter and then some.
Skip Bayless:
The Indianapolis game meant as much personally to Steve McNair as any on the Titans' schedule because this was his chance, at home, to show the NFL world he deserved the outright MVP last season. Instead, Manning proved in the end that, for now, he's the more valuable quarterback. McNair played like McNair for long stretches as his offense dominated the ball (34:55 to 25:05), and he threw for more yards (273 to 254). But again and again, McNair failed to make THE play. Again and again, Tennessee had red-zone opportunities to blow this one open -- and McNair made bad decisions and throws. He was intercepted in the end zone. He slightly underthrew Derrick Mason for what looked like a touchdown, but Mason allowed the ball to be ripped from his hands. McNair didn't cash in. Manning did, with 21 fourth-quarter points.
Patrick Hruby: Of course, quarterbacks don't play other quarterbacks. Unless you're talking about the moving target toss at the NFL Quarterback Challenge. Is that still around?
As all of us agreed during last week's debate over the importance of wins in measuring a quarterback's value, football is a team game. Sunday's Tennessee-Indy tilt did nothing but confirm that old saw (hey, most clichés are clichés for a reason). Peyton Manning looked sharp, but largely because Edge James ran amok, allowing Manning to set up his favored play-action passes. Meanwhile, Steve McNair had what looked to be a sure-fire touchdown throw taken away by Indy's Nick Harper, who made one of the toughest interceptions you'll ever see. Did Manning outplay McNair? Maybe. Did the Colts outplay the Titans? Definitely.
WEEK 2 QUARTERBACK RANKINGS

This week, we're turning to Aaron Schatz of footballoutsiders.com to rank the quarterbacks. In Aaron's system, the quarterback's score is determined by comparing each play involving the quarterback to the NFL average on similar plays, based on down, distance and other variables.
The quarterback's performance is then translated into an approximate number of actual points that his success (or failure) is worth when compared to a "replacement level" quarterback (defined as any quarterback named "Billy Joe"). This score is known as PAR -- Points Above Replacement.
For Week 2, Peyton Manning rates as No. 1, scoring 13.3 points better than replacement. Not surprisingly, Jeff Garcia scores the worst at minus-13.8.
Click here for Aaron's complete ranking and comments for all 34 QBs.
WEEK 2: TOP THREE QUARTERBACKS
Quarterback
Skinny
PAR
1. Peyton Manning
24/33, 254 yards
2 TDs, 0 INT
Yes, I think Mr. Manning would like to take issue with that "co"-MVP business.
13.3
2. Chad Pennington
22/29, 258 yards
2 TDs, 0 INT
He looks great but he's taking advantage of a an easy schedule. It's just as easy after the bye, with Buffalo, Miami, and San Francisco. He could have scored even higher -- Pennington completed five of eight passes on third down, but only one of those completions made a first down.
12.6

3. Michael Vick
14/19, 179 yards
1 TD, 0 INT (109 rush)
Now that's the Michael Vick we know and love. Eight first downs rushing, plus a 7-yard run in the red zone on 3rd-and-8 that led to a fourth-down TD run by Warrick Dunn.
11.3
WEEK 2: BOTTOM THREE QUARTERBACKS
Quarterback
Skinny
PAR
32. Josh McCown
13/29, 160 yards
0 TD, 2 INTs
I'm sorry, are we in field-goal range? Here, let me just move backwards a bit and take a sack ...
MINUS 10.0

33. Patrick Ramsey
9/18, 142 yards
1 TD, 3 INTs
Three interceptions in half a game -- and the Redskins almost came back anyway.
MINUS 10.8
34. Jeff Garcia
8/27, 71 yards
0 TD, 3 INTs
This week's performance was so bad that T.O. will be berating Garcia in a press conference after Monday Night Football.
MINUS 13.8
Third down: Whatever happened to Drew Bledsoe? Anybody know if he's still in the league?
Jeff Merron:
His O-line apparently forgot he's still in the league.
Alan Grant:
Ah, I feel most equipped to answer this one. I just witnessed the Bills offense struggle against a Raiders defense, which is average at best. This much is true: Bledsoe is still a premier quarterback. But obscurity has a way of enveloping those quarterbacks for whom absolutely no offensive lineman will block.
Eric Neel:
I know he can still play; I saw the long ball to Lee Evans. But when your most productive play of the day is a kissed-by-the-gods force job through 47 Raiders defenders and into the hands of Eric Moulds, you're pressing. And when you're pressing, you're liable to be 0-2. AG's right, the offensive line is leaving him back in the pocket looking like a screaming high-schooler in the face of Michael Myers, all quivering, helpless and doomed. And the way they looked Sunday, the question isn't whether Drew is in the league now, it's whether he'll be around and moving under his own power a week or two from now, because if ever a man looked ripe to hang in a half-second too long in the hopes of making a big play, he's the man.
Skip Bayless:
This isn't Lasiks-vision hindsight. I said publicly at the time that the Patriots were making the right move trading Bledsoe to a division rival because it would hurt the Bills more than help them. Bill Belichick knew Bledsoe just isn't the kind of guy you want in your foxhole or leading your huddle. He has a high weenie factor. He's a whiner. He's a pocket statue and his velocity is too often undercut by a deliberate release. In some ways, Bill Parcells got New England to the Super Bowl in spite of Bledsoe. Curtis Martin and Terry Glenn at the peak of their powers took some pressure and focus off Bledsoe. Though the Bills are on the rise, they're not quite good enough to overcome the Big Weenie.
Patrick Hruby: Well, the Bills keep losing, so it's safe to assume Bledsoe is still around.
---
QUICK HITS FROM WEEK 2
Best Throw of The Week:
It came within an eyelash of becoming the worst throw of the week, but we'll give it to Jake Delhommer for his spinning, almost-tackled, half-blind TD toss to Keary Colbert. This play had the sort of moronic gamble one might expect from Denver's Jake Plummer. What is it with guys named Jake? Still, give Delhomme credit. He didn't throw from his own end zone; better still, he didn't attempt to switch hands, a move best left to Michael Jordan.
Runner-up:
Aaron Brooks to Dante Stallworth -- a perfect strike across the middle that left Stallworth dancing out of the end zone for the game-winning TD with 1:01 remaining.
Second runner-up:
Joey Harrington's first TD toss to Roy Williams. It hung in the air, looking dangerous, but in reality, it was never in doubt.
---
Worst Throw of The Week:
With apologies to Jeff Garcia's average throwing attempt (2.63 yards) in Dallas, we're dedicating this category to the Redskins this week. After all, when a team makes seven turnovers, there's bound to be some bad passes in there. We can't decide between:
Mark Brunell's panic toss in the middle of the second quarter. If Brunell had eaten the ball, the Skins would still have had decent field position, and it would only be second down. Instead he threw a flutter ball that gave Fred Robbins his first lifetime pick.
Patrick Ramsey's first INT, a poorly underthrown pass on a fade route to the corner of the end zone.
Ramsey's second INT, on second-and-8 at the Giants' 25 with the score 20-14, a duck over the middle that was picked off by Gibril Wilson.
Ramsey's third INT, on second down at the Giants' 39, with the score still 20-14, a knuckleball intecepted across the midde by Brent Alexander.
---
Welcome to the NFL:
Ben R. (as we'll call him here at Snap Judgment from here forward). Ben stepped in when Tommy Maddox hurt his elbow and fared well against a tough Baltimore defense -- 12-for-20 for 176 yards and two TDs (and two picks). Only trouble is he doesn't have Akron and Western Michigan on the schedule in upcoming weeks.
---
Destined to be carrying a clipboard:
Drew Brees, please hand your playbook to Philip Rivers. Brees played himself out of a starting job with a terrible first half (one completion). The Chargers are 1-1 in a terrible division, so expect old man Doug Flutie to start until Rivers is given the job.
---
Which QB does the most with the least?
Patrick Hruby: Michael Vick. Peerless Price is a tremendous No. 2 receiver; Alge Crumpler is talented but young; Warrick Dunn is a nice luxury item, assuming you have the cap room for a Dave Meggett-style situational scatback. But take Vick out of the equation, and does Atlanta's offense even scare the Arizona Cardinals?
Jeff Merron: Vick, without a doubt. Would anyone be talking about the Falcons at all if MV wasn't around? Skip Bayless: Vick. I still say he must learn to be a pass-first pocket passer if the Falcons are to win big. But while the rest of the team looks pretty ordinary, Vick has become the best breakaway back in the league. As long as he stays healthy, the Falcons are capable of beating anyone at any time. For his sake and "SportsCenter"'s, here's hoping he stays healthy.

Eric Neel: You mean after Vick? How about Tom Brady? His primary wideouts top out around 5-foot-10.

Alan Grant: Jeff Garcia. I mean, he doesn't have the strongest arm. He has "scrambling" ability without being a "runner." But he has that certain "one of the guys" trait that inspires teammates. But what we're really talking about here is a cat who's frail, bald, and for the most part unattractive. Yet, he has women (and ones who get paid good money for nudity) actually throwing hands at one another to win his favor. And don't forget Steve McNair. He has achieved success, in the form of a Super Bowl appearance and the MVP, without the help of a "put-the-fear-of-God-in-you deep receiver." It doesn't matter who they put around him, he just keeps doing it.
---
Fourth down: Minnesota and Philadelphia, the two teams in this week's Monday Night matchup, happen to feature the two top-rated QBs in the league after Week 1. McNabb and Culpepper are both 27, both have playoff experience and both had breakout outings in Week 1. Who would you choose to be your horse for the rest of the season, and why?

Skip Bayless: Give me Culpepper because a) he's a much more accurate and accomplished passer than McNabb and b) he has Randy Moss, who's in a league of his own. Terrell Owens couldn't carry Moss' chinstrap. Moss is faster, jumps higher, is more athletic and has better hands. Moss rises to the occasion; Owens' arms shrink under big-game pressure. Culpepper can be almost as devastating a runner as McNabb, though Culpepper has learned he can be much more devastating with his arm, which is slightly stronger than McNabb's. The only advantage you give McNabb is that he so far has proven to be a better big-moment playmaker, with his legs or arm. But that could start changing Monday.

Patrick Hruby: Who cares? Given the Eagles' and Vikings' long and storied history of postseason gag jobs, I expect either "horse" to break down about 20 yards from the finish line. Why not just put both guys on the cover of Madden in the same year and be done with it?
Donovan McNabb finally has a top-flight receiver.
Eric Neel: Give me McNabb. It's not his vision, though I like that plenty. It's not his feet, though they do do my heart glad. It's not his arm, though that is a powerful thing to be sure. It's not even Terrell Owens. No, it's just this: He's playing for get-back. He's playing to prove he can win the NFC Championship Game and to prove he can win the Super Bowl. He's gotten a whiff. The hunger is a palpable, haunting thing for him. Like the Lone Rider of the Apocalypse, like Beatrix Kiddo in a hot-pink pickup, he is driven. So I'll ride with him.
Alan Grant: It's not just the horse, but the wagon he pulls. With the Vikings, you're talking about a wagon that contains the most explosive receiver in the game, while in Philadelphia you have ... well, the most emotionally explosive receiver in the league. In this, a question of management, I think Culpepper, having already held his ground against that demanding two-headed beast called Cris Carter-Randy Moss, gets the nod.
Jeff Merron: I'll take McNabb, but I can't say it's an easy choice. Culpepper appears to be a slightly better passer and runner, but, of course, he's had the advantage of Randy "Did you see that block?" Moss as a target. This is McNabb's year for one obvious reason: T.O. McNabb and T.O. clicked in Week 1, and there's no reason to think that won't continue. Donovan and the Philly fans will rein in T.O.'s act. Eagles: Super Bowl. McNabb: 2004 MVP.