Commentary
Statue of the week: New York Yankees
Originally Published:
June 27, 2011
By
Kurt Snibbe
| Page 2
Editor's note: There's a statue of Jason White at Oklahoma. There's a statue of Danny Wuerffel at Florida. The Phillie Phanatic was feted with no fewer than 20 statues last year in Philadelphia -- and he hasn't even won a Heisman Trophy! If these guys have their own statues, something must be done to honor more deserving sports figures whose artistic immortalization is long overdue. So each Monday, Page 2 will proudly unveil its Fictional Sports Statue of the Week.
Page 2's Fictional Sports Statues of the Week:
Week 1: Jim Tressel | Week 2: Charles Barkley (golf) | Week 3: Zach Randolph
Week 4: Kareem Abdul-Jabbar | Week 5: Chad Ochocinco | Week 6: Miami Heat
Week 7: Mavericks forward Brian Cardinal | Week 8: Canucks goalie Roberto Luongo
Week 9: New York Yankees | Week 10: Bye | Week 11: Deron Williams
Week 12: Legendary caddie Steve Williams | Week 13: The invocation of pastor Joe Nelms
Week 14: Randy Moss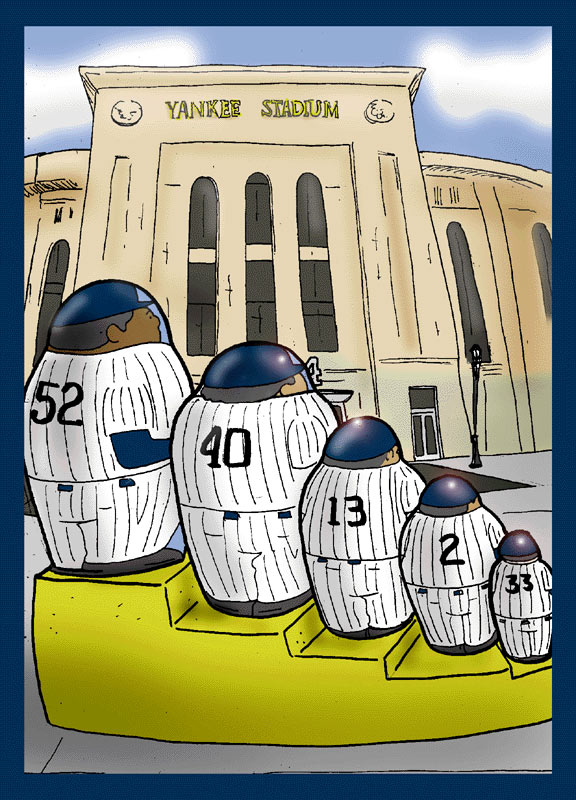 New York Yankees
Location: Outside of Yankee Stadium, Bronx, N.Y.
Design Inspiration(s): Russian nesting dolls -- aka babushkas or matryoshkas.
Plaque Inscription:
Yankees come in all shapes and sizes, and so do their statues. Here, we salute Nick Swisher, Derek Jeter, Alex Rodriguez, Bartolo Colon and CC Sabathia.
FRAGILE! Especially No. 2 and No. 40.
A statue of Cousin Yuri travels with the team and will be displayed in the lobby of each hotel on the road.
Note: Statues are not to scale -- with the notable exception of Bartolo Colon's waistline.
Be sure to check out the statues of Ron Kittle, Ed Whitson, Hensley Meulens, Ken Phelps, Brien Taylor, Ruben Sierra, Ruben Rivera, Kenny Rogers, Pete Incaviglia, Hideki Irabu, Chuck Knoblauch, Javier Vazquez, Randy Johnson, Carl Pavano, the Mitchell report and Jason Giambi's gold thong at the city dump in Bayonne, N.J.
Text by Thomas Neumann.