Commentary
Jim Tressel needs statue at Ohio State!
Originally Published:
May 2, 2011
By
Kurt Snibbe
| Page 2
Editor's note: There's a statue of Jason White at Oklahoma. There's a statue of Danny Wuerffel at Florida. The Phillie Phanatic was feted with no fewer than 20 statues last year in Philadelphia -- and he hasn't even won a Heisman Trophy! If these guys have their own statues, something must be done to honor more deserving sports figures whose artistic immortalization is long overdue. So Page 2 proudly launches a new Monday feature -- the fictional sports statue of the week.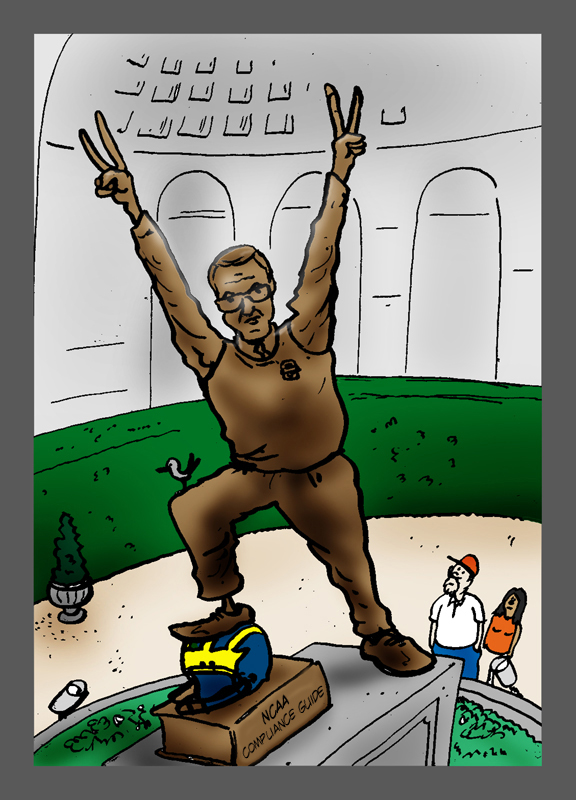 Jim Tressel
Location: Ohio Stadium, Columbus, Ohio. The real one. Not the Lego version.
Design Inspiration(s): The triumphant heroism of Jebediah Springfield; the unimpeachable moral compass of Richard Milhous Nixon.
Plaque Inscription:
James Patrick Tressel
Head Coach, 2001-??
Jim Tressel beat Michigan. He directed the Ohio State University football team to the 2002 national championship and was named National Coach of the Year. He also beat Michigan. Under Tressel, the Buckeyes captured seven Big Ten titles, defeated an SEC team in a BCS bowl game exactly once and won 82.8 percent of their games, the second-best mark of any coach in school history. Plus, he beat Michigan. A straightforward and principled leader of young men, Tressel often called the punt the most important play in football -- a philosophy he put into off-field practice by bravely declining to inform the school of NCAA violations involving players receiving free tattoos. Tressel likes hot coffee, mowing the lawn and a good cheeseburger (no onions) and emphasizes organization, planning and accountability. He wore a classy sweater vest. He does not have any known tattoos. He was 9-1 against Michigan.
Text by Patrick Hruby.