Commentary
Chad Ochocinco is statue of the week!
Originally Published:
May 31, 2011
By
Kurt Snibbe
| Page 2
Editor's note: There's a statue of Jason White at Oklahoma. There's a statue of Danny Wuerffel at Florida. The Phillie Phanatic was feted with no fewer than 20 statues last year in Philadelphia -- and he hasn't even won a Heisman Trophy! If these guys have their own statues, something must be done to honor more deserving sports figures whose artistic immortalization is long overdue. So each Monday, Page 2 will proudly unveil its Fictional Sports Statue of the Week.
Page 2's Fictional Sports Statues of the Week:
Week 1: Jim Tressel | Week 2: Charles Barkley (golf) | Week 3: Zach Randolph
Week 4: Kareem Abdul-Jabbar | Week 5: Chad Ochocinco | Week 6: Miami Heat
Week 7: Mavericks forward Brian Cardinal | Week 8: Canucks goalie Roberto Luongo
Week 9: New York Yankees | Week 10: Bye | Week 11: Deron Williams
Week 12: Legendary caddie Steve Williams | Week 13: The invocation of pastor Joe Nelms
Week 14: Randy Moss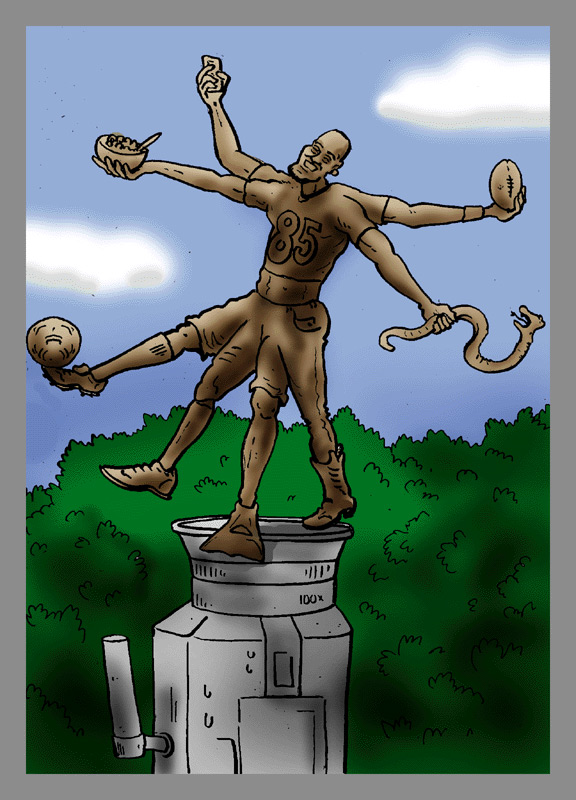 Chad Ochocinco
Location: In front of his mansion in Davie, Fla.
Design Inspiration(s): The Vitruvian Man by Leonardo da Vinci.
Plaque Inscription:
Chad Ochocinco
True prototype for the 21st century Renaissance man
This monument stands to the unequaled versatility and limitless abilities of one of the finest physical talents in recorded human history.
Chad's fields of interest/excellence include, but are not limited to: rodeo, soccer, tweeting, mobile phone endorsing, racing against thoroughbreds, cereal endorsing, texting, snake wrangling, sneaker endorsing, "Dancing with the Stars," entertaining, news gathering, pistachio endorsing, working as television personality and, occasionally, football.
Text by Thomas Neumann.