Commentary
Miami Heat inspire statue of the week!
Originally Published:
June 6, 2011
By
Kurt Snibbe
| Page 2
Editor's note: There's a statue of Jason White at Oklahoma. There's a statue of Danny Wuerffel at Florida. The Phillie Phanatic was feted with no fewer than 20 statues last year in Philadelphia -- and he hasn't even won a Heisman Trophy! If these guys have their own statues, something must be done to honor more deserving sports figures whose artistic immortalization is long overdue. So each Monday, Page 2 will proudly unveil its Fictional Sports Statue of the Week.
Page 2's Fictional Sports Statues of the Week:
Week 1: Jim Tressel | Week 2: Charles Barkley (golf) | Week 3: Zach Randolph
Week 4: Kareem Abdul-Jabbar | Week 5: Chad Ochocinco | Week 6: Miami Heat
Week 7: Mavericks forward Brian Cardinal | Week 8: Canucks goalie Roberto Luongo
Week 9: New York Yankees | Week 10: Bye | Week 11: Deron Williams
Week 12: Legendary caddie Steve Williams | Week 13: The invocation of pastor Joe Nelms
Week 14: Randy Moss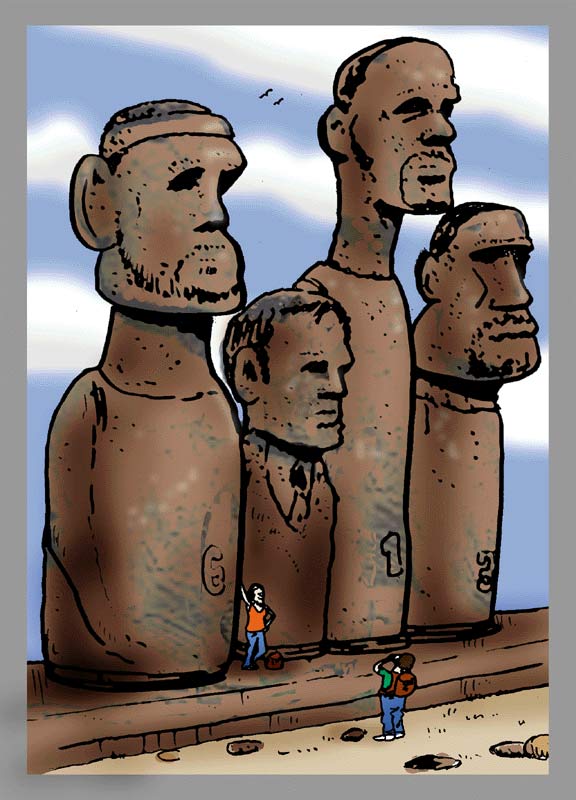 The Heatles
Location: The entrance to Heatster Island Theme Park (amusement complex to be constructed in Fall 2011 in Miami).
Design Inspiration(s): The Moai statues on Easter Island.
Plaque Inscription:
LeBron James, Erik Spoelstra, Chris Bosh, Dwyane Wade
Welcome to Heatster Island! These monuments serve to honor the 2011, 2012*, 2013, 2014, 2015 and 2016 NBA champions.
Be sure to take your talents to these featured Heatster Island attractions:
King James' Virtual Akron Extravaganza (in 3-D) … Bosh's Bumper Cars (must be 80 inches tall to ride) … Pat Riley's Haberdashery and Hair Salon … Juwan Howard's Early Bird Buffet … Mike Bibby's Wild Coattail Ride … Zydrunas Ilgauskas' Borscht Bar … Stan Van Gundy's Family Zone … DJ Rony Seikaly's House of Techno … Harold Miner's Baby Boutique … Tim Hardaway's 110-mph Causeway Go-Kart Race … Heat headwear of all styles, sizes available at Michael Beasley's Cap Space … Darko Milicic's Draft Haus.
Save the date: Make sure to be at Heatster Island on July 15, 2018, for our "Welcome to Miami, Kyrie Irving!" parade and celebration gala.
* Even if the 2011-12 season is canceled due to lockout, we all know the Heat would've won the title, anyway.
Text by Thomas Neumann.