By Hampton Stevens
Special to Page 2
Peter Jackson scored 11 Oscars at Sunday's extremely dull Academy Awards show. On Tuesday night, Chris Webber will try to score 11 points from the field.
Yes, the NBA's star-crossed superstar is back.
After he missed the first half of the season with an injured knee -- and eight more games for lying to a grand jury and violating the league's drug policy -- C-Webb is returning to the court. And no, it isn't a court of law. It's the other kind of court, the NBA kind.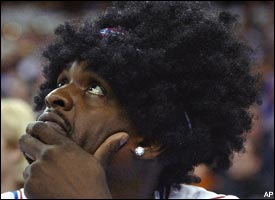 AP
The only way Chris Webber can go back in time.
The thing that makes the return of this King to NBA eligibility so special -- and so absurd -- is that Webber has just been declared ineligible to play high school ball. Yes, the speedsters at the Michigan High School Athletic Association ruled Monday -- Monday! -- that Webber wasn't entitled to play for Detroit's Country Day School in 1989, '90 and '91.
Because a former University of Michigan booster claimed before he died that he paid Webber during the player's career at Country Day, the MHSAA has erased Webber's name from the record books and asked the high school to forfeit the three state championships it won with Webber on the roster.
Quick work, MHSAA! What's next, rescinding Webber's grade-school kickball trophy because he accepted extra milk at lunch?
Actually, yes. A quick investigation by Page 2's staff uncovered a startling series of achievements and organizations for which Webber has been declared ineligible, unqualified or otherwise persona non grata. Clearly, he is a serial disqualifier.
For example, like Rasheed Wallace, Webber was ineligible to play for Detroit during its Feb. 20 loss to Minnesota. He is ineligible for the NFL draft. He cannot play for The Ohio State University, Inc. Whether or not he has a sex-change operation, Chris Webber is ineligible for the Australian Women's Open.
Chris is ineligible for Cooperstown. Can we all agree on that? And don't hold your breath about Springfield, either.
The jury is still out on how Kings' coach Rick Adelman will use him on Tuesday night, but Page 2 has this suggestion: Webber should be ineligible to take minutes from Peja. Or Vlade. Or Bibby and Jackson. Or even Brad Miller.
Until Webber sells the movie rights to the book he is threatening to write, he is ineligible for an Oscar. Personally, I can't wait. I've heard about the working title: "Hoop Schemes." Or maybe "He Got Shame."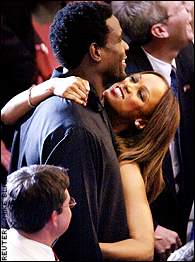 It'd sure be nice to be Chris Webber -- without the bum ankle and legal troubles, of course.
He is, by all accounts, still seeing Tyra Banks, which makes him the most ineligible bachelor on earth. That means he's played for her longer than he did for the Pistons, Magic, Warriors or Bullets/Wizards. Then again, she offers a better benefits package.
He is ineligible to play for Canada in the Olympics. Sorry, Chris.
He is ineligible for the Mother Teresa Modesty Award. After he was booed in Auburn Hills, he told a reporter, "Nobody's given more to Detroit than me."
Actually, that's true. Unless you count Isiah Thomas, Joe Dumars, Bill Laimbeer, Gordie Howe, Steve Yzerman, Hank Greenberg, Al Kaline, Sparky Anderson, Kirk Gibson and Joe Louis. Except for those guys, no one has done more for Motown. Oops. Forgot Barry Gordy. And Henry Ford and Walter Chrysler. Yep, that city is all about you, Chris.
Webber is disqualified from whining about his life as a student-athlete. Didn't he once claim that he couldn't afford to eat at Burger King? If $280,000 isn't enough to get you through two years in Ann Arbor, I'll say this: You have to like Whoppers. Telling them, that is.
Improbably, Webber is even close to being ineligible to claim that he was the Fab Five's best player. (No, kids, that isn't the gang from "Queer Eye." Back in the early '90s, there was this recruiting class. They wore black shoes and shaved their heads and ... aw, forget it.) Juwan is on, what, his 47th team? Who would have thought Jalen Rose would turn out to be the best pro from that bunch?
Webber is ineligible to play for Tommy Amaker. We are clear on that, right?
Webber, like France's Jean-Marie Le Pen, is ineligible for the Provence-Côte d'Azure regional elections. Neither C-Webb nor the neo-Fascist La Pen met registration qualifications. But La Pen is probably madder about it.
He is ineligible to get one of the 17,000 free packets of Jelly Bellys to be handed out at Arco on Tuesday night. They're for fans only. (Note: That's a gratuitous plug designed to get the Jelly Belly people to send some SWAG our way.)
And finally, Webber is close to losing his street-cred eligibility. If it were up to us, no one whose full name is "Mayce Edward Christopher Webber III" would ever be eligible for street cred.
Hampton Stevens is a contributor to ESPN The Magazine and Page 2.
Hampton
Stevens
COMEBACK KING