By Hampton Stevens
Special to Page 2
Any publication can review a year just ended. Only Page 2 goes that extra mile and lets you glimpse the year to come. In fact, we hired the world's best psychics -- hey, we were willing to pay as much as $4.95 a minute -- to learn what 2005 has in store.
Unfortunately, like Yogi said, the future ain't what it used to be. In fact, six days into it, the road to 2006 already looks to have more bumps than Victor Yushchenko's face after a bowl of Dioxin. But fear not, sports fans. Page 2 will be with you through the troubled times ahead. Just stay low, keep moving and, for goodness sake, serpentine.
January

No one remembers who won the Gator, Outback, Cotton, Fiesta, Orange or Rose Bowls, only that several NFL prospects were injured playing them. This phenomenon, once called 'McGahee Syndrome' is renamed the 'Adrian Peterson Effect,' after the seriously-wounded pride of Oklahoma's star running back.
The ESPN/USA Today Coaches Poll joins the Associated Press in withdrawing from the BCS. College football's champion is now determined by a bunch of old men in ugly blazers using a Commodore 64. Essentially, just as they did in the 1980s.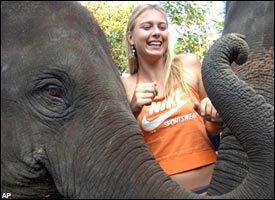 Looks like Maria would have voted Republican.
Vince Carter, stubbing his toe in a Nets' victory over Orlando, declares himself out for the season.
The Australian Open begins. Page 2 publishes the first in a year-long series of gratuitous Maria Sharapova pictures.

February

The New England Patriots surprise no one by slaughtering the NFC's sacrificial lamb in Super Bowl XXXIX. The real news is made in the hours just after the game, when Bill Belichick injures himself cracking a smile.
Charlie Weis, citing his prior commitment to the Pats, cuts short a Notre Dame recruiting trip and flies back to Boston to lend support to Belichick in his convalescence.
Dale Earnhardt Jr. wins the Daytona 500, but is eliminated from Nextel Cup competition when he says "poopie" into a live microphone. NASCAR fines Junior $100,000, docks him 500 points, and also makes him go to bed without supper.
With the Lakers struggling, Kobe Bryant demands Rudy Tomjanovich and Mitch Kupchak be fired. Jerry Buss agrees, then begins a cloning program so Kobe can play all five positions. That move fails when the original Kobe complains that his clones aren't giving 100 percent.

March

Barry Bonds arrives at Giants' camp. He weighs 145 pounds.
The Knicks fire Lenny Wilkens, replacing him with Rick Majerus. Oops.
Their next choice, Bernard Kerik, proves even more problematic.
The Iditarod race begins. America's confidence in the integrity of dogsled racing is shattered when several top-ranked Malamutes test positive for Scooby Snacks.
North Carolina is upset in the NCAA Tournament's second round. Roy Williams shocks reporters by not crying at his postgame press conference. But a few weeks later, when Kansas wins the national championship with the players Roy recruited, he is discovered weeping softly into his pillow at night.

April

George Steinbrenner, deciding to save everyone a lot of time and trouble, buys the World Series trophy outright for $400 million. The 2005 season is canceled.
At the NFL Draft, the 49ers make Matt Leinart the first overall pick, unaware that Reggie Bush isn't part of the deal. Leinart is immediately awarded the Andre Ware/Gino Torretta trophy. The Miami Dolphins, meanwhile, in need of a running back who won't flake out on them, pick Maurice Clarett.

May

Bored with poker, America turns to a new passion -- Yahtzee. When broadcasts of the World Series of Yahtzee are a surprise hit, a rash of celebrity Yahtzee shows follows. Soon, ESPN Original Entertainment announces "Rollers," a new dramatic series about the gritty underside of life on the Pro Yahtzee Tour.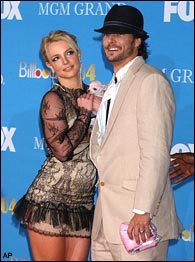 Who's Britney gonna marry next, after this dude?
Paul Silas learns Chinese, yet still won't discuss Eric Snow.
Britney Spears divorces Kevin Federline. Wow! And they said it wouldn't last.

June

In an historic first, not one player selected in the NBA Draft played college basketball. High-schoolers Louis Williams, Micah Downs and Gerald Green all are taken early, but the hoops world is reallystunned when the Clippers (who else?) select Cornelius Williams -- a 6-foot-10 fifth-grader averaging 22 points a game for Florida's Biscayne Elementary School.
The International Figure Skating Championships are marred when Sasha Cohen is struck by a plastic cup. The pixyish Cohen charges the stands, beats a drunken fan with her skate and is later suspended for the remainder of the season.

July

Anna Kournikova comes out of retirement, makes a dazzling run at Wimbledon and ends up in the finals against Sharapova. When a disputed call escalates into a full-on catfight, the two athletes bite, scratch and tear at each other's clothes, and then a quick-thinking ball boy sprays them with a garden hose. (Hey, a guy can dream, can't he?)
The Tour de France begins. Once again, for three magical weeks, America pretends to care about cycling just because watching Lance Armstrong beat Europeans at their own game is so much fun.

August

The United States and Taiwan meet in the Little League World Series. In a "Desperate Housewives" promo before the championship game, Nicollette Sheridan jumps into the arms of the USA's star pitcher, Antonio James. A burgeoning scandal is avoided, however, when James is found to be 27 years old.
Ricky Williams joins the Raiders, and pulls a hamstring during the first week of practice. Team doctors legally pump Ricky full of Percocet, Vicodin and OxyContin, but warn him not to smoke weed. That would be cheating.
The NFL Rules Committee announces its "points of emphasis" for the 2005 season. Among the changes: head coaches must now throw the red challenge flag within 10 seconds of the whistle, unless there is incontrovertible evidence that the play should not be reviewed, assuming the team has at least one time out remaining and provided the tuck rule is not in effect. This doesn't apply, of course, in the last two minutes of the half, unless the game is played in a dome, on Monday night, or if either team wears blue.
Also, in an effort to increase scoring, defensive players are not allowed to tackle.

September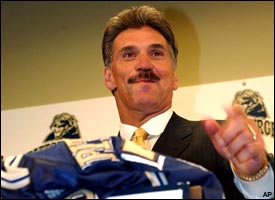 Whatever you do, Dave, remember one thing -- don't lose the mustache.
Dave Wannstedt's Pitt tenure gets off to a rocky start when, just days before the season opens, Tyler Palko, the Panthers' star quarterback, quits football to study holistic medicine.
When Notre Dame loses its season opener, Charlie Weis is fired immediately. After an exhaustive search, the Irish hire Dave McGillicuty, a high school coach from Billings, Montana, whose qualifications include that he looks good in green and has seen "Rudy" 27 times.

October

The NBA regular season begins. Ron Artest, his suspension finally over, asks for a few months off to promote his rap record.
Once more, America falls in love with Major League Baseball when the Kansas City Royals and Washington Nationals make miraculous runs to meet in the Fall Classic. Also, Ben Affleck's new movie is really good. (Just seeing if you're still paying attention.)

November

After a hard-hitting exposť in a national magazine, Penn State officials are forced to admit that, indeed, Joe Paterno actually passed away several years ago and was replaced by an animatronic robot -- just like the ones at Disneyland. Because the robot is a better recruiter than JoePa, they decided to keep it around and hoped no one would notice.

December

The NHLPA agrees to let players be paid in food stamps, and NHL hockey finally returns. This raises questions which will be pondered for years to come, such as: "What if they held a hockey game and no one came?" and "If a pucks drops on the ice and no one is there to hear it, does it still make a sound?"
Finally, as 2006 draws near, Paris Hilton, Britney Spears, Anna Benson and Jessica Simpson descend en masse on Page 2's offices and demand that we stop making fun of them.

Not to worry. No matter how weird the future gets, some things will never change.

Hampton Stevens is a contributor to ESPN the Magazine and Page 2. He lives in Kansas City, MO.








Hampton
Stevens
CRYSTAL BALL