Commentary
The 'Baseball 'Round the Clock' tradition
Originally Published:
August 16, 2010
By
Hampton Stevens
| Special to Page 2
WICHITA, Kan. -- We usually don't think of baseball as a game of endurance.
But it is for a few hundred hearty, deeply committed and, quite possibly, insane fans at the National Baseball Congress World Series. The NBC, an organization of amateur summer leagues from across the U.S. and Canada, has held its annual World Series at Lawrence-Dumont Stadium since 1935. For more than 40 of those years, the NBC also has staged "Baseball 'Round the Clock," a marathon designed to test even the most hardcore hardball lover's affection for the game. About 500 ridiculously devoted souls braved savage heat and sleep deprivation earlier this month to watch 17 baseball games in 56 hours in the 2010 version of Baseball 'Round the Clock.
Yes. Seventeen games, 153 innings and 918 outs -- not counting potential extra innings -- over the course of a weekend. 'Round the Clock participants, from preteens to grandparents, showed up Friday afternoon to get a general admission ticket for all five tournament sessions held that weekend. They also received a numbered wristband and matching registration card. Then they attempted to live, eat and breathe baseball until late Sunday night. Those who made the grade, anyway.
It works like this: At least once during each game, contest officials will give some sort of signal. Then the scoreboard directs "Round the Clockers" to check in somewhere in the stadium. Contestants then get 10 minutes to scurry over and get their cards punched. Miss one check-in by even one second, and you're out.
They go through this madness for the prizes. Sort of. Anyone who gets though all 17 games can win cool stuff, like a flat-screen TV or camping gear from the local Coleman factory outlet. They also do it to see future stars play. The list of players who have donned spikes for NBC teams over the decades is impressive. It starts with Satchel Paige, Billy Martin, Tom Seaver, Tony Gwynn, Ozzie Smith, Joe Carter and the list just keeps going. It's likely some of the stars of this year's tourney are coming soon to a major league ballpark near you.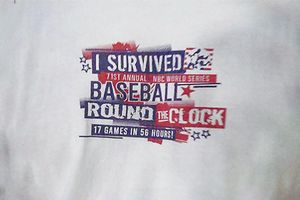 Hampton Stevens for ESPN.comThis coveted T-shirt proves the bearer is a certified baseball maniac at all hours of the day and night.
But most 'Round the Clockers seem to put themselves through this rigmarole to spend time with each other. They do it to bond with friends and family over love of the game, and over the sheer absurdity of their immersion in it. Of course, let's not kid ourselves. They also do it for the "I Survived Baseball 'Round the Clock" T-shirt. This is America, after all, where you haven't actually been anywhere or seen anything unless you have the T-shirt to prove it.
There's absolutely no indication as to when contest officials might give the signal. It might be during the first inning or the last. On Sunday morning of this year's event, after the local Lions Club held a pancake breakfast, officials sounded a check-in alarm after the very first pitch of the very first game -- an effort to quite literally catch the contestants napping. Most often, the signal was a cuckoo whistle. A few times, it was a bell. Once, officials made the notice silent. The check-in location just flashed on the scoreboard for several seconds, causing a very eerie kind of reverse flash mob, with a good third of the crowd rising as one for no readily apparent reason and heading in a long line toward the left-field bullpen.
Participants were allowed to leave the ballpark. Most did. They would dash out to the car for food and drink, because you can't bring any into the stadium. They would sit and gab in camping chairs or their GA seats. Some relaxed in a little tent city that arose in the sycamore-shaded green swath across from the ballpark, unofficially dubbed "Wingnuts Park" after Wichita's independent minor league team. All depended on friends or family members inside the stadium to call or text whenever the signal sounded. This proved dangerous, though. Sometimes, for instance, the friend inside the stadium who's supposed to wake you up ends up dozing himself.
One 'Round the Clocker who lived nearby even tempted fate by sneaking home for a quick shower. With temperatures hovering around 100 all weekend, you can't blame him. Deep into Sunday afternoon, it's fair to say, pretty much everyone at that ballpark desperately needed a long dance with soap and water. Most also looked to need a good slathering in aloe to treat sunburns, and possibly have one of those hydrating IVs they give athletes with the proverbial "flu-like" symptoms. Many of the contestants, frankly, were frazzled, even grim. In marked contrast to 24 hours earlier, a few were genuinely horrified when asked what they love about baseball, scowling as though they hoped never to see another pitch. Despite all that, every single person we asked said he or she would be back to do it all again next year.
Hampton Stevens is a contributor to Page 2 and ESPN The Magazine. He also has written for Playboy.com, Maxim, Atlantic Online, the Kansas City Star and many more publications. He lives in Kansas City, Mo., with his girlfriend and two dogs.