Page 2 staff
By Scoop Jackson
Page 2 columnist
It's that moment. A play. A call.
It happens every week during the NFL season. Sometimes, it sneaks up on you. Sometimes, it hits you square. It's that moment when you're watching a game -- maybe live and in person, maybe on the plasma -- and something happens that makes you put those four letters together and say DAMN! Now, depending on the circumstances or who you're pulling for when it happens, there can be a modifier before or after the adverb. "Hot ... " " ... him!" "I'll be ... --ed." Damn! This week, it isn't Randy Moss's second-quarter catch Thursday night to begin his new era in Oakland. It isn't Joe Horn's 25-yard catch from Aaron Brooks with 19 seconds left to set up the field goal that gave the Saints an emotional win at Carolina. It isn't the 71-yard run by the rook, Cadillac Williams, against the Vikings, the run that might set the stage for the Bucs' return to their 2002 status. It's none of that. The moment is much bigger. And for the next 20 weeks, it always will be. Say there's a team that underachieved so much last year that damn near every sports writer and analyst wrote it off like CEOs write off miscellaneouses. They finished 6-10 last year, and opened the season against one of the teams those same writers and analysts predicted
might
win the whole thing. Say they were set up to take an early L.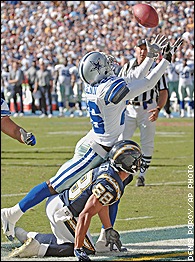 Stephen Dunn/Getty Images
Aaron Glenn's late pick is good for this week's four-letter word.
It was never supposed to get to this point. Not when the Cowboys play the Chargers. Not on the road. Close in the fourth quarter? Keyshawn Johnson catching a touchdown pass?
Damn! Down 28-24, it's nation time for the Chargers. Less than two minutes left in the game and unable to get past the 40-yard line, Drew Brees needed a miracle. And he needed it on fourth-and-14. Hut. Hut. He finds Eric Parker. Enough. Game almost over. First down. Nothin'. Second down. Nothin'. Third down. Nada. Game and goal. There's 30 seconds left and once again, Brees needs a miracle. He three-steps back off the snap. Reads the dee. Sees his receiver cut toward the end zone. The ball leaves his hand. Touch ... No. It's tipped by Aaron Glenn! Caught by Aaron Glenn. Intercepted by Aaron Glenn. Of the Cowboys. Oh ... Damn! Game over. Dallas wins. On a goal-line stand from seven yards out. All preseason, the worries were how Bill Parcells and Drew Bledsoe could coexist, how the offense could produce enough points to pull out a "V." 'Cause until Sunday, we all slept on the strength of the defense. Damn! How did this happen? Damn! Is this how the Cowboys season is going to be? Damn! Is Dallas the new Baltimore? The new Tampa Bay? Damn! Where was Antonio Gates when San Diego needed him? (Oh, yeah, sittin' out a one-game suspension.) There's a moment in every football game when you say "Damn!" That moment defines a game. Any game. Every game. That moment was just the first this year.
Scoop Jackson is an award-winning journalist who has covered sports and culture for more than 15 years. He is a former editor of Slam, XXL, Hoop and Inside Stuff magazines and the author of "Battlegrounds: America's Street Poets Called Ballers" and "LeBron James: the Chambers of Fear." He resides in Chicago with his wife and two kids. You can e-mail Scoop here.