Page 2 staff
In the immortal words of Vince Lombardi, "What the heck is goin' on out there?" The Vikings and Panthers were both picked by national magazines to win the Super Bowl. Both are 0-1. The 49ers and Dolphins were the two worst teams in the NFL last season. Both are 1-0. Brett Favre looked bad. Tim Rattay looked like an All-Pro. Nick Saban made coaching in the NFL look easy. Mike Shanahan made it look really hard. Maybe it's time to go to the videotape. To try to make sense of things, Page 2 calls on its film-study experts to make some calls at the line of scrimmage:
AUDIBLES FROM OUR SCREEN WRITERS

Scoop
Jackson

Brian
Murphy

Alan
Grant

Skip
Bayless
Will get better:
Jets
Brett Favre
Jets
Rams
Will get worse:
Saints
Kurt Warner
Miami
Vikings
Mirage of the week:
Keyshawn Johnson
Dolphins
49ers
49ers
King for a day:
John Carney
John Carney
Drew Bledsoe
Drew Bledsoe
Mama said there'd be days like this:
Daunte Culpepper
Chad Pennington
Daunte Culpepper
Brett Favre
Matt Leinart should keep his eye on:
Bears
Nashville BBQ joints
Browns
Titans
Vince Lombardi would be proud of :
Nick Saban
Jim Haslett
Dick Nolan
Dick Vermeil
The '76 Bucs could relate to:
Titans
Bears
Browns
Titans
Rookie of the Day:
Cadillac Williams
The other Alex Smith
Cadillac Williams
Cadillac Williams
Stat that has to be a damned lie:
Giants 42, Cardinals 19
Rams' 39-minute TOP
Lions' record (1-0)
Packers score three points
Week 1's offseason coup:
Ty Law
Nick Saban
Randy Moss
Gus Frerotte
Reason to burn preseason mags:
Panthers
Cardinals
Cardinals
Vikings
Should avoid sports radio Monday:
Chad Pennington
Chad Pennington
Dennis Green
Chad Pennington
Pole positions on the road to Motown:
Steelers, Bucs
Chiefs, Lions (why not?)
Patriots, Eagles
Colts and Eagles/Falcons winner
Grant's View: The Saints march in
By Alan Grant
Page 2 columnist
With the four-year anniversary of Sept. 11 looming over the sports world, it was only fair to ask: Who is America's team?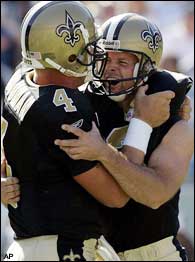 Stephen Dunn/Getty Images
How can you not route for America's Team?
A few weeks ago, before an exhibition game against Oakland, Saints defensive coordinator Rick Venturi seemed more concerned with the Carolina Panthers than Hurricane Katrina. He knew that a lot of media types were touting them to challenge the Eagles for the NFC title. "The Panthers are everyone's pick," shrugged Venturi. "They're America's team."
But that was before the deluge. That was before images of flooded streets and starving, helpless people made the Big Easy look like a third world country. Now, as the only professional sports team literally, figuratively, and spiritually in the eye of a Hurricane, the Saints are officially America's team. What an unlikely choice. And what an unlikely spokesman in receiver Joe Horn. After the 23-20 win over Carolina, Horn took exception to teammate Wayne Gandy saying that the Saints had played with more emotion than usual. "I can't say that," said Horn. "We played with the same emotion we did the last four games." He has a point. The Saints won their last four games last season, capping the hot streak with a 21-18 win over Carolina in the season finale. But there was no Stephen Davis in Carolina blue, black and silver that day. On Sunday, the Panthers RB attacked the New Orleans front four like a boxer. He'd jab for three yards, jab for five more; then he'd get in a clinch and lose a couple. But you knew the big punch was coming. With two minutes left in the third quarter, Davis threw the haymaker. He exploded off the right tackle, and breezed through the Saints secondary for 39 yards. Two plays later, he scored from the 1-yard line. And when John Kasay kicked a 46 yard FG to tie it at 20, for all intents and purposes Carolina had the Saints on the ropes. But New Orleans then drove 49 yards down the field in six plays and 59 seconds for John Carney's game-winner to beat an NFC favorite, and it was time to reconsider things. Maybe Horn is right. And maybe Venturi is wrong. The Saints: America's team.
Mark my words ....

Scoop Jackson: Tampa Bay will have the same record as Kansas City by Week 8. Brian Murphy: Buffalo is for real. If only for the throwbacks. Great, great look. Alan Grant: Oakland's KR Chris Carr will score at least three touchdowns and go to the Pro Bowl. Skip Bayless: Drew Bledsoe will turn back into a turnover-prone scarecrow.
---
T.O.'s first five on-field words to Donovan McNabb on Monday night ....

Scoop: "Is your stomack OK, homey?" Murph: "Always bend at the knees!" AG: "It's not easy being green." Skip: I was open, damn it.
---
The ugliest thing I saw Sunday was ....

Scoop: The Bears-Redskins game. Murph: The 49ers rushing game. They won on defensive heart. But 21 carries, 34 yards puts too much pressure on Julian Peterson and the guys. AG: Baltimore kicker Matt Stover headed to the waiver wire. Skip: Chad Pennington's six fumbles and flock of wobbling floaters.
Skip's View: Cadillac is one smooth ride
By Skip Bayless
Page 2 columnist
It's rare that an NFL rookie leaps off the TV screen in his first game. But this kid is extremely rare. Watch the Tampa Bay Bucs pile in the backseat of this 500-horsepower Cadillac and go along for a wild-card playoff ride.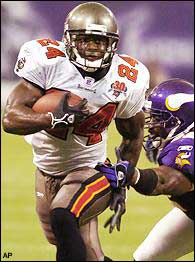 AP Photo/Tom Olmscheid
Ummm, folks? He's just a rookie. Really.
Carnell "Cadillac" Williams was the best back I saw on Opening Sunday, and I saw some very good ones -- Larry Johnson and Priest Holmes in Kansas City, Will Parker in Pittsburgh, Edgerrin James and Jamal Lewis in the Colts-Ravens tug-a-war. But no back displayed Cadillac's blend of power, burst and slither.
I wrote before the draft that I would have taken Cadillac No. 1 overall, and what I saw from him Sunday at Minnesota only strengthened my conviction. The Vikings have been as overrated as Cadillac remains underrated. Bucs coach Jon Gruden gained Carnell knowledge while coaching Williams at the Senior Bowl. Gruden told league insiders Cadillac was the best back in the draft, and no doubt Gruden was pleasantly shocked Cadillac was still available when the Bucs drafted No. 5. Ronnie Brown, who went No. 2 to Miami and had 57 yards on 22 carries in his Dolphins debut, is a little bigger and a little straight-line faster than Cadillac. But there was a reason Cadillac always started ahead of Brown at Auburn: He's a better pure runner. He's quicker, shiftier, stronger in his legs and he accelerates with more authority. Furthermore, Cadillac just handles himself like he belongs in the NFL, if not the Pro Bowl. After his 71-yard breakaway iced a 24-13 victory, Cadillac said: "I kept telling our guys, 'I'm going to break 'em.' " True, Williams gained only 77 yards on his first 26 carries. But he's so relentlessly slippery that he just mentally wears down a defense. It isn't too early to say there's some Emmitt Smith in Carnell Williams.
Most important thing to take away from Week 1 ...

Scoop: It's a 16-game season Murph: Kansas City might have something brewing. Larry Johnson's diapers are off, and with Priest Holmes . . . well, they're looking awfully grown-up as a team and an offense. AG: Realty if better than fantasy. Skip: New Orleans gave its fans something to cheer about by beating a legit Super Bowl contender at Carolina.
---
If I could have Vick or McNabb for the next seven years, I'd take _____ and here's why ...

Scoop: Vick. Because as an owner, he's going to make you $$ that DMC will never generate. Murph: Vick. Twenty-five years old to McNabb's 28, and just a baby. He's unlike any QB we've ever seen. Runs better than Randall, Steve Young and Fran Tarkenton combined. And I don't care what anyone says -- he throws the damn prettiest ball in the league. AG: McNabb. Though he operates within a somewhat traditional offensive scheme, he still manages to be innovative, exciting and successful. Skip: McNabb. He will always be a much better field general, decision-maker and accurate pocket passer.
---
Give Andy Reid some advice (in 10 words or less) before the MNF game ...

Scoop: Don't let Warrick Dunn beat you. Murph: Lay off the pregame spread, and throw deep to T.O. -- often. AG: Spend some quality time at T.O.'s house; visit Magic City. Skip: Don't trust Terrell Owens after Monday night.
Murph's View: Mr. Smith goes to the sideline
By Brian Murphy
Special to Page 2
SAN FRANCISCO -- Five months ago, he was in an expensive suit in New York. National TV. First guy out of the "green room." Shaking Tag's hand. Cover of Sports Illustrated. The "It" Boy.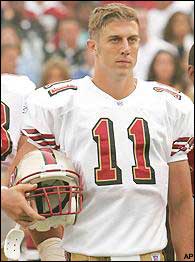 Lesson No. 1: How to hold a helmet.
Five months later, Alex Smith stood on the sideline in an ancient football yard below sea level at the south end of San Francisco, on a sunny and perfect Bay Area Sunday, on the plot of land they call Candlestick Point -- nothing more than a $49 million guy in a ball cap.
The first pick of the 2005 NFL draft did nothing Sunday. His team was rattling the old concrete bowl with a spirited win, somehow outlasting the rival Rams, somehow infusing the Faithful with a jolt, if just for one week, of belief, of faith. Smith? The $24 million is guaranteed him, but the hearts of the Faithful aren't. Not yet. On Day 1 of Alex Smith's NFL life, Tim Rattay threw the long touchdowns, led the win. Tim Rattay, picked 212th overall in the 2000 NFL Draft, 211 spots after Courtney Brown, 208 spots after Peter Warrick, 147 spots after his own team, the 49ers, took Gio Carmazzi from Hofstra. Smith's No. 1 status -- the photo ops, the coverage in April -- meant nothing in Week 1. Instead, it was the seventh-rounder's day. On the video screen, highlights played. There was Carson Palmer, like Smith a No. 1 (2003). Palmer led the Bengals to victory. There was Ben Roethlisberger, like Smith a first-rounder (2004), leading Pittsburgh to victory. On the sidelines, Smith watched the screen. He had a funny resting pose, both hands tugging on his jersey's neck collar. It was all he could do. The Niners won. Candlestick Point roared. Smith, in a ball cap, slapped some helmets in congratulations, and jogged off the field. The education of the No. 1 pick in 2005 will be slow. It's not his time. Not yet.