Page 2 staff
What the heck was Ben Affleck thinking when he and ex-flame Jennifer Lopez swept the Razzie Awards for their performances in "Gigli"? (The Razzies are given for Hollywood's worst performances every year.)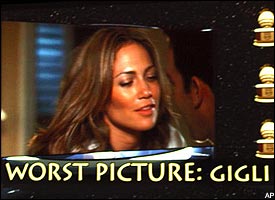 "I guess this means we should convert to Kabbalah."
A. "Honestly, I'm surprised. I was much worse in 'Paycheck'."
B. "Trust me. Jen's off-screen performance made it all worthwhile."
C. "Maybe I'll console myself by buying another Ferrari."
D. "First Grady leaves Pedro in one batter too long, and now this. What a year!"
E. "As the self-appointed voice of Red Sox Nation, I would like to offer a 'thanks' from all of us. This is one less award for Steinbrenner to buy."
F. "I've got just the spot for this on the living room mantle, right next to that bronzed pair of Matt's boxers."