Page 2 staff
We try.
Lord knows, we try. But we simply can't keep up. We can't keep up with the weirdness in the world of sports and popular culture. So once again, we're asking you to help us make sense of it all. We've come up with some possibilities for what our favorite foils might have been thinking when they did the things they did and said the things they said. But we can't decide what they truly were thinking. You can, though. Check out the options for each questionable act or quote, and vote in the poll to move on to yet another strange-but-true story.
What the heck was 39-year-old Jose Canseco thinking when he participated in an open tryout for the Dodgers, and failed to get a contract offer?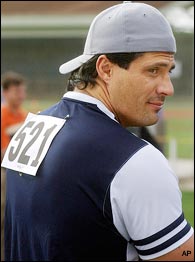 Jose's taken one too many balls off the head for a home run.
A. "Of course, I thought they'd have a spot for me. After all, I'm legendary. I'm the guy who started this whole steroids thing."
B. "Now that this hasn't worked out, I can go to Plan B: Boxing George Foreman."
C. "See? I told you they were blacklisting me. Believe me, this has nothing to do with me running like a duck."
D. "It really hurts that people are saying this was a thinly-veiled attempt to promote my new book. There was nothing thin about it."
E. "Their first baseman is Robin Ventura! Are you honestly saying this was an impossibility?"
F. "Damn! Now I'll never get into the WWE Hall of Fame."