Page 2 staff
What the heck was NFL Comeback Player of the Year Jon Kitna thinking when he lost the Bengals' starting QB job to Carson Palmer -- even though Palmer has never taken an NFL snap and training camp is still more than four months away?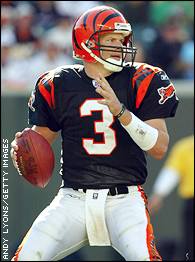 Cincy yanked you? Wow, welcome to rock bottom, Mr. Kitna.
A. "I bet this kind of stuff never happened to Akili Smith."
B. "I don't feel so bad, really. It's hard to compete with a guy who's never thrown an NFL interception in his life."
C. "Sheesh! What's a previously-average quarterback have to do to keep the giant contract of last year's No. 1 draft pick and future franchise cornerstone on the bench around here?"
D. "I could've been the league's next great quarterback ... if it weren't for that meddling kid."
E. "Sweet! I can get traded, start over, and win Comeback Player of the Year two years in a row!"
F. "It's because I read the Bible, isn't it?"