Page 2 staff
What the heck was radio shock jock Howard Stern thinking when his show was yanked off six radio stations?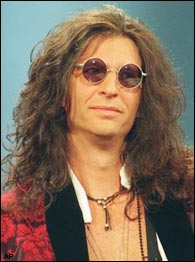 People are just realizing Stern is dirty? By the way, JFK was shot.
A. "If we're considered offensive, I wouldn't look for the Cleveland Indians to be on TV much this season."
B. "Weird. This controversy was started by boobs not on our show, and we're the ones getting screwed."
C. "Let's see ... that still leaves me with 2,348,912 stations. Yep, I think I'll live."
D. "If people can no longer hear the wisdom and brilliance of Stuttering John, then the terrorists have already won."
E. "This is sure going to put a damper on my plans for a Lesbian Vomit Eating Contest."
F. "They won't get away with this! My cousin is a very powerful man in the sports business, and he has big-time connections in broadcasting. In fact, I think I'll call David right now."