Page 2 staff
What the heck was Texas coach Rick Barnes thinking when he was ejected in the final seconds of Friday's game against Xavier, after drawing two technicals with his team trailing by three points?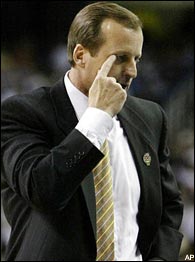 If only Rick Barnes could shoot laser beams with his eyes.
A. "I'm sick and tired of people saying Bobby Knight is the best basketball coach in Texas. I'll prove I can do everything he can do on a court."
B. "Our kids need to learn you don't take defeat lying down. You take it whining and crying while being dragged to the locker room."
C. "They say one-point losses hurt more than blowouts. I'm just trying to save our kids some pain."
D. "Sure, Dedrick Finn might have missed the free throws, and sure, we might have hit a last-second prayer to tie the game. But I had a point to make."
E. "Have you seen the way Brandon Mouton puts down the post-game spread? If I don't get a head start, there aren't going to be any chicken tenders left."
F. "All I said to Ted Valentine was, 'Are you sure you don't have a Tennessee-Baylor women's game to call?'"