Page 2 staff
What the heck was Alabama coach Mark Gottfried thinking when Connecticut opened up a 53-29 halftime lead against the Crimson Tide on Saturday?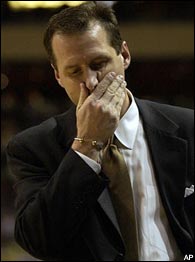 Mark Gottfried's holding back a crimson tide of vomit.
A. "I wonder if Jim Calhoun has any spare Pepto Bismol over there."
B. "Forget Okafor. Apparently, we should have tried to take out Ben Gordon and Rashad Anderson while we were at it."
C. "Thank goodness spring football has started. Nobody back home is going to notice this meltdown."
D. "When I told our kids to make UConn beat us from the outside, I didn't think they'd take me quite so literally."
E. "It's a bad sign when the guy in charge of our pep band is handing out the sheet music for UConn's fight song, right?"
F. "I hope Larry Eustachy has some good parties lined up for tonight, because I'm going to need a drink."