Page 2 staff
Like you, we watched last weekend's NCAA Tournament go from 16 teams to four. And like you, we wondered what some of the participants might have been thinking during those critical moments that make the difference between winning and losing.
So we picked through the thoughts of the people who played those roles. And you know what? We still don't know what the heck they were thinking.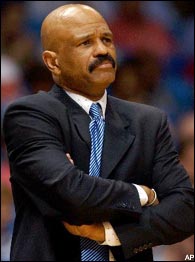 Lucas loves comeback stories.
Oh, we came close. We came up with some possibilities. But to really get to the bottom of those brains, we need your help. For each player, coach or fan, read through the options and decide for us. Vote in the poll on the right, and then move on to the next Tournament personality.
What the heck was John Lucas Jr. thinking when his son (John Lucas III) hit the decisive 3-pointer for Oklahoma State with 6.9 seconds left against Saint Joseph's?
A. "It's like I'm having a flashback -- one of the rare good kind -- to my college days."
B. "We're headed to San Antonio, where strange things can happen ... like me going 95-49 as an NBA coach."
C. "I wonder if the CBA has ever had a father-son coaching combination?"
D. "Good thing he inherited my shooting touch instead of my hairline."
E. "I wish I had a guard like him when I went 42-122 coaching the 76ers ... or 37-87 with the Cavaliers."
F. ""And to think, none of this would have been possible without Dave Bliss."