Page 2
What the heck were Tampa Bay Lightning marketing officials thinking when they approved a promotion that offered unlimited free beer during an Eastern Conference playoff game against the Flyers to people who paid $100 toward next year's season tickets? (About 25 of the 21,000 fans in attendance took the team up on the offer.)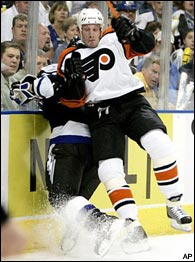 The fans in the background would be more involved with free beer.
A. "If we play poorly, at least the beer goggles will make us look better."
B. "We're secretly going to serve O'Doul's instead of real beer."
C. "Dude, we're playing the Flyers. If we want our fans matching Philly's in boorish, violent illegal behavior, we need them totally plastered."
D. "We're also giving out unlimited free bail bond cards."
E. "Man, that marketing official's meeting featuring unlimited beer was a blast! So what did we decide to do?"
F. "Pay $125, and you'll also receive two ounces of weed and a souvenir bong."