Page 2 staff
What the heck was Terrell Owens thinking when he agreed to appear in a skit for the opening of Monday Night Football in which "Desperate Housewives" actress Nicollette Sheridan attempts to seduce him by dropping her towel and jumping naked into his arms?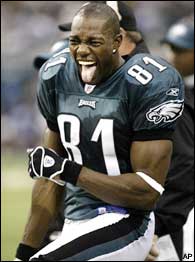 "Oh, that reminds me I forgot my plastic mouthguard."
A. "And the Emmy for best actor in a supporting role goes to ... T.O.!"
B. "When they said it was for 'Desperate Housewives,' I thought they meant the 49ers."
C. "Mrs. Sheridan, are you trying to seduce me?"
D. "What's the big deal? Jeff Garcia and I used to do this all the time."
E. "Hey, at least I didn't whip out my Sharpie."
F. "Donovan's mom is probably going to ground me for this one."