Page 2 staff
What the heck was the Timberwolves' Latrell Sprewell thinking when he issued a vulgar challenge to a heckler in the stands at a Clippers' game, and then cursed at a female fan who objected to Sprewell's vulgarity? (Sprewell was suspended for one game for the outburst.)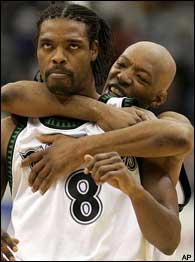 Sally Struthers plans on centering her next special around Latrell.
A. "She had a cup in her hands! I had to defend myself."
B. "Nobody calls me 'Pippi Longstocking' and gets away with it!"
C. "One man's pick-up line, apparently, is another league's 'sexual vulgarity'."
D. "What's the big deal? It isn't like I've strangled my coach ... lately."
E. "All I did was ask the guy if he'd mind leaving his leftover nachos under the seat. I mean, I've got a family to feed."
F. "Man, I really hit a new low on this one. Now I'm yelling at Clippers fans."