Page 2 staff
What the heck was Mike Tyson thinking when he allegedly was jumping on the hood of a car outside of a nightclub in Scottsdale, Ariz., in late November? (Tyson was arrested on suspicion of misdemeanor criminal damage.)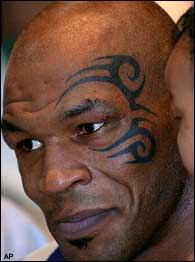 "I was just doing my news MTV show 'Punk'd Tyson Style.'"
A. "The guy had a stuffed pigeon hanging from his rearview mirror like fuzzy dice. I just lost it."
B. "It's a personal growth thing. I'm moving on to another phase in my life -- from a hoodlum to a hood ornament."
C. "Hey, the car threw a blue plastic cup at me."
D. "I think I showed by defeating that car hood that I'm ready for another title shot."
E. "Is this going to be a violation of my paroles?"
F. " I'm gonna eat this car's children."