Page 2 staff
What the heck was Bill Cowher thinking when he went for a field goal on fourth-and-goal from the three with the Steelers trailing 31-17 in the fourth quarter?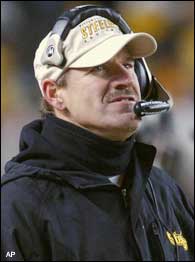 "This happened to me once while playing Madden. Trust me, I know what I'm doing."
A. We figure there's only about a 10 percent chance Roethlisberger manages to get the field goal intercepted.
B.
Have you seen the wind chill readings tonight? There's no way I'm risking getting a bucket of Gatorade dumped on me.
C.
Man, I hate when they make me project manager. Trump is going to chew me out for this one.
D.
The law of averages suggests some team is due to recover three onside kicks in a row. Why not us?
E.
Don't worry, we'll get the ball back. We decided to go with playground rules and both teams are going to use Roethlisberger as quarterback.
F.
Hold on, I'm getting a beep. It's Herm Edwards with more advice.