Page 2 staff
What the heck was Ben Roethlisberger thinking after throwing his third interception of the game against the Patriots?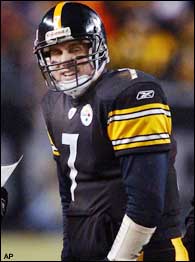 Meeting Ben Roethlisberger would be a big thrill for any Steelers fan in Pittsburgh.
A. My agent just told me Neil O'Donnell's attorney just served me with a cease-and-desist order on impersonating his client.
B.
You know what the NFL needs more of? Directional teams. This kind of thing never happened against Eastern Michigan or Northern Illinois.
C.
The good news is I'm pretty sure they're getting busted for hunting duck out of season on that last one.
D.
That's the last time I call Peyton Manning for a scouting report.
E.
Forget Disney World; I'm going to be lucky to get a free trip to Dollywood after this game.
F.
If only I had Freddie Mitchell catching passes ...