Page 2 staff
What the heck was Jose Canseco thinking when he agreed to join Bronson Pinchot, "Pepa" Denton, Omarosa and other B-List celebrities in the cast for the fifth season of the VH1 reality show, "The Surreal Life"?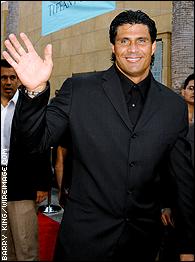 Memo to "Surreal Life" producers: Please bunk Canseco with Balky. Please.
A. "Finally! A chance to restore my dignity!"
B.
"I've got some good ideas about how to make this show even more surreal – like, show clips of Mark McGwire testifying before Congress."
C.
"This is gonna be easy. I've been confined to a house before for much longer than this."
D.
"As long as the cameras aren't allowed to follow me when I get naked in bathroom stalls with other guys, I'll be fine."
E.
"Wait till you see how moody Omarosa can be after I get her on 'roids."
F.
'Dang! My agent told me it was going to be Salt."