Page 2 staff
What the heck was French tennis player Michael Llodra thinking when he hid naked inside the locker of Croation player Ivan Ljubicic at a recent tournament? Shortly before his match against Vince Spadea at a recent tournament, Ljubicic, who is ranked 13th in the world and has been a finalist in four tournaments so far this year, opened his locker to find the nude Llodra inside. (According to Ljubicic, Llodra said, "I'm trying to get positive energy from you. You're winning a lot of matches this year.")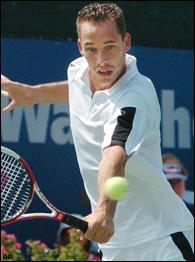 Do us a favor, keep your pants on, Mikey.
A. "Everybody always complains that the French are rude and standoffish. But as soon as I try to pull a friendly surprise, I become a 'weirdo.' I just can't win."
B.
"I sure hope this doesn't violate the terms of my restraining order."
C.
"Wow, you found me. OK, now I'll cover my eyes and count to 10, and you hide."
D.
"I gotta stop getting crazy with Pat O'Brien."
E.
"Just a little 'good luck' tip I picked up at Neverland Ranch."
F.
"What? This isn't Sharapova's locker?"