Page 2 staff
Spring has finally sprung. We're finally getting to enjoy some nice weather ... not to mention some meaningful baseball games.
But the truth is, some of our favorite former and current players have already provided plenty of entertainment for us over the last few weeks, even before the regular season began. We've seen Big Mac make a TV appearance for the ages. We've seen Jose Canseco finally face reality ... TV. We've seen certain members of the Boston Red Sox turn themselves over to ... well, the other side.
And that's not all. Strange actions by naked tennis players ... strange comments by supermodels ... it's been a crazy month!
So, here at Page 2, we just have to ask ... what the heck were they thinking? We ask, because we just don't know. We need your help. Take a look at the options below, and then vote in the poll to the right. That'll take you on to the next little bit of inexplicable weirdness.
What the heck were four members of the Red Sox (Johnny Damon, Kevin Millar, Tim Wakefield, Jason Varitek) thinking when they agreed to be "made over" during spring training for a summer episode of "Queer Eye for the Straight Guy"?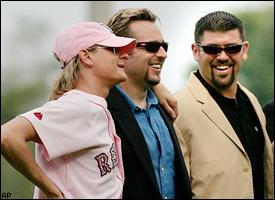 Something's just not right about this picture, don't ya think?
A. "Fortunately, we can trust the good people of New York not to make fun of us for this or anything."
B.
"Because you know what America needs? More Red Sox hype!"
C.
"Pedro's really gonna be sorry he left, once he sees us all exfoliated and glowing."
D.
"They promised us all the Jack Daniel's we could drink."
E.
"You know, it was a lot of fun ... until we found that French tennis player, Michael Llodra, naked in a locker."
F.
"Hey, this team is used to being around pretty boys. Remember who we played in the ALCS last year?"