Commentary
Paul Pierce tops Page 2's All-Rec team
Originally Published:
June 1, 2010
By
Vincent Thomas
| Special to Page 2
Paul Pierce was the best player on the court when it mattered as the Boston Celtics advanced to the 2010 NBA Finals.
What's amusing is that he just doesn't look the part. Kobe? He looks the part of NBA superstar and has the spectacular superstar game. Not Pierce.
The headband, the knee-high socks, the facial hair scrag, the underwhelming physique, the ginger gait, the "slow-mo, crafty-vet" game -- there's a lot of rec league stuff going on with Pierce.
That's why cats like me have always dug him so much. When my crew and I got on Pierce recently, one of them (who happened to play some D-II college ball) said Pierce reminded him of some older dudes who, back in his college days, would swagger into the gym and kill all the young cats with guile and tricks, all while smoking Newports between games.
[+] Enlarge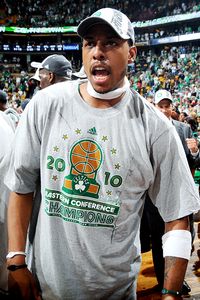 Brian Babineau/NBAE/Getty ImagesPaul Pierce undoubtedly has NBA skills -- even though his look and mannerisms evoke a rec league.
It makes you wonder, "Who would make the All-Rec League Team?" Who are the guys over the past, say, 15 years -- since medicine, diets and training have advanced tremendously from where they were even as recently as the Bird and Barkley eras -- with auras that make you envision them coming into a gym, munching on Doritos or putting out a Black & Mild, calling "next," then dropping 10 of 16?
Here are my picks …
Allen Iverson: Taco Bell on the sidelines. All-night partying between back-to-back games, only to drop 40 the next night. The list goes on and on …
Jamaal Tinsley: I'm sure Tinsley, within the past few years, has shown up at some playground in Brooklyn and balled-out with cheeseburger on his breath.
Paul Pierce: Even though Pierce is now adhering to a strict diet and training regimen, he still oozes "All-Rec League captain." 
Zach Randolph: Forget his physique. Zach has been suspended for violating the league's drug policy before.
Antoine Walker: A friend and colleague of mine said that Walker's pregame meal of choice was quesadillas. Word? Quesadillas, dude?
Rasheed Wallace: Sheed will look and play the same until he's 50. (It's no coincidence Sheed and Pierce are playing for a team in the Finals. My Rec League dudes get down.)
Pau Gasol: He always looks disheveled. His game is graceful, but a little lazy and loose. He often looks and play like the dude who rolls out of bed at noon.
Ron Artest: The new Ron is a chiseled specimen. The new Ron also admitted that the old Ron used to drink Henny during games.
There you go. That's my eight-man rotation. And you know what? Give me this eight in or near their primes, and my All-Rec League squad is an NBA title contender -- fictional cig-huffin' and all.
Vincent Thomas is an NBA.com and SLAM Magazine columnist and a frequent commentator on NBA TV and ESPN. You can follow him on Twitter @vincecathomas or e-mail him at vincethomas79@gmail.com