By Gregg Easterbrook
Page 2 columnist
Today is election day, and all across the United States men and women are exercising their franchise by going to the polls to cast their votes for the least corrupt candidates. Political candidates are all venal child-molesting socialists or crazed pollution-loving gun nuts. At least that's what all candidates are according to the ads, which each election set new lows for negative campaigning.
What would the Framers think if they knew that U.S. democracy would lead to mindless attack ads, runaway campaign donations, cynical campaign consultants who specialize in distorting records and brainless 10-second sound bites? Of course, if the Framers were alive today, television ads would depict them as venal child-molesting socialists and crazed pollution-loving gun nuts.
Here is what the political ads are saying in the gubernatorial race in Maryland, Official State of TMQ, which pits Democrat Kathleen Kennedy Townsend against Republican Bob Ehrlich:
Ehrlich ad

Opening shot: the worst, least flattering picture of Townsend that can be found; computer animation makes her appear to cackle. During commercial: various background shots of traffic congestion, sinking ships, burning buildings, tornados, people getting root canals.

Devil-worshiper? Hard to believe as Kathleen Kennedy Townsend campaigns at a Baptist church.

Gentle female voice-over (all voice-overs in Republican attack ads are women):

Are you aware that Kathleen Kennedy Townsend has never denied being a devil-worshiper?

Did you know that Kathleen Kennedy Townsend favors group incest, injecting salmonella into meat and a 15 mph national speed limit?

Were you aware that Kathleen Kennedy Townsend has advocated using your tax dollars to increase the frequency of earthquakes?

Did you know that Kathleen Kennedy Townsend once met someone who supports federally imposed airport reforestation?

Though she does admire her uncle, Ted Kennedy.

Kathleen Kennedy Townsend: psycho Communist lesbian. Run for your lives!
Townsend ad

Opening shot: computer-generated image of Ehrlich dressed as an SS officer, conferring with Hitler at Berchtesgaden. During commercial: various computer-generated images of Ehrlich slashing tires on people's cars, shooing trick-or-treaters away from his door and tying a cat into a sack and then throwing it into a river.

He-man voice-over (all voice-overs in Democratic attack ads are he-men):

Bob Ehrlich doesn't want you to know that he supports abolishing Social Security and using the money to stage gun shows at charter schools.

Bob Ehrlich doesn't want you to know that he has been accused of groping his wife.

What else is Bob Ehrlich hiding?

Bob Ehrlich doesn't want you to know about the chip implanted in his brain by a huge, sinister corporation. He doesn't want you to know he has accepted money from groups with very long names.

Bob Ehrlich doesn't want you to know that he has never adequately distanced himself from the Congress of Utrecht decision on the War of the Spanish Succession, and that he refused to deny attending meetings.

What else is there that the crypto-fascist, poorly dressed Bob Ehrlich doesn't want you to know?
Actually, these "examples" are somewhat mild compared to this year's attack ads.
Election season makes TMQ wonder what slogans NFL players would use if they ran for office -- see the bumper stick art in this column, and the TMQ Challenge below. And if NFL players ran for office, would soft money count against the salary cap?
In other NFL news, the league has handed out a rash of fines for helmet-to-helmet and helmet-to-body hits. Some probably reflected bad intent. Others TMQ isn't so sure about, since pro football happens so fast that a defender cannot necessarily control how and where he strikes the ballcarrier. At any rate, if helmet hits are the problem, why not resort to behaviorist theory and employ operant conditioning? Quarterbacks have radios in their helmets. Defenders, especially safeties, could have their helmets wired to administer electric shocks. Whenever a league official up in the booth saw an improper helmet hit on the field, he'd push a button and give the player a shock. Improper hits would be likely to decline!
'Tis Better to Have Rushed and Lost Than Never to Have Rushed at All: New England 7, Buffalo 0 in the first quarter and the Bills faced third-and-two at the Patriots 18. It's got to be a run, right? Drew Bledsoe sprinted backward and was sacked for a 14-yard loss, Buffalo missed the 50-yard field goal attempt on the next snap. This mincing, reverse-gear play set the tone for the New England runaway.

"Aaaiiiiiiiiyyyyyyyyeeeeeeeeeeee!" Play of the Day: Trailing 17-7 in the middle of the third before a raucous home crowd, the Bills, who had previously gone soft on third-and-two at the Patriots' 18, faced fourth-and-two at the Patriots' 32. Wind conditions made the long field goal attempt dicey. So you've got to, absolutely have to, positively must go for it. Instead, Buffalo punted! Punted from the other team's 32! The punting team trotted on, and TMQ thought, "It's got to be a fake." The punt launched, TMQ lamented, "Aaaiiiiiiiiyyyyyyyyeeeeeeeeeeee!"
The ball rolled out of bounds at the Patriots' 17 for a laughable 15-yard net on the exchange. Fired up by the Bills' mincing, fraidy-cat attitude, the Patriots drove 83 yards for a touchdown and the rout was on.
Converse proves the rule: On its next possession, New England faced fourth-and-three at the Buffalo 34. Do you think the Patriots punted? Pass to Antowain Smith for the conversion, touchdown on the drive and TMQ writes the words "game over" in his notebook.
Trailing by seven with 10 minutes left in regulation, Oakland faced fourth-and-three at the San Francisco 37. Do you think the Raiders punted? Completion for the first down, and the tyng touchdown came three snaps later.
On fourth-and-short, a team may actually be better off trying and failing than launching a mincing punt, especially on fourth-and-short in the gray zone where a field goal is dicey but a punt accomplishes nothing. Trying and failing shows you are aggressive; it tells the team their coach is challenging them to win. Punting shows you're a fraidy-cat, which emboldens the opposition. When the Bills punted in this classic test-of-resolve gotta-go-for-it situation, here is the thought that ran through the heads of the New England squad: They're afraid! The tastefully named Gregg Williams might as well have waved a tattered white flag on the end of a bayonet and told Bill Belichick he wanted to negotiate surrender terms.
Unafraid Play of the Day: Leading 7-0 with four minutes left in the second, Jersey/A faced fourth-and-17 at the Jax 35, in the gray zone just out of field-goal range. Did the Giants lob a mincing, passive punt? They went for it, 27-yard completion to Tim Carter on the up; Jersey/A scored on the next play to take a 14-0 lead, and was in control. Buffalo punted on fourth-and-two from the 32, the Giants went for it on fourth-and-much-longer from the same spot. It's no surprise that Buffalo lost while Jersey/A won.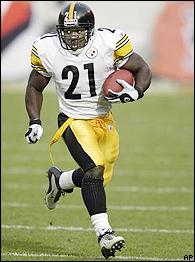 Amos Zereoue and the Steelers out-thought the Cleveland Oranges (Release 2.0).
Sweet Play of the Day No. 1: Leading by a field goal with four minutes remaining, Atlanta faced third-and-six at its own 39. Michael Vick lined up right as a receiver, then started in motion back left. All eyes of the Baltimore defense were riveted on Vick -- while the ball was direct-snapped to Warrick Dunn, who ran the opposite way for 24 yards. With a first down in Ravens territory, the Falcons ran out the clock.
Sweet Play of the Day No. 2: Cleveland 14, Pittsburgh 10 in the second, the Steelers faced third-and-three at their own 32. Pittsburgh, as this column has pointed out, pitches too much on third-and-short. Cleveland knew that. Pittsburgh knew that Cleveland knew that. The Steelers pitched to Antwaan Randle El, whom many Oranges swarmed toward; as the defense closed in, Randle El then flipped a designed shovel pass to Amos Zereoue, who gained 25 yards. Pittsburgh scored a touchdown five plays later and never looked back.
'Tis Better to Rush -- Unless You Can't Rush: Game scoreless in the first, Chicago faced third-and-inches at its own 42. Philadelphia came out in a run-defense overstack, with eight gentlemen in the box. The Bears are last in the league in yards per carry and last in the league in first downs rushing. The Eagles offered them a front that's impossible to run against, but very inviting for an audible to the play-pass. Did the Bears audible? Leon Johnson stopped in the backfield.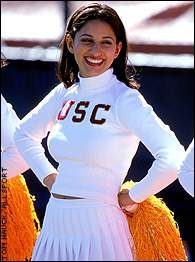 You can't go wrong calling the old student-body play with the right personnel.
Best Student Body: Marshall Faulk's game-icing 13-yard touchdown run against the Arizona (caution: may contain football-like substance) Cardinals came on the old Southern Cal "student body right," with both off-side linemen pulling right. During their revival, the Mouflons have been calling the student-body play with considerable success. TMQ is extremely frustrated by his inability to figure out a way to use this as a cheap excuse for a cheesecake link; Southern Cal cheerleader, perhaps?
'Tis Better to Fall on the Ball: The Baltimore-Atlanta game tied at three, Jeff Blake fumbled at his own goal line. The ball rolled directly to overpaid Ravens tackle Jon Ogden, who was surrounded by Falcons at his own one. A genetic code sequence should have activated in his brain saying, "Fall on ball. Fall on ball." Instead, the overpaid, and overweight, Ogden tried to pick up the ball and run with it -- directly adjacent to his own end zone! Needless to say, Ogden only succeeded in booting the ball to Falcon Pat Kerney, who recovered for the touchdown.
OK, Sometimes the Blitz Does Work No. 1: Leading by six with 25 seconds left in the game, the Eagles had to stop the Bears on third-and-10 from the Philadelphia 24. This is the down and distance on which NFL defenses predictably blitz ... indeed, on which offensive coordinators may hope to be blitzed. The Eagles rushed six, Chicago looked surprised. Sack, final play is a failed Hail Mary.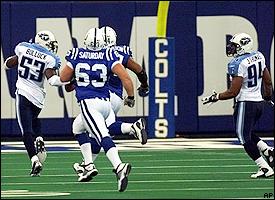 The blitz pays off for Keith Bulluck and the Flaming Thumbtacks.
OK, Sometimes the Blitz Does Work No. 2: Leading by 10, the Flaming Thumbtacks blitzed six men against six Indianapolis blockers. The Horsies blew their "line call," with the left tackle turning inward to double-team someone, leaving the running back with two blitzers to pick up. It's pretty hard for a back to pick up more than one blitzer. The wonderfully named Tank Williams came in untouched to cause the fumble that Keith Bulluck returned for six.
Blocks of the Week: On Dennis Northcutt's 87-yard punt return touchdown for the Cleveland Oranges (Release 2.0), five beauty blocks by his teammates.
Worst Block of the Week: Trailing 23-0 at the end of the third, the Horsies faced fourth-and-goal at the Flaming Thumbtacks' 1. Indianapolis guard Rick DeMulling, weighing 304 pounds, pulled left to lead a sweep. Titans safety Lance Schulters, weighing 207 pounds, was the only obstacle between the Colts runner and the touchdown. Did the huge DeMulling drive back the skinny Schulters? DeMulling listlessly tumbled him to the ground -- directly in the path of the running back, whom Schulters then stopped for a loss.
Worst Five-Wide: Cleveland runs lots of four-wide and five-wide sets, which might sound like a gunslinger offense. But the team seems to have a total of about three plays from these sets, all of them short crossing routes. Never was this more vividly on display than when the Oranges had the ball on their own 1-yard line, trailing by a field goal with 33 seconds left. The call? Short cross over the middle, gain of 7. Great, now there's only 92 yards to go! Next play, short cross over the middle. Yes, on your own 1 with 33 seconds left, chances are nothing will work. But the fact that Cleveland only had short crosses available at desperation time shows how badly the team is in need of a more varied playbook.
Tactic of the Day: Patriots defensive coordinator Romeo Crennel used a four-linebacker, two-defensive-lineman front with all six gentlemen often in a two-point stance so Buffalo's offensive line could not tell who was rushing and who dropping. Buffalo OLs looked dumbfounded, often pointing frantically before the snap to "declare" who they would take; the team did not adjust, by switching to zone blocking, until halftime. And the totally outcoached Buffalo sideline did not respond to the Patriots' lightweight, up-stance front by running. Buffalo rushed nine times in the first half, while the game was close, realizing a 5.3-yard-per average -- what you'd expect against just two DLs. In the entire second half, Buffalo ran just four times, versus 32 pass attempts, though the game was still within reach till the end of the third quarter.
After the game, the totally outcoached Buffalo sideline claimed it could not have been prepared for New England's stand-up light-front tactic because nobody had ever seen it before. In fact, this is exactly what Crennel did the last time he faced Bledsoe, in 2000 when he was with the Cleveland Oranges (Release 2.0), then the Cleveland Browns (Release 2.0), and the Browns were playing Bledsoe's Patriots.
Stat of the Week No. 1: The San Francisco Squared Sevens (see below) beat the Oakland Raiders by a field goal in a tense game despite advantages of 195 offensive yards, 15 first downs, even turnovers and 24:27 in time-of-possession. The Steelers beat the Oranges by a field goal in a tense game despite advantages of 198 offensive yards, 16 first downs, two takeaways and 24 minutes in time-of-possession.
Stat of the Week No. 2: The Lions had more points (nine) than first downs (eight).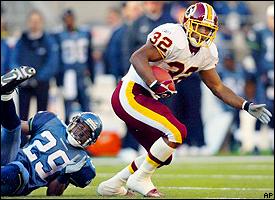 Washington's Kenny Watson shows what he can do with a start ... and a game against the hapless Blue Men Group.
Stat of the Week No. 3: New England's nine possessions against Buffalo resulted in five touchdowns, one field goal, one punt and two deliberate kneel-downs.
Stat of the Week No. 4: Running back Kenny Watson, who started for the Potomac Drainage Basin Indigenous Persons and gained 110 yards rushing, did not start in college.
Stat of the Week No. 5: Tampa, which had no offensive touchdowns in its previous two games, recorded five.
Stat of the Week No. 6: Since joining the Seattle Blue Men Group, Guru Genius Mike Holmgren is 26-31. His predecessor, Dennis Erickson, was fired for going 31-33.
Stat of the Week No. 7: Rich Gannon is on a pace to throw for an NFL-record 5,092 yards. And if he doesn't, the mark looks safe, as Drew Bledsoe has slipped to a pace for 4,981 yards. (The season record, held by Dan Marino, is 5,084 yards.)
Stat of the Week No. 8: Through the end of the fourth quarter to the conclusion of overtime, San Francisco held the ball for 14:43 -- just shy of a solid quarter -- and an incredible 30 consecutive plays. Oakland touched the ball only to set up the overtime kickoff. Stretching back to last year's Snow Bowl, it was the second of three overtime contests in which Oakland has lost without ever getting to snap the ball.
Stat of the Week No. 9: San Diego, Houston and Buffalo lost by a combined 120-23 ... at home.
TMQ tries to boost Sarah Reichert's broadcasting career.
Cheerleader of the Week: On the theory that beaches are good for babe-ness, many readers have urged TMQ not to overlook cheerleaders of the San Diego Chargers, performing for a city with a beach-based lifestyle. Having checked out the Charger Girls' we-are-definitely-not-shy swimsuit calendar (click "sneak peek"), TMQ must concur. The Chargers cheerleaders are able to recruit seriously impressive mega-babes despite paying only $60 per game, plus two game tickets and a parking pass. Let's hope they get modeling fees for the swimsuit poses.
This week's TMQ ESPN Cheerleader of the Week is Sarah Reichert of San Diego. Sarah, a recent college grad, works in "cosmeceutical" sales, a profession that TMQ did not know existed. In her letter to fans, she explains that her career goal is to enter broadcasting. Sarah relates that she has worked as a dancer in Japan at Tokyo Disneyland, "as well as dancing on one of Holland America's prestigious cruise ships while traveling through the Bahamas, Panama Canal, and Mexico." Her letter does not explain how you could arrange to book a prestigious cruise through the Panama Canal on which Sarah would be a dancer. And unfortunately, Sarah, ESPN will not even pay you $60 for being Cheerleader of the Week, though you can park in my driveway anytime.
Check out Tokyo Disneyland. TMQ particularly likes the little monorail that runs across the screen. TMQ recommends that you stay at the DisneySea Hotel MiraCosta, which includes an enormous working reproduction of the canals of Venice.
Next Week's Environmental Heroes Set Fire to the Rainforest to Use the Light to Search for Recyclable Cans: TMQ opened his Washington Post to this praiseful article about a husband-wife team of pilots who are methodically flying around the San Francisco area, taking digital photographs of every inch of coastline and posting them on the web. Supposedly, the purpose of this project is to allow average citizens to monitor the coastline for environmental abuses, such as an unauthorized bulldozer. Activists are saying what a fabulous advance the photos are, and privacy concerns seem not to matter -- if you had a home on the California coastline, would you want high-resolution digital photographs of yourself in the back yard posted on the web?
But what made TMQ spit out his coffee was how the husband-wife team of pilots/ environmental heroes is accomplishing its save-the-planet project -- by flying around in a helicopter. No human construction wastes fossil fuels faster than helicopters, which use power to compensate for poor lift. A typical four-person helicopter, the Bell JetRanger 206, burns 25 gallons of fuel per hour. In an hour of highway operation, a typical large SUV will burn three gallons of fuel. So the husband-wife team of environmental heroes is essentially flying around Northern California in eight SUVs strapped together, madly expending fossil fuels and pumping out greenhouse gases. To top it off, helicopter engines are totally unrestricted when it comes to smog-forming emissions. A JetRanger or similar helicopter would spew thousands of times as much smog-forming compounds, per hour of operation, as any make or model of modern car. But they're environmental heroes because they are looking for bulldozers!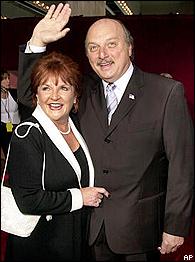 Thanks to Nextel, fake non-sellout Dennis Franz can pick up a lot more kumquats for wife Joannie.
We're Telling the Truth When We Say That Our Ads Lie: "I don't do any ads!" snarls aging, punchy faux-tough-guy Dennis Franz (Detective Sipowicz) in commercials for Nextel, which show him expressing anger at the notion that anyone would think any "NYPD Blue" character would violate his actor's integrity by appearing in advertising. And why would he not do commercials? "Because they lie," Franz declares of ads.
First of all, obviously Dennis Franz does do ads, since his denunciation of advertising occurs in the course of a commercial. So we have established what you are, madam, and are bickering over the price. The Nextel commercials show that Franz is exactly what he is protesting that he is not -- someone who will sell his name to the highest bidder. Maybe this is supposed to be post-ironic.
Second, TMQ finds it curious that a big company, Nextel, and the big advertising agency that filmed the Franz spots would be promoting the notion that advertising is lies and should be the subject of contempt. What if the ad succeeds in convincing viewers that they should not be convinced by ads?
Third, at this stage in his career, Dennis Franz's belly hangs over his belt, his hairline could not be detected by an AWACS radar, there are bags under his eyes and he appears to need a Botox infusion for his entire body. He wheezes more than he speaks. He carries a snubby single-shot revolver, an outdated weapon that left a policeman outgunned in the 1940s. How exactly is he supposed to be a tough-guy?
I Guaranteed a Bengals Item! Cincinnati won, but the Bengals can't even win a laugher with poise. Leading 31-3 in the middle of the fourth, ball on the Houston 10, did Cincinnati grind the clock? Touchdown pass to run up the final score to 38-3. The football gods take a dim view of running up the score; retribution is likely to follow.
The Football Gods Smiled: Names note: this year the Titans drafted guys named Tank and Rocky -- Tank Williams and Rocky Calmus.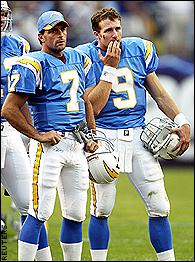 Doug Flutie and Drew Brees looked damn fine, going down in retro style to Jersey/B.
The Curse of the Unis: San Diego and Notre Dame both rolled out gorgeous-looking throwback unis and both got rolled over. TMQ continues to love the old Bolts' look and wish they would return to it permanently; he would certainly like to see Sarah Reichert in a San Diego classic jersey. Since Jersey/B now permanently plays in throwbacks, the Jets at Chargers contest looked like a scene from the movie "Frequency," with the television receiving a broadcast from 1966.
Uni Mystery: Rookie return man Ronald Curry fumbled a kickoff for the Raiders. What TMQ wants to know is, how come this gentleman, listed in the Game Book as a safety, gets to wear No. 1? The No Fun League has made a huge deal of banning single-digit numbers except for quarterbacks and kickers. And don't tell me Curry is a quarterback, his college position -- the Raiders already have three QBs on their roster.
Best Screens: Neil Easterbrook, Official Brother of TMQ and a prof of English lit at the seriously purple Texas Christian University, endlessly rails against the fact that NFL teams should run more screens. Never was the Official Brother's point on better display than in the Monday Night Miami-Green Bay contest. Facing third-and-18 at the Marine Mammals' 33, game scoreless, the Packers called screen right, hoping for field-goal position. The Mammals, playing of course for the big sack, as all NFL defenses do on third-and-long, let Ahman Green rumble for the first down and Green Bay scored a touchdown a few plays later. Reaching the Mammals' 23 with the score Packers 7, Dolphins 0, Green Bay again called the same screen right. Green took it the distance, and Miami was in a 14-0 hole from which it never climbed out.
Screen passes should happen more often in the NFL not only because they are high-average plays, but because they serve the dual roles of slowing down the pass rush and discouraging over-pursuit. Note that Green Bay uses a three-lineman screen in which the RT, RG and center all get out front -- most teams will only risk two screen linemen. Equally important, Green Bay linemen screen-block properly -- that is, the screen linemen did not roar downfield as if running for imaginary touchdowns, leaving the back to be pasted by someone coming from behind. At least half of all screen backs are run down from behind; usually while this is happening, a screen linemen is roaring downfield. The Green Bay screen linemen wiped out the gentlemen immediately around the runner and left him to deal with the downfield opposition. That's the proper way to block a screen. But you would expect proper football technique from a city where people have the simple common sense to wear plastic cheese on their heads.
Worst Failure to Know Local History: TMQ's high-school football coach, Jules Yakapovich of Kenmore West High School outside Buffalo, preached an all-standing-up defensive front exactly as the Patriots ran against the Bills on Sunday. Using an all-standing front, Yakapovich's teams several times won the NFL -- NFL in this sense being the Niagara Frontier League, the north Buffalo high-school conference. Owing to the all-standing defense played by a prominent local high school, many fans at Ralph Wilson Stadium knew exactly what was going on Sunday; it's a shame the Bills sideline had no clue. Yakapovich's 1971 book on the all-standing defensive scheme, "The Radar Defense for Winning Football," is still available.
Worst Failure to Read the Newspapers: Old-school NFL hands used to subscribe to the out-of-town papers from all the cities whose teams they had to play that year, hoping for some useful tip from the sports pages. Now such low-tech scouting can be done without postage cost on the Internet. Had anyone from the Bills braintrust read the Boston papers during the week, they would have learned that Patriots defenders were openly discussing the fact that if you pressure Drew Bledsoe, he gets antsy. Teams have not blitzed Bledsoe much this season, worried about surrendering the home run. On Sunday, the Patriots blitzed liberally, sacking Bledsoe four times in the first half and rendering him antsy: He missed several open receivers. The team did not adjust by keeping in the tight end until halftime, by then already trailing by 10.
Pennsylvania Resplendent! On election night, media pundits will pore over various state-by-state maps proclaiming astonishing ultra mega-trends from single percentage points. The state breakdown that really matters is TMQ's exclusive NFL state standings:
Pennsylvania: 11-5, .687
California: 16-8, .666
Florida: 15-10, .600
New York: 5-4, .555
All other single-team states: 52-48, .520
Maryland: 7-9, .437
Missouri: 7-9, .437
New Jersey: 7-9, .437
Ohio: 5-12, .294
Texas: 5-12, .294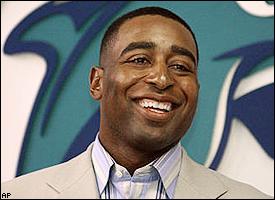 There's an "I" in Cris Carter, but why no "H"?
Reader Haiku: Jeff Jackson's haiku concerns TMQ's contention that Jim Brown ruined his chance of being a serious black-power political figure by appearing in so many silly B-movies. Sean McCauley's concerns the intense frustrations of the majority of Americans who cannot get DirecTV, and thus are barred from purchasing NFL Sunday Ticket. David Bachmann, thank you for creating a TMQ cognomen for the Niners, henceforth the Squared Sevens.
Cris Carter, Dolphin.
True, there is no "I" in "team"
but there is in "Cris."
-- Jim Murphy, Miami
Jets' all-green unis
make them look like Hefty bags
This why trashy play?.
-- Steven Lichtman, Waltham, Mass.
Your San Fran nickname
is unimaginative;
Why not Squared Sevens?
-- David Bachmann, Sioux Falls, S.D.
Silly movies doom
aspiring politicos?
How 'bout the Gipper?
-- Jeff Jackson, Seattle
Beamed from stratosphere,
why oh why can't we see it
through one sinking tree?
-- Sean McCauley, Mahwah, N.J.
Tall buildings in way.
Living in Chicago means
no DirecTV.
-- Scott Morris, Chicago
Kenyon beat Hiram.
This poses real question,
How bad is Hiram?
-- Zan Stewart, San Francisco
Worst broadcast city:
Columbus, Ohio. Browns
and Bengals nonstop.
-- Ethan Sprang, Columbus, Ohio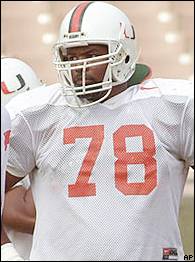 Bryant McKinnie is no longer insulted, but his rookie season will be a waste.
Bryant McKinnie: the Next Akili Smith: Minnesota's first draft choice finally signed, after an extended holdout that screwed his team and surely screwed him. By effectively tossing his rookie year into the recycle bin, McKinnie was able to get the Vikings to add $1.2 million in bonus money to the deal he denounced as an insult last July; all other particulars are about the same. So he's got an extra $1.2 million in his pocket today, but as TMQ pointed out in an earlier item about the stupidity of rookie holdouts, McKinnie's long-term earnings will almost surely decline by a greater amount. His rookie year is now blown; bad feelings will carry over into his sophomore year, which will be a disappointment; pretty soon people will be whispering the "bust" word about him; the really big payday, which comes when you sign your free-agent contract as an accomplished player, will never arrive.
And, of course, McKinnie doesn't actually get an extra $1.2 million now. He gets a lesser sum after his agents' cuts. McKinnie's agents, Ben Dogra and Jim Steiner, put an extra $120,000 or so in their checking accounts for screwing McKinnie, and when his future earnings potential collapses, what do they care? In law, someone who has an "agency relationship" with you is required to act in your interest. Planning for long-term earnings potential is in the interest of the athlete; holding out for the maximum bonus right now is in the interest of the agent. Dogra and Steiner will leave McKinnie screwed and move on to the next draft-choice suckers. College players, if you're reading this, you would be complete fools to sign with these agents.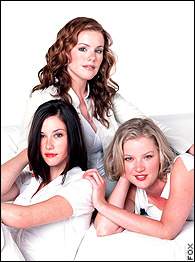 Now we'll never know if Kathleen Robertson, Gretchen Mol and Chyler Leigh get memberships at Augusta National.
Next! The latest David Kelley-cloned show, "girls club," was canceled after two episodes. Is this a record that will never be broken? The turn of events reminded TMQ of the audition scene in the original movie of "The Producers." Aspiring singers step to the microphone and warble only a few notes before Zero Mostel, unseen, hollers, "Next!" Finally a hapless guy steps up, starts to open his mouth and Mostel yells "Next!" before he can make a sound.
Cleveland Oranges: TMQ Readers Regarding last week's item saying that TMQ originally thought the Cleveland Oranges (Release 2.0) were crazy to kick a field goal when down 21-3 in the second quarter to Jersey/B, only to have the Oranges come back to win 24-21 with that figgie the deciding points, a reader haikuizes,
Cleveland Browns field goal:
"Kick Early, Go For It Late"
rule vindicated.
-- Arthur Kroeber, Beijing, China
Lately, TMQ reader comments have come from Uruguay, Germany and Sweden; this is the first from Beijing. So the chi-com state authorities are not jamming ESPN.com -- is that good or bad? At any rate, Kroeber refers to one of Tuesday Morning Quarterback's immutable laws of football: Kick Early, Go For It Late.
TMQ has long maintained that in the first half and often through the third quarter, coaches should not stare at the scoreboard trying to figure those "if we get a touchdown and then they get a field goal and then we get ..." combinations but should just take kicking-game points, as it is impossible to predict what later permutations of the score will be. Often, a figgie that seems like chopped liver in the first half turns out to have been essential. Passing up the field goal generally should be confined to the fourth quarter, when the possible final scores are becoming more clear. (A later column will get around to making fun of the David Romer academic paper, asserting that coaches should go for it on fourth down even deep in their own territory, soon; TMQ thinks the paper contains all kinds of goofy miscalculations.)
A failure to abide by the immutable law of Kick Early, Go For It Late was the key play of the Potomac Drainage Basin Indigenous Persons-Seattle Blue Men Group contest Sunday. Trailing 14-3, the Blue Men Group faced fourth-and-goal on the Persons two with 17 seconds in the half. The hometown Seattle crowd was chanting for the Blue Men Group to perform its impersonation of an NFL team and go for it. Failing to heed Kick Early, Go For It Late, Guru Genius Mike Holmgren went for it; Matt Hasselbeck sacked by the ageless Bruce Smith, half over. Had Seattle taken the field goal, it would have opened the second half 14-6 -- and with the ball, since coaches knew they'd get the second-half kickoff -- trailing only by a touchdown and in a position to run the game plan, which was to feature Shaun Alexander rushing. Instead, the Blue Men Group opened the second half down 14-3, two scores, and passed seven times versus three rushes on its opening drive, which also ended in a sack by Smith.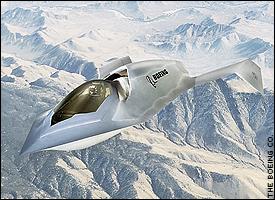 Boeing's latest in Klingon technology.
Klingons to Make Soft-Money Donations to Appropriations Committee Chairmen: Last week, Boeing disclosed that for three years it has been test-flying a strange-looking stealth-fighter prototype called the Bird of Prey. Bird of Prey -- that's what Klingon battle cruisers are called! Boeing has been cooperating with the Klingons? Next the Klingons will want to bill their cost-overruns to the U.S. defense budget.
Speaking of the defense budget, Boeing also said that it had funded the Bird of Prey program privately, at a cost of $67 million, so that any technology developed would be proprietary. Meanwhile the F22 fighter development program for the Air Force, run by Lockheed Martin, has burned through $26 billion of the taxpayers' money over a decade and is yet to field operational aircraft No. 1. So when a contractor has to spend its own money, it can engineer, build and fly a radical new design for $67 million. When the taxpayer is footing the bill on a cost-plus basis, it takes 10 years and $26 billion to accomplish nothing but generating demands for more money. TMQ wonders if Klingon battle cruisers are developed on a cost-plus basis.
TMQ Thought for the Day: When did "may I have" become "can I get?"
The Same High Ethical Standards Webster Brought to the FBI and CIA: Last week's column warned that the William Webster appointment to head the new federal accounting oversight board would be a disaster, something TMQ expected would become clear over the next year or two. Instead, it took two days! Man who fired accountants for warning of stock fraud put in charge of agency that is supposed to watch for stock fraud: Are you sure this isn't a Comedy Central sketch?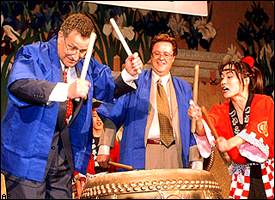 AP
Paul Tagliabue beats the drum for his Pro Football Hall of Fame candidacy.
New Jersey Can Only Dream: Commissioner Paul Tagliabue, who preposterously last week had himself nominated as a finalist for the Football Hall of Fame, has been saying that a future Super Bowl ought to be played in New York City, which for football purposes is located in New Jersey. TMQ agrees that there should be northern games, breaking the warm-weather stranglehold on this event. (Two of 35 Super Bowls have been at northern domes, the rest in southern climes.) But it's not likely to happen. Tour companies that package Super Bowl trips want a warm-weather destination for January. The league's owners, all of whom customarily attend the Super Bowl, often bringing important clients, want a place they can wear shorts, play golf and, most importantly, check out babes in bikinis lounging by the pool. This sociology dictates that the Super Bowl be staged in Arizona, California, Florida, Georgia, Louisiana or Texas.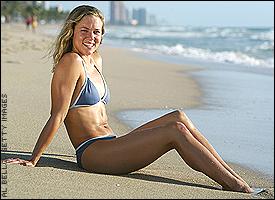 Though she's lounging on the beach here, U.S. swimmer Natalie Coughlin is also super in the pool.
Note to ESPN.com art department -- you would be derelict in your duty if you missed that cheap, flimsy excuse to append a photo of babes in thong bikinis, lounging by a pool.
Sominex Presents the NFL Game of the Week: Detroit 9, Dallas 7.
The Real Political Horse Race: Maryland gubernatorial candidate Kathleen Kennedy Townsend, who is prone to slips of the tongue, calls the steed who won the Kentucky Derby "Warmonger." That's actually a better name! What's a War Emblem, anyway? Speaking on NPR just after the Derby, Nan Mooney, author of a book about thoroughbreds called "My Racing Heart," said that War Emblem "has character." What, he's good to his mother, and has never been in trouble with the law and doesn't sexually harass the fillies?
Of course, if race horses have character, maybe they should be drafted. They could attend a combine where scouts would measure their 40-yard times and administer a modified Wonderlic test in which answers were given by pawing the ground.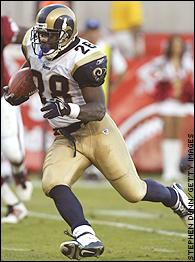 For St. Louis' first five games, Marshall Faulk was a much more hidden Hidden Indicator.
Hidden Indicator: After opening a combined 1-8, Pittsburgh and St. Louis, preseason favorites of most touts, have gone a combined 7-0. This is the kind of hidden indicator that is essential to an insider's understanding of the game. In this case, it means handing the ball to Marshall Faulk and taking it away from Kordell Stewart.
Running items department
Obscure College Score of the Week: Millikin 72, North Park 0. Located in Chicago, North Park is one of the nation's smallest universities, enrolling 2,600 but offering four master's degrees. (A college is four-year, a university confers advanced degrees.) An evangelical Christian school, North Park offers an unusual MBA program that is "ethics-based." Thus WorldCom, Enron, Adelphia, Arthur Andersen, Merrill Lynch, Citicorp, Xerox, AOL Time Warner, Global Crossing and others surely refuse to hire North Park MBAs.
Bonus Obscure Score: Fort Lewis 67, Western New Mexico 66, in double overtime. No, this wasn't a basketball game. The score was tied at 59 at the end of regulation. Western New Mexico led 66-59 after the second OT; Fort Lewis scored and rather than take the PAT to force the third OT, in the gathering darkness rolled all-or-nothing to break the bank with a two-point conversion. There were 1,035 passing yards in the game and 20 scoring plays. Last year, Fort Lewis beat Western New Mexico 78-42, meaning a total of 253 points scored in the last two meetings of these obscure squads. Located in Durango, Colo., setting of many Wild West sages, Fort Lewis was first an Army fort, then a school for indigenous Americans, then a high school, then a college. Check a 1920 faculty picnic photo here.
Double Bonus Obscure Score: Thomas More 56, Maryville of Tennessee 7. Located in Crestview Hills, Kentucky, Thomas More was founded by an order of nuns and is named for the Catholic saint. Each year TMQ longs for Thomas More to play Luther College of Decorah, Iowa, an affiliate of the Evangelical Lutheran Church and named for the founder of Protestantism. Thomas More versus Luther -- the game would have to be conducted in a torture chamber and the losing team burned at the stake.
New York Times Final-Score Score: The Paper of Guesses returns to its habitual 0-14 in its triumphant attempt to predict an exact final score, bringing the New York Times Final-Score Score to 1-649 since TMQ began tracking.
Reader Animadversion: Reader Kevin of Baltimore asked why anyone would need a "clear view of the southwestern sky" to get DirecTV, since "doesn't the satellite orbit?" Yes, but like most communications satellites, the DirecTV mother ship is in a "geostationary" orbit, timed such that the device mimics the rotation of the Earth, hanging above the same point. Otherwise your DirecTV antenna would have to rotate to follow the satellite, and would receive a less-than-satisfactory nothing when the device was on the opposite side of the globe.
Many readers including Andrew Sei of St. Louis defended DirecTV as a terrific service. It is a terrific service -- everyone I know who has DirecTV loves it. The problem is that millions of Americans either cannot receive DirecTV, because their line-of-sight to the satellite is blocked by the tall buildings of cities or the trees of suburbs, or can receive DirecTV only at great cost, such as the $1,300 estimate TMQ was handed for installation. If DirecTV were actually available to everyone, I would have no complaints. In practice, it is available only to a favored few, and this in turn means that NFL Sunday Ticket, currently an exclusive of DirecTV, is available only to a favored few. That's wrong and must change.
Ron Wersch of Winnipeg, Manitoba, was among many readers who pointed out the annoying fact that although cable subscribers cannot buy Sunday Ticket in the United States, it is available to anyone by cable in Canada. Thus, the NFL shafts its own homeland, while offering superior options to our frozen neighbor to the north. And as Josh Kern of Toronto points out, Sunday Ticket sells for $159 Canadian, about $115 U.S., versus the cost of $199 here. Should the NFL be accused of "dumping" its product overseas in violation of World Trade Organization rules? Only the NFL could come up with a master plan in which watching its games is subsidized overseas but effectively forbidden for most Americans.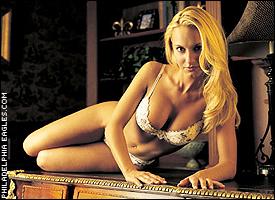 The shot of Dana we could show you.
Reader Andy McBryan of Philadelphia exercised his First Amendment rights to buy the Eagles' cheerleaders lingerie calendar and reports his discovery that if you go to philadelphiaeagles.com, then click cheerleaders, then 2002 squad, then pick individual profiles, some have unexplained little pictures with a paper-clip in the upper right. Click the paper clip and you get the lingerie calendar shot for that woman. Rapid, enthusiastic clicking got TMQ to this mega-babe photo of Eagles cheerleader Dana, district manager of a women's fitness club chain. McBryan recommends an I-am-definitely-not-shy lingerie photo of Eagles cheerleader Kelly T., who is majoring in chemical engineering at Penn State, which we can link to but not show for thong-based reasons.
Many readers, including Geoff Urland of Boulder, Colo., protested TMQ's assertion that early-voter programs will eventually be ruled unconstitutional because Article II, Section I of the United States Constitution mandates that the day of voting "shall be the same throughout the United States." Urland noted this clause applies to "the electors," meaning members of the Electoral College. (Instant civics quiz: does the phrase Electoral College occur anywhere in the Constitution?)
Geoff, your 18th century reasoning is impeccable. But, aha!, it's the 21st century, and since all states have adopted direct election of member of the Electoral College -- originally, it was up to each state's legislature to chose members -- courts have ruled that "the electors" in question now refers to the voting public. See Foster vs. Love, a 1997 Supreme Court ruling holding that under 2 U.S.C. 7, the statute that implements Article II, Section I of the Constitution, no state may stage its presidential election on any day other than the one set by Congress.
Many readers, including Eric Allen of Chicago, pointed out that it was Reggie Austin, not R.W. McQuarters, whom Randy Moss burned on the deep out. "Keep your bad Bears straight," one reader admonished.
Finally, many readers defended the honor of Brett Favre against TMQ's claim that he flopped for Michael Strahan, doing so partly to guarantee himself air time to discuss Strahan's quasi-record. Bear in mind, Favre fans, TMQ's NFC preview expressed that Favre is one of my favorites and noted admiringly, "TMQ loves that if you fired Brett Favre out of a cannon at the circus, he would complete a touchdown pass before hitting the net." At any rate, of the records-conspiracy theory, reader Lee of Columbia, Mo., wrote, "If Brett Favre could have seen into the future, he would have become a defensive lineman and positioned himself to be drafted by the Seahawks, only to flop to the ground as Emmitt ran by him to break the record."
Got a comment or a deeply felt grievance? Register it here.
TMQ Challenge: Hoping to give myself a weekend off after receiving thousands of entries on the question of best-ever running back, I asked who was the best-ever long snapper, not expecting much response. "Are you kidding," asked reader Ed Gribben of Orlando, Fla., "who can even name a long-snapper?" Huge numbers of TMQ readers, it seems. More than a thousand submitted opinions on this subject.
Many readers, including Matt Stoeks of Cambridge, Mass., nominated Lon Paxton of the Patriots, who flipped a perfect snap for the winning field goal in last year's Snow Bowl, then memorably ran into the end zone and made a snow angel. A reader haikuizes,
Long snapper Question?
Gotta be Lonie Paxton.
I love snow angels.
-- David Pottier, Taunton, Mass.
Many readers nominated the late Dan Turk, who formed half of the brothers combination of snapper Dan Turk to punter Matt Turk, and who died young. In haiku,
Dan Turk, long-snapper.
Had crushing hit on Deion;
Now snaps in Asgard.
-- Anthony Gamallo, Washington
Reader Rob Dyer of Torrance, Calif., nominated Canton-residing center Jim Otto of the Raiders, who was rare in being a full-time starting center who also long-snapped. Many readers pointed to the only other long-snapper in the Hall of Fame, the late Mike Webster of the Steelers, another starting center who also long-snapped. In haiku,
Best snapper: Webster.
Nine Pro Bowls, four rings. Member
of Hall. Center, too.
-- Dave Fasano, Gainesville, Texas
Patrick Mannelly is master of his domain ... name, that is.
Reader Todd Benatovich of Dallas was one of many who nominated Adam Lingner, long-snapper of the Bills Super Bowl teams. Lingner snapped for the winning kick of Buffalo's miracle 35-3 playoff comeback over Houston. Jeff Campbell of Traverse City, Mich., proposed Trey Junkin, who snapped well for various teams for an impressive 19 years, becoming the George Blanda of long-snappers, and also caught a few passes as a backup tight end. Many readers, including Mark Wahlstrom of Scottsdale, Ariz., proposed the equally impressively long-lived 17-year vet Dale Hellestrae, who snapped to perfection for the 1990s Cowboys Super Bowl club and once snapped the ball through the window of a moving cab on the David Letterman show. What do Junkin and Hellestrae have in common? Both were drafted and waived by the Bills. Considering Lingner, Junkin and Hellestrae, perhaps Buffalo should be known as the "Cradle of Long Snappers."
John Graham of Carlsbad, Calif., proposed the late Raiders great Dave Dalby, who snapped for Ray Guy during his five-year streak of no blocked punts.
Paul of Ithaca, N.Y., proposed Bob Von Merta, who, according to the CBC, can snap his fingers more rapidly than anyone else in the world.
Many readers, including Tom Surovy of Lakewood, Ohio, proposed Ryan Kuehl, snapper for the Cleveland Oranges (Release 2.0), who is the only known long-snapper to have written musings for an intellectual journal, in his case, the online publication Slate.com.
Many, many readers proposed Mike Morris, who snapped for 14 years for the Vikings and is perhaps the best-known long snapper, owing to his role in a television ad. Morris snapped for Gary Anderson in 1998 during his 35-for-35 perfect field-goal season.
Long snapper Morris:
perfect season with Gary.
Also, funny ad.
-- Rick Lorette, Saint Louis Park, Minn.
(Page 2 declared last week that Anderson's perfect season represents a record that can never be broken. If a perfect season kicking is a record, then Anderson merely shares it, as Tony Zendejas (1991) and Jeff Wilkins (2000) also had perfect seasons, each going 17-for-17. At any rate, of course, the Anderson record can be broken! A kicker who goes 36-for-36, or 37-for-37 or any higher number stakes a claim to the best-ever year of the foot. Plus, remember that Anderson's perfect regular season culminated with his missing the field goal that would have won the 1999 NFC championship game against Atlanta. The football gods chortled.)
All these snapping gentlemen are worthy, but TMQ has to go with Patrick Mannelly of the Bears, proposed by Terry Peppers of Chicago. Peppers himself was a long-snapper in high school, so presumably knows quality when he sees it. Mannelly is renowned for being able to deliver the ball with laces up, down or out, depending on the kicker's preference. No blocked kicks in his five years so far. What puts Mannelly over the top is that he has created a website devoted to long snapping, www.longsnapper.com. Don't skip the intro! Then be sure to check his Drills section, in which he advises aspiring snappers to learn to hit the goal post from 15 yards away with a snap.

This Week's Challenge: We'll give best-ever a rest for a while, so that readers can begin mulling TMQ's inevitable requests for the best-ever dime back, best-ever blocking-downs tight end and best-ever third quarterback. That last one's really going to be a Challenge, because third quarterbacks don't play!
This week's Challenge question is in the spirit of election season. After taping their ankles for the final time, Steve Largent, J.C. Watts and a few other football players won elective office. Who among current NFL players should run for office, and what would his campaign slogan be? Submit your nominee and clever reasoning here, bearing in mind that just like in Florida voting, the final decision will be completely arbitrary.
Gregg Easterbrook is a senior editor of New Republic, a contributing editor of The Atlantic Monthly and a visiting fellow at the Brookings Institution. He is believed to be the first Brookings scholar ever to write a pro football column. You can buy his football book, the incredibly cleverly titled "Tuesday Morning Quarterback," here.