By Mike Philbrick
Page 2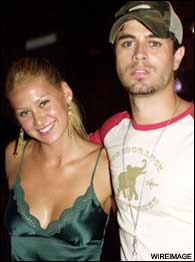 Ladies and gentlemen ... Mr. and Mrs. Enrique Iglesias! Or not.
Anna Kournikova is officially off the market -- she is now Mrs. Enrique Iglesias.
Calm down. Calm down. We all knew it was coming. Oh, and we all knew that none of us had a chance, so take a look in the mirror. Right, calming down is a little easier now, isn't it?
On another note, you have to give Anna K. her props. In the history of celebrity weddings, not too many escape the prying eyes of the paparazzi. From Madonna and Sean Penn all the way to Nick and Jessica, some entrepreneur with a camera always managed to give us what we want -- but not with Anna.
That being said, make no mistake: Page 2 will always deliver when it comes to Anna Kournikova. Neither rain, nor snow nor dark of night -- nor beefy and scary security guys who may or may not be armed -- will keep us from our appointed task of bringing Anna to you.
THE VOWS ...


Anna to Enrique,
I, Anna, take you, Enrique, to be my lawfully wedded husband. To have my picture taken with when we are in public and to hold my bag when I am on a commercial shoot.

Oh, that reminds me, for all your Internet searching needs, go to lycos.com.

Anyway, I take you for better, because let's face it: Now that Sergei is with Tara Reid, he's damaged goods -- or for worse, hey, at least you aren't Ricky Martin. For richer, man, I'm glad we don't have a prenup.

For poorer, wait again, sorry. If you're looking for a diversified portfolio and solid investment advice, put your future in the hands of Charles Schwab.

OK, where was I? Right, in sickness and in health, to love and to cherish how great my hair looks, as well as my butt in these jeans; from this day forward until death do us part ... or until the NHL lockout ends.

Enrique to Anna,
Anna, on our wedding day, here's how it goes. First, all it takes is some trying. And if you feel like leaving, I'm not gonna make you stay.

But believe me, and ask my dad Julio if you don't .. soon you'll be finding you can run, you can hide, but you can't escape my love.

Still, I make this promise to you. I can be your hero, baby. I can kiss away the pain. I will stand by you forever. You can take my breath away.

And now we dance! Bailamos! Let the rhythm take you over! Bailamos! Te quiero amor mio! ... [Repeat Chorus].
THE REGISTRY ...

Mike Philbrick is an editor for Page 2. E-mail him at michael.w.philbrick@espn3.com